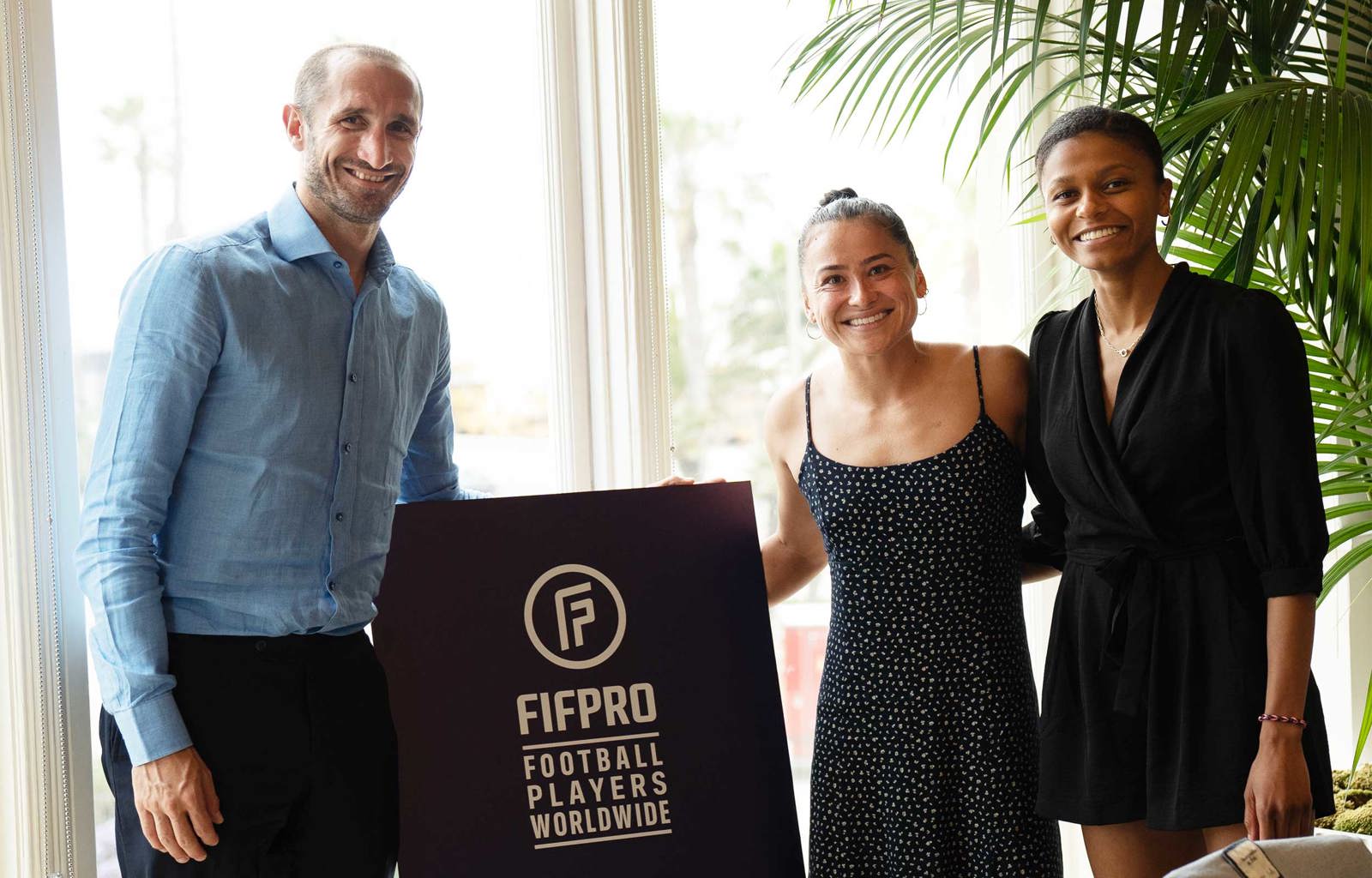 {0} min. reading time
Players from LAFC and Angel City shared their experiences, differences between men's and women's game


Global Player Council (GPC) members Giorgio Chiellini and Ali Riley present


A platform for players with international experience, the GPC strengthens role of professional footballers in shaping football industry 
Global Player Council (GPC) members based in Los Angeles gathered on Monday to discuss a range of domestic and global player matters.
The council is a platform for active players with international experience, ensuring viewpoints from both men's and women's football and different leagues from around the world are heard.
GPC members Giorgio Chiellini (Los Angeles FC) and Ali Riley (Angel City) were present at the meeting, as well as Angel City's Simone Charley.
The players shared their experiences on the differences between Europe and USA and the differences between the men's and women's game, especially when it comes to conditions, investment and visibility.
They also discussed issues such as workload and the impact it has on injuries, recovery and lifestyle, as well as the topic of player data and the importance of raising awareness about the different use-cases and potential risks. 
"It's been a valuable opportunity to understand how women's football is progressing here in USA by hearing different perspectives and learning about the players' experiences," said former Italy international Chiellini. "It's vital to come together through opportunities likes this one; bringing men's and women's football together is important so we can achieve better results for all of us, as a collective.
"In Italy we say 'L'unione fa la forza' (unity is strength) and we need this unity between women's and men's football. We need to come together and discuss our common objectives by sharing experiences and breaking barriers. The GPC has the responsibility and the power to help more and more players be heard and become an active part of the changes in our sport – because we really need it."
The players were joined by FIFPRO General Secretary Jonas Baer-Hoffmann, Player & Union Relations Manager Shoko Tsuji, and Policy Advisor and Strategic Project Coordinator Erica Puppo. MLSPA Director of Player Relations Ty Harden was also in attendance. "Having these minds come together and talk about the issues we're facing in men's and women's football is so beneficial," said Riley, who is set to captain 2023 Women's World Cup co-hosts New Zealand at the global finals in July. "Speaking with Giorgio and hearing him share challenges about his career, what the MLS is going through as it's growing, and where the direction of sport in this country is going, we on the women's side can learn a lot from that.
"Having that representation from the NWSLPA and the MLSPA was also valuable as it gave us the chance to address domestic issues, as well as global ones."
GPC: A platform for players
The voice of the players, the Global Player Council aims to put men's and women's professional footballers at the heart of decision-making in international football and consists of players with international experience and demonstrated leadership qualities.
The council assists FIFPRO and its 66 affiliated national player associations to represent footballers in negotiations about global issues that directly affect them. This includes the international match calendar, employment standards, the use of personal data and social media abuse, and more.
While national player unions are the key driver of the collective voice of footballers domestically, the GPC strengthens the capacity to address cross-border issues, such as fixture schedules and recommended rest periods.