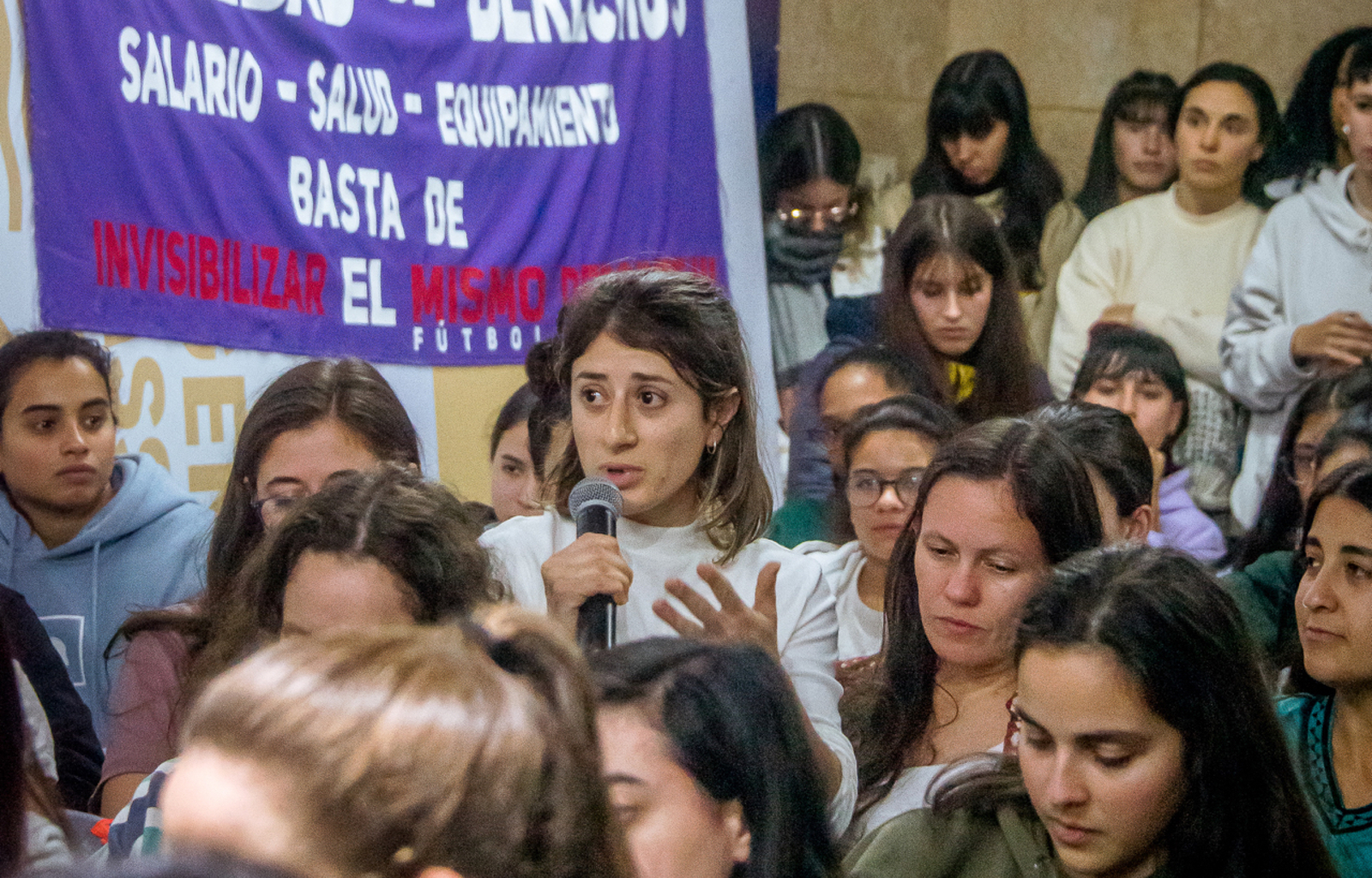 {0} min. reading time
300 women's players signed a proclamation demanding better working conditions in Uruguay 
Proclamation demands "equal opportunities and access to adequate facilities, resources and financial support"                         
"Together, we have to fight for the development of women's football," says Danubio's Lucero Morandi
Monday 3 July 2023 was a turning point in the history of Uruguayan women's football: around 300 players demonstrated at the headquarters of the Mutual Uruguaya de Futbolistas Profesionales (MUFP) in Montevideo and signed a proclamation demanding better working conditions from the different decision-makers involved in the Uruguayan leagues.  
Players from first and second division teams, including many girls from the youth sides, came together to say 'enough was enough' about the lack of protections for Uruguayan women's footballers and staged an unprecedented demonstration in the country.
"We wanted to make the proclamation visible and also mark a before and after in the struggle," Catia Gomez, MUFP's Head of Women's Football, told FIFPRO. "We wanted all women's players to know where we are going, but also publicly inform the rest of the decision-makers that we are looking for changes."
Danubio defender Lucero Morandi, one of the speakers at the Montevideo evening, was at first unsure about how impactful the event would be. Her fears dissipated, however, when hundreds of players turned out and stood united in their call for better conditions.
She said: "There aren't just 10 or 15 of us getting together to talk; even players from teams like Nacional de Montevideo, who have the best training conditions and some contracts that reach the minimum, said that there was a change in how everything was being conceived."
The proclamation, signed by all those present and addressed to the AUF, clubs, media and sponsors, demands, "equal opportunities and access to adequate facilities, resources and financial support". And it adds a series of items that women's players, who act as professionals but are not recognised as such, are no longer willing to tolerate:
Training in deplorable conditions, or in public squares or gardens;
Using dressing rooms without minimum infrastructure and hygiene conditions;
Clubs providing them with clothing that they discard from men's football;
That footballers pay to play, pay for their transport and, in some cases, even for their managers and clothing;
That clubs do not pay for medical expenses in case of injury;
The total lack of visibility of the Uruguayan league in the media and, in some cases, in the social networks of the clubs themselves.
Since before the start of the 2023 season, events that led to this incipient collective action have been taking place. Nautico players, for instance, decided not to participate in the competition because they could not reach an agreement with the club to access certain facilities; they were asked to pay for their own clothing, for example. 
Many playing fields have more dirt than grass, there are dressing rooms without water for showers that also have poor hygiene conditions, some teams have had to warm up in the street or in a car park, as amateurs the players may miss games scheduled on weekdays and in distant locations due to work or study commitments, a match may be suspended because a team does not have its equipment or a second division club may be forced to play two matches in a day and a half.
"These conditions have been going on for a long time and we are used to these things happening," said Morandi. "But we managed to say, 'this needs to stop'. I don't want to have to leave the country to continue developing. Together, we have to fight for the development of women's football."
25-year-old Morandi has been playing for six years. This is the first time the defender has been able to train every day and in the mornings – "at night you arrive with the last of your energy" – thanks to the fact that she has flexible hours in her job as a physical education teacher. She is also studying for a master's degree and is the head coach of an LGTBQ+ men's football institution.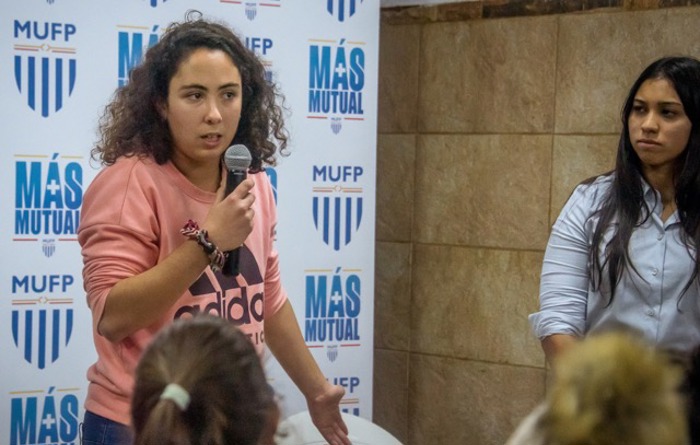 Lucero Morandi (left), together with Catia Gomez (right)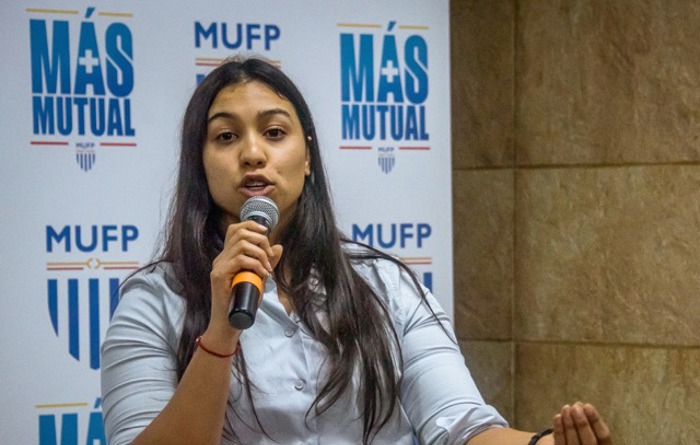 Catia Gomez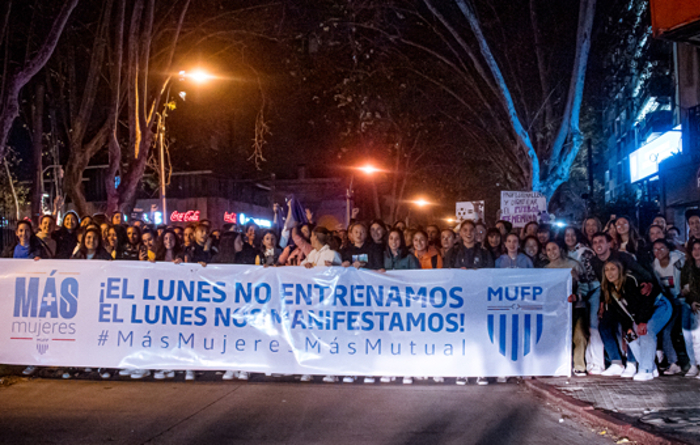 The demonstration on 3 July 2023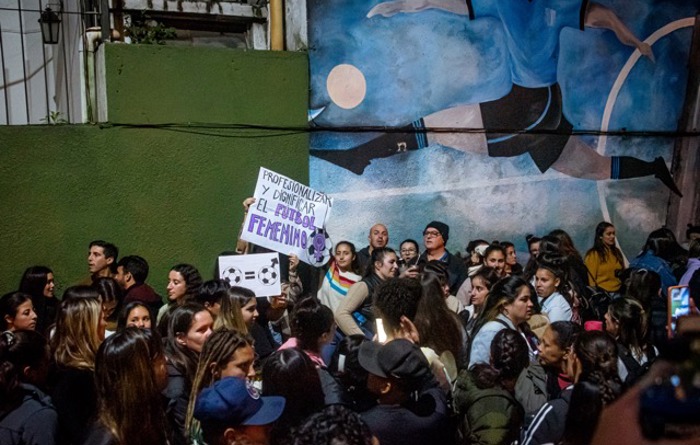 The demonstration on 3 July 2023
Morandi was one of the driving forces behind a measure that caused an impact, a clear precedent for the signed proclamation: at the start of a Danubio-Defensor match, all 22 players sat down on the pitch in protest.
"In that seated silence, we physically felt that there was something bigger and that we were endorsing it with that," recalls Morandi. "I think the same about all the teams that did it afterwards. It's one thing to say it and another to do it. Being present, putting your body into a fight, creates a record of what is happening." 
Improved communication has created stronger bonds between players of different clubs in Uruguay, even those who enjoy better conditions than others. "We now know all the time what is happening with everyone," said Morandi.
The possibility of a strike
A little over a month ago, Uruguayan women's football went on strike for the first time. Days later, before the demonstration and the signing of the proclamation, the players wanted to take a second strike.
"It's a measure we don't want to take, but at some point we have been tempted to take it," said Morandi. At that point, the advice of the MUFP was key to taking the right steps towards a better fighting stance.
Gomez explains: "After a productive joint dialogue, we came to the logical conclusion that the strike is our biggest and most radical union measure that we can take. Therefore, we must use it correctly."
This is how it was decided to move forward with the proclamation and the organisation of the demonstration, "to express the areas in which we believe we must make improvements for the real growth and development of women's football in Uruguay."
Gomez continued: "The most important thing about the proclamation is the symbolic meaning it contains because it expresses the desire of all women's players to fight for better conditions in our discipline. We seek to make it visible and publicly inform the rest of the decision-makers that we are in search of changes."