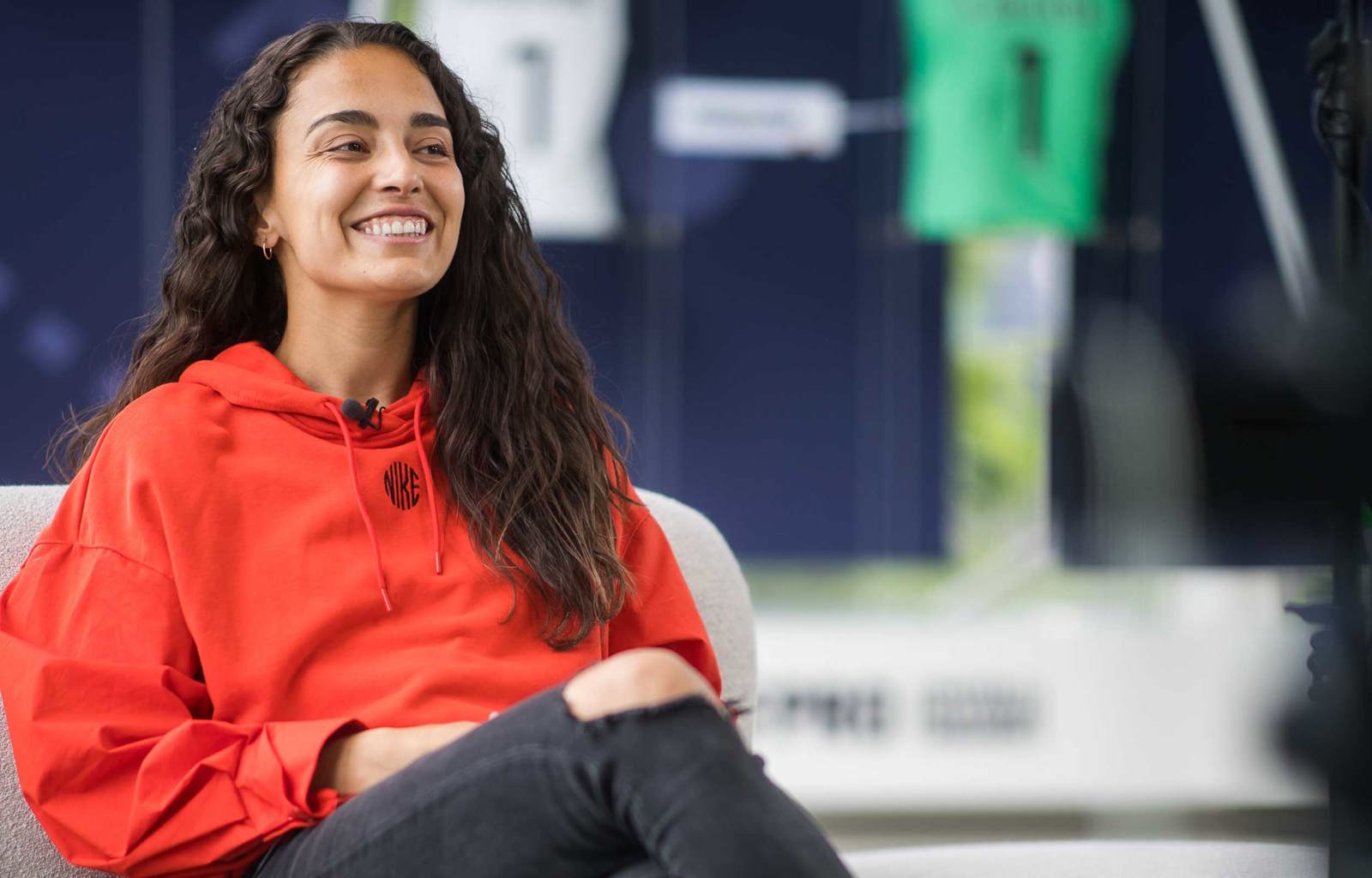 {0} min. reading time
Former Colombia international is FIFPRO's new Union & Player Relations Coordinator


The 29-year-old is taking up the post just six months after retiring as a professional footballer


A well-known activist during her playing days, Echeverri talks to FIFPRO about her new career move
Isabella Echeverri has been one of the leading figures in Colombian and South American women's football over the last decade, not only because of the importance of her great sporting career, but also for her strong commitment to defending the rights of women's footballers.
At the age of 29, only six months after her retirement as a professional, having played in a FIFA World Cup and an Olympic Games, won gold in a Pan American Games and represented high-profile clubs such as Sevilla and Monterrey, Echeverri faces a new major challenge: acting as FIFPRO's Union & Player Relations Coordinator.
"I'm really happy. The truth is that getting to a place like FIFPRO, which enables me to create real changes within the football industry, is a dream come true," says the Medellin-native, who boasts an academic CV to match her record as a player: she has university degrees in marketing and international business, as well as various master's degrees in business administration, marketing, and management of sports organisations.
While she was still playing, Echeverri was also a member of FIFPRO's Global Player Council. "As a player, it was like being on the other side. I always found it fascinating and I said to myself that at some point in my career I wanted to work at FIFPRO. I feel I can be an asset to the organisation, and can be helped a great deal to create all the changes I've dreamed of and fought for during my career."
FIFPRO: Isabella, you must have come with a lot of ideas that you want to try to implement. What expectations do you have to begin with?
Isabella Echeverri: The first thing I want to do is learn a lot. I have a lot of ideas, but for me, when I arrive at a place, the most important thing is to listen a lot. And then to be able to contribute from all the experiences I have had as a person and as a player. I come from a violent country, where women are not given the place they deserve. I went to study in the United States, which is the opposite, where football almost belongs to women and all the facilities that the universities have are incredible.
I have experienced a lot: I retired from football, I am a former international, I played in the Olympics, I got injured several times and I have experienced mental health problems. This mix of experiences is what I want to bring to the organisation; a different, Latin American perspective. Each region of the world has completely different issues but ours needs a lot of support. One of my biggest dreams is to positively impact footballers worldwide. I spent my career studying to be able to have a position like this and to achieve that equity, that equality, that inclusion. We need more people pushing because absolutely all the power is in the collective.
Isabella Echeverri with FIFPRO global board member Caroline Jonsson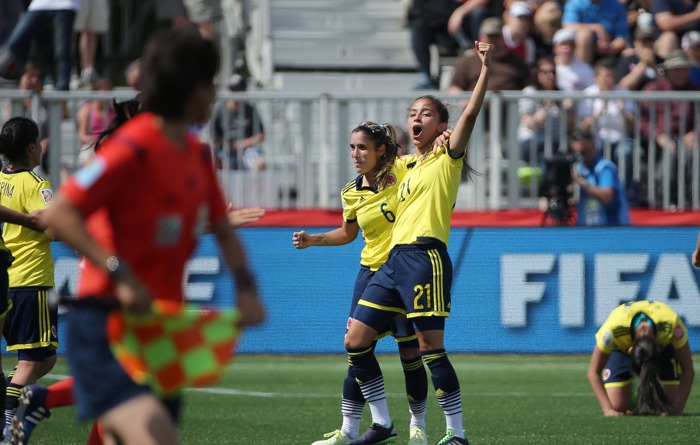 Isabella Echeverri in action for Colombia at the 2015 Women's World Cup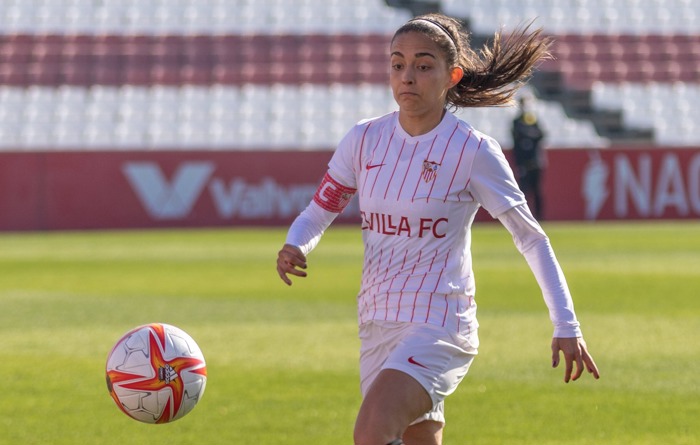 Isabella Echeverri represented Sevilla in 2022
An example of that is the letter signed by over 150 women players which led to the improvement in players' salary conditions for the next Women's World Cup.
It was inspiring, a turning-point in the history of the sport. When FIFPRO called me a year ago to see whether I wanted to sign the letter, I said: "wow, this is going to be a really big deal." Unfortunately, the players from Colombia are not there, but I signed it. And to see more than 150 players join together and demand what we need with the help of FIFPRO, and a year later it leads to FIFA paying women's players directly for the first time, is a watershed moment. To arrive at FIFPRO just when this news is happening is not a coincidence either. It was also being able to embrace those people who made it possible. They're making life easier and better. There are too many women's players who are going to earn what they make in two or three years just for taking part in the World Cup.
I remember struggling to earn 2,000 USD in the 2015 World Cup, and now they're going to get 30,000 USD just for taking part. It's great to see that we're taking steps forward, that we're building a better future so that women can really devote themselves to football. Women's football had been getting stronger through people, in the media, through brands, but I think all this momentum is going to help us to take all those steps faster, but also in the right way. It's very important that they should be taken not just by this generation or the next two, but that from now on we build and create a lasting change, a real equality of resources, conditions, ecosystem, so that women can really devote themselves to football.
You actually have the equality sign tattooed on your right wrist...
I had it done with Melissa Ortiz after we came out and made those declarations on video against the Colombian federation. I also have a tattoo of the Olympic rings and the day I made my debut in a World Cup, and I'm missing the day I won the Pan American Games, moments that have been peaks of my sports career. But that day, 7 March 2019, when we gave that press conference [editor's note: a few days after her video, Echeverri and other Colombian women's players spoke out against the FCF for abuse, prohibitions and threats], was a turning-point for me as a person, as an athlete, as a woman. That was when I realised the power I had in my hands. My mother and grandmother had a lot to do with the fact that from an early age I've been willing to defend others, to help people. I had it in me, but I had never realised.
The day I published that video changed my life. We did it without much planning, but telling the truth. I wish we'd had a better strategy and had got the support of our union; I feel it would have produced a lot more changes. We thought it would stir things up quite a bit, but not to the extent it did. It was shown on the news and reported in the most important newspapers in the world. It created a kind of pressure that we had never seen before in Colombian football; I would dare say not even in Latin American football. Once it became huge, it motivated us to go to Colombia, call more women's players and hold a press conference to change women's football in Colombia. And that's what we did. We set a precedent that will hopefully be repeated in other places, but with more planning and strategy. I hope my work now also helps to make more players see the power of working hand in hand with a union. In your farewell video as a footballer you said that life and the field of play are much more alike than we think. How do you think you can apply that idea at the organisation?
What you are as a person can be seen on the pitch. And what you create on the pitch reflects the more human side of an athlete. A player who is respectful to their opponents, who has the values of sport, who doesn't fake a foul, creates positive things. That's what I wanted to show on the field, so that people would realise that sport doesn't have to be linked to violence or negative things. Off the pitch, it's a matter of continuing on the same path, with the values that characterise me as a person, and being a point of reference for girls, for women, for female players themselves, so that they know there's a nice way forward after football, that it's not all over, that you can carry on building good things and making an impact.