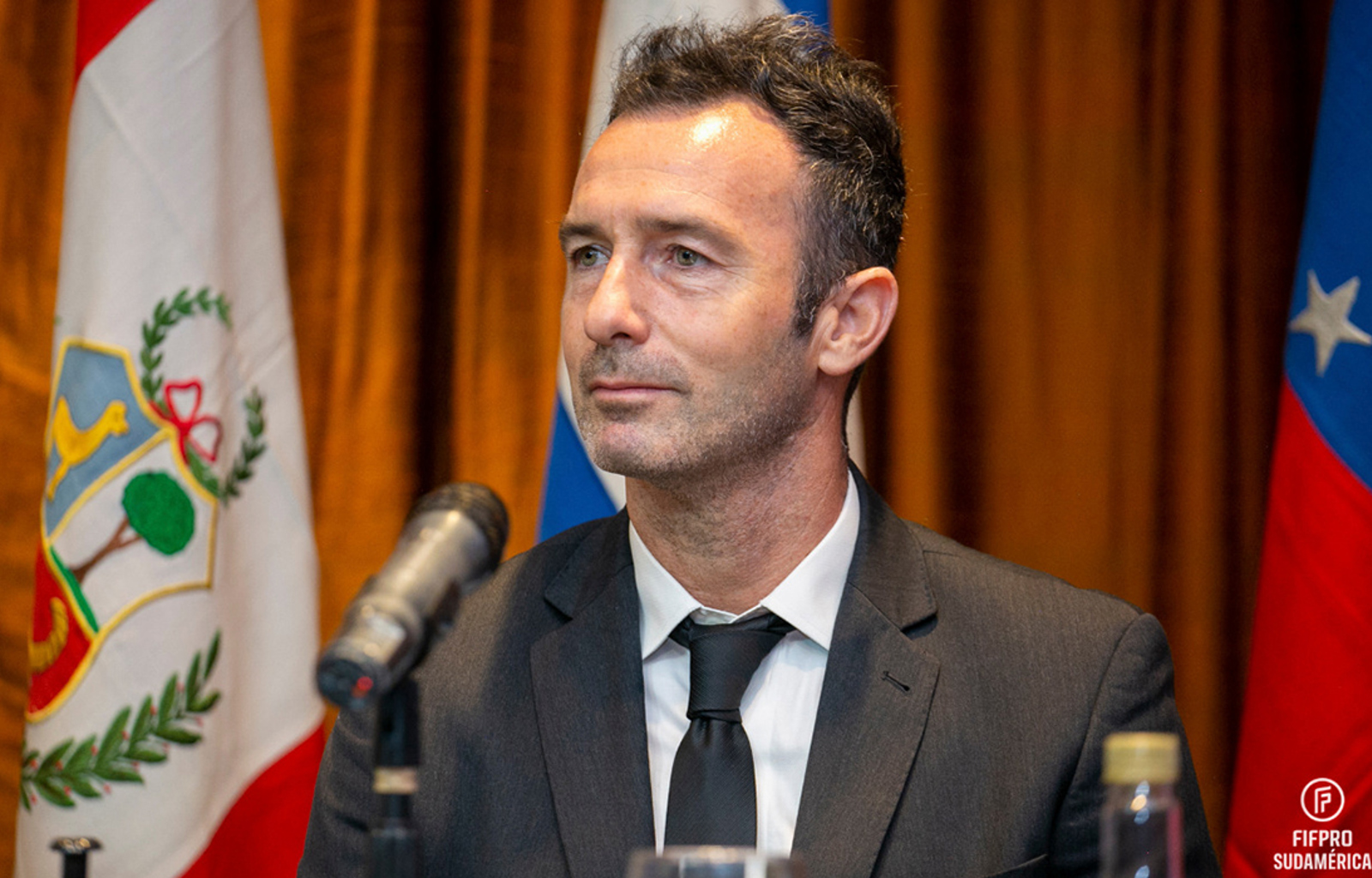 {0} min. reading time
FIFPRO Sudamerica's Director of Education talks about successful education programme developed by the division


Hundreds of South American footballers benefit from free access to university degrees and different courses


Division's major objective is to implement a regional schooling programme to ensure players can complete their high school studies
Since 2022 the educational work of South American unions has taken a major leap forward. Beyond each association's individual projects, which led, for example, to Chilean union SIFUP winning the first Union Impact Award for a campaign encouraging players to complete their schooling, FIFPRO Sudamerica has established education as one of its most important strategic principles.
South American professional footballers now have access to a wide range of study programmes through their division: university diplomas in sports management, sports consultancy and sports coaching, language courses (English, Italian and Portuguese), video analysis, community management and injury prevention, as well as the scholarships available to take courses certified by Conmebol and webinars on various topics offered by the Cruyff Institute, with a wide range of subject areas.
"All the options we provide for players are free of charge," says FIFPRO Sudamerica Director of Education Pablo Burtovoy. "It's an important point. We work to ensure that the training courses are funded and that footballers can benefit from them."
Burtovoy, an Argentinian former goalkeeper who played in several Latin American countries between 1993 and 2014 and then trained in sports management, leads a successful project: 2022 ended with a total of 1,628 students and just a few months into 2023 the number of participants is already being equalled.
Statistics aside, there is something he finds most inspiring: the importance players are currently placing on education.
"Beyond having worked a lot on communication and made great advances in technology, what's exciting is the way it's growing spontaneously," said Burtovoy.
"Today a footballer called to tell me that another player is going to get in touch with me after speaking to him. This happens every day. It's a team-mate telling you: 'I'm doing this and it's great'. It's the best sign that the player feels this is the way to go." The motivation to develop the education project in South America was very clear from the start, inspired by the positive experience that had taken place in Argentina through the players' union, Futbolistas Argentinos Agremiados.
"We approached it strictly from the perspective of raising the players' performance," Burtovoy explains. "Nowadays the top echelons worldwide are looking for players with a different degree of intellectual development that will enable them to interpret a range of variables more fully and execute them more rapidly.
"They should also be capable of reading situations not only on the field, but in other contexts: relations within the squad, interaction with the coaching staff, institutional management. In our view, developing the mind is an essential part of becoming a better athlete, a better footballer.
"If players today fail to acquire tools, not just for later but while they are playing, they are wasting quality time that football still gives you. When you consider that the number of South American-based players earning a lot of money is rather low, you have to optimise that quality time by acquiring knowledge, whether to develop a higher academic level or to awaken ideas that stimulate you to produce something alongside your playing career."
The university diplomas in sports management, sports consultancy and sports coaching follow "a worldwide agenda in which FIFA suggests how to raise the industry through professionalisation in all areas of management".
The sports management course, run by former Inter, Roma and Boca Juniors player Nicolas Burdisso, had 64 graduates last year, and in 2023 it has 120 students enrolled from all over South America. The sports consultancy and sports coaching diplomas are also directed by ex-footballers Pablo Luguercio and Ivan Moreno y Fabianesi.
"A very important achievement this year is that the players who have already been trained have been called in to be teachers or tutors of the new classes." The language courses pursue a specific aim: to speed up the students' sociocultural integration in the event of a possible transfer.
"If footballers have to go and play in Portugal, they should have the basic skills they need to read their contract, communicate with their team-mates, understand the team manager, go to the supermarket or make contact with a neighbour. These are basic tools in a higher academic context but important from the perspective of our players," Burtovoy explains.
Women's players participate in the full programme, but there are some courses that were developed exclusively for them. Burtovoy got together with several of the continent's players to hear their concerns. "You have to set aside your own opinions and listen to other alternatives. That's why we launched certain specific training activities for women's footballers."
In spite of all that has been achieved, Burtovoy says "there's a great deal more to do". One of the division's major objectives is to implement a regional schooling programme to ensure men's and women's footballers can complete their high school studies. 
"That's the big job," says Burtovoy. "The path to achieving the aim of a zero-dropout rate is the one we are on. The Volver a Estudiar campaign was a great start; now we have to move forward to a new stage.
"In Argentina we are successfully developing it with the national government, but each country has its own legislation. We'll keep managing the negotiations with the different parties throughout the next months."