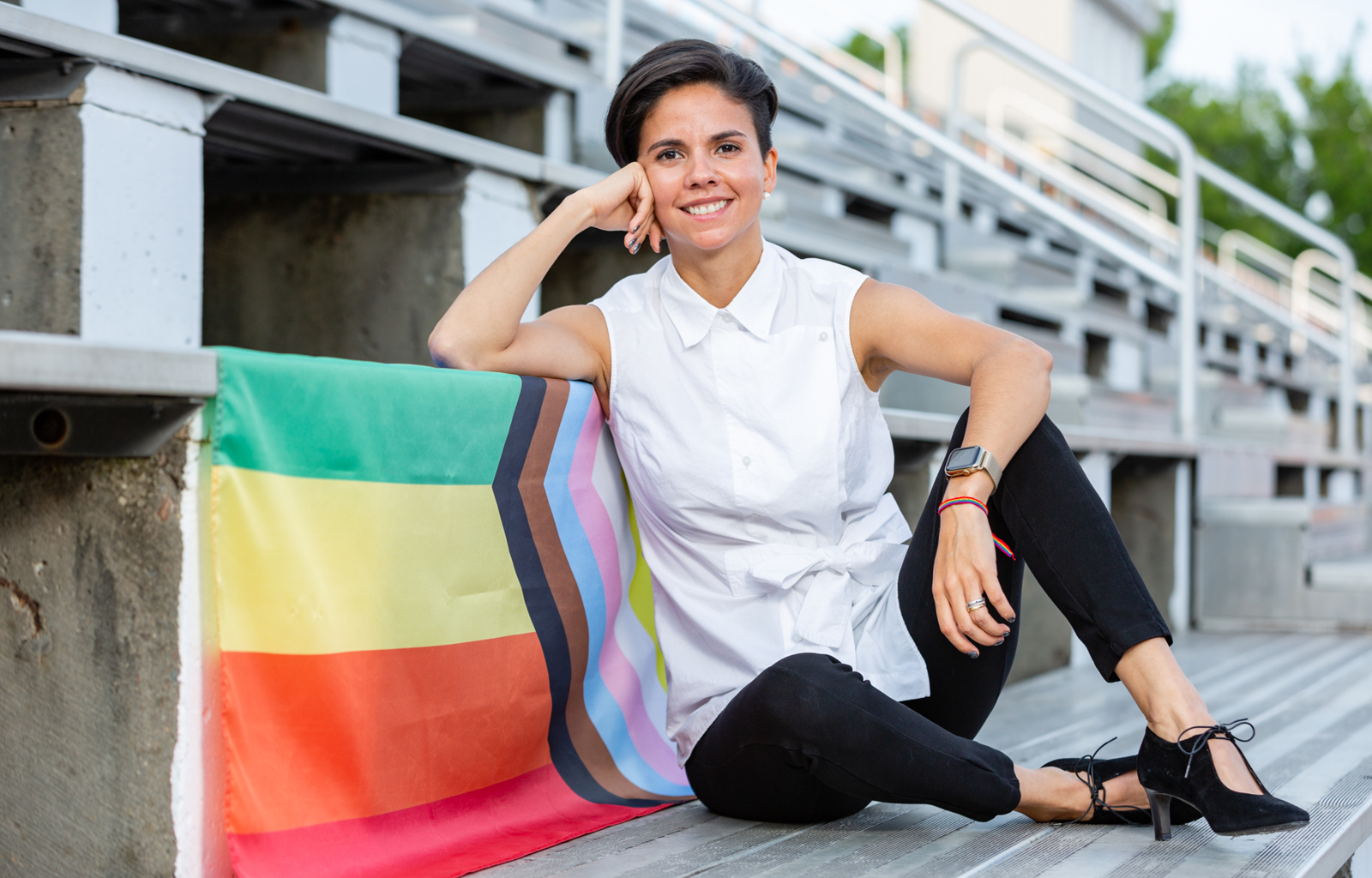 {0} min. reading time
On the occasion of Pride Month, Camila Garcia talks about the importance of diversity


Explains significance of Pride Flag, what it represents personally


"It's very much related to my football story," says FIFPRO Vice President
On the occasion of Pride Month, FIFPRO Vice President Camila Garcia talks about the importance of diversity. "I'm going to share something that I haven't talked about with many people…"
In June, various countries across the globe pay special attention to the position of all people within the LGBTQIA+ community. Streets and offices bear the Pride Flag as a symbol of this period. Camila also put a flag up in her home office in Washington DC, because of Pride Month.
"It's very much related to my football story.
"When I was in my twenties, the LGBTQAI+ community in Chile was not very well accepted, we don´t have the same rights. When I decided to come out to my family, it was a really tough moment. My parents, especially my mom, had a hard time. Because of that, I started to struggle with mental health issues, although at the time I didn't understand why.
"I was at my highest performance level in football, but then I started having panic attacks. I was in the middle of the field and I couldn't breathe, and I didn't know what was happening to me.
"At some point, I was so frustrated that I couldn't perform anymore at my best level, that I decided to quit. I retired. When I spoke to the manager of the team, he was really supportive. He told me: 'I know that you're going through something, because you're not the same. Whatever is happening to you, go through it in the team. Keep training, but you don't have to play if you don't want to'.
"But I was having such a bad time in terms of mental health, that I needed to get out. It wasn't until some months later, when the panic attacks started happening more consistently, that I reached out for help. My family supported me, and I went to a specialist. He was the first one to tell me that I was dealing with panic attacks and should get treatment.
"Now I look back and I think what could have happened if I had had help to understand earlier what was going on. Maybe my life would be different. Maybe I would still be playing…
"My mother had been afraid that others would be discriminating against me. That friends, family or other people that knew me would be shutting doors on me. When she realised that wasn´t the case, our relationship got better and better. Now, she's really supportive. She is the best.
"So, that flag represents a lot. It represents my struggle, but also being able to accept others. Diversity is not just a word. It is how you live your life and impact others' lives. The flag reminds us that we need to pave the way for others, to enable them to have the tools that I lacked to manage that process. "The Pride Flag is so connected to my identity of being a soccer player. I found a like-minded community, most of us were going through the same thing, and it was the only place where I could feel like I was myself and I was free."
Recently two men's players publicly came out as gay: Josh Cavallo in Australia and Jake Daniels in England. Camila applauds the players' bravery, but also has second thoughts.
"It's very, very, very frustrating to see that in 2022 we are still surprised that a player comes out. We are making a big deal of it and are hoping that it is paving the way for others. But It's exhausting to hear your peers go through it and receive the exposure and the backlash that these situations create.
"Of course, I am very proud of them, but at the same time, when are we going to stop making a big deal about it? Players are human beings, complex. We represent many other things. In a way it's great that they're using their voices to open a platform for others. But hopefully we can at some point overcome these discussions and stop being surprised of players coming out, either women or men, regardless of age.
"We also need to advocate for the youth trans community which has been particularly targeted lately, in many countries. I hope my story helps drive this conversation."