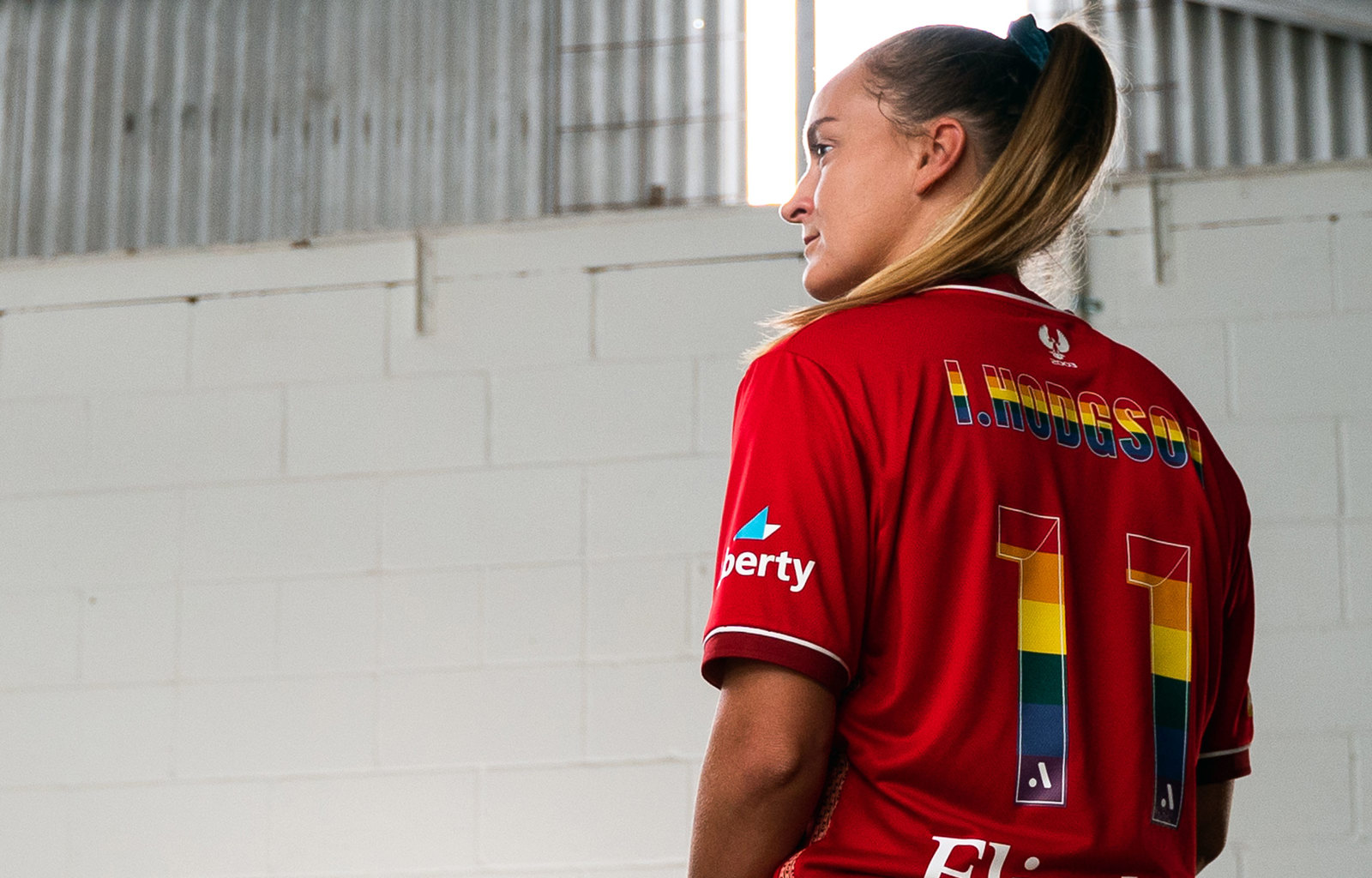 {0} min. reading time
This Saturday, Isabel Hodgson will captain Adelaide United in the Australian A-League's first ever Pride Game
Both sides of the men and women's matches will wear rainbow shirt numbers and armbands, with various other details incorporated as a display of support for the LGBTQI+ community in football
The 25-year-old speaks about her own experiences as a gay player, especially in the wake of fellow Adelaide player Josh Cavallo's announcement as the first openly gay footballer in the top tier of men's football
When Josh came out, I was just so proud and excited for him; you could immediately see the weight that had been lifted from his shoulders, and just how much better he felt in himself.
At the same time, I also felt really sad that he has been struggling with this for so long. Football was always my safe space - somewhere I could thrive exactly as I am, and hearing that this sport that we both love to play wasn't the sanctuary for him that it was for me, was heart-breaking. I'm not saying that it was always easy for me – school was definitely tough, and I kept my sexuality hidden through that part of my life, purely because I didn't want to invite the possibility of any negativity. At that point I was already playing for Adelaide United and in the Under 21 national team, and I just kept my head down and focused on getting good grades – I didn't want to run the risk of being bullied.
I needed that time to accept myself for who I am, and I think that's the hardest part of that journey for a lot of people. Once I came to the realisation that those that loved me would continue to do so, I realised that anyone else didn't matter. I have such a supportive network of family and friends, and it turned out I didn't really need a big coming out moment. Whether I brought a girl home to meet my family, or my sister brought home a boy – it wasn't something that we needed to sit down and explain, we were just unconditionally accepted, and I feel really lucky that this was my experience.
For this reason, I am so proud to belong to a team that is showing their support of the LGBTQI+ community in such a public way. I feel especially honoured in my role as captain, and I can't wait to lead my team out with the rainbow numbers on our backs and take part in the A-League's first ever Pride Game. I just can't wait to step out of the tunnel and immerse myself in the atmosphere, although I'm sure that I'll probably be a bit overwhelmed from being surrounded by such love and acceptance from both the team and fans that have been part of my life for so long.
Adelaide United have just been incredible in their organisation of the matches – for both the men's and women's teams. Every little detail has been thought of, right down the rainbow corner flags, and they've been so switched on with their messaging around the event. They've really put in the effort to check in and see how the players feel - ensuring that we're all happy with the branding, and basically maximising our potential to drum up as much awareness as possible. I hope that this display of inclusivity and support reaches players, fans, or anyone else really, and just reassures them that they don't need to be afraid to be themselves. If there's just one little girl that looks to me and thinks "if she can do it, I can do it" then I'll feel like I'll have played my part.
I think there's a real stigma around sport as a "masculine" environment – causing women who are interested in it to be branded as less feminine, and men to feel a pressure to live up to this skewed perception of what it takes to fit in. With this Pride Game we're trying to make everyone aware that this game is for everyone – no matter your gender, sexuality, or anything else. On Saturday when we walk out in front of all of our fans, surrounded by the rainbow flag – I want it to be clear that we're here to support them just as much as they do for us at every game.
There are always going to be people who are going to have negative comments about the LGBTQI+ community, our job is to drown them out with our support and positivity. It's like I always say, if you're ever nervous about being true to yourself - those who matter don't mind – and those who mind don't matter.
For me, making this statement at the top tier of Australian football gives our message the opportunity to trickle through to the lower leagues, youth teams, right down to grass roots. Our goal is for young players to grow up secure in their sexuality and know that football will always be a safe space for them. If we want our game to be an accepting and inclusive environment, then we need to set that example at the highest level – and keep it going long after the final whistle blows on Saturday.