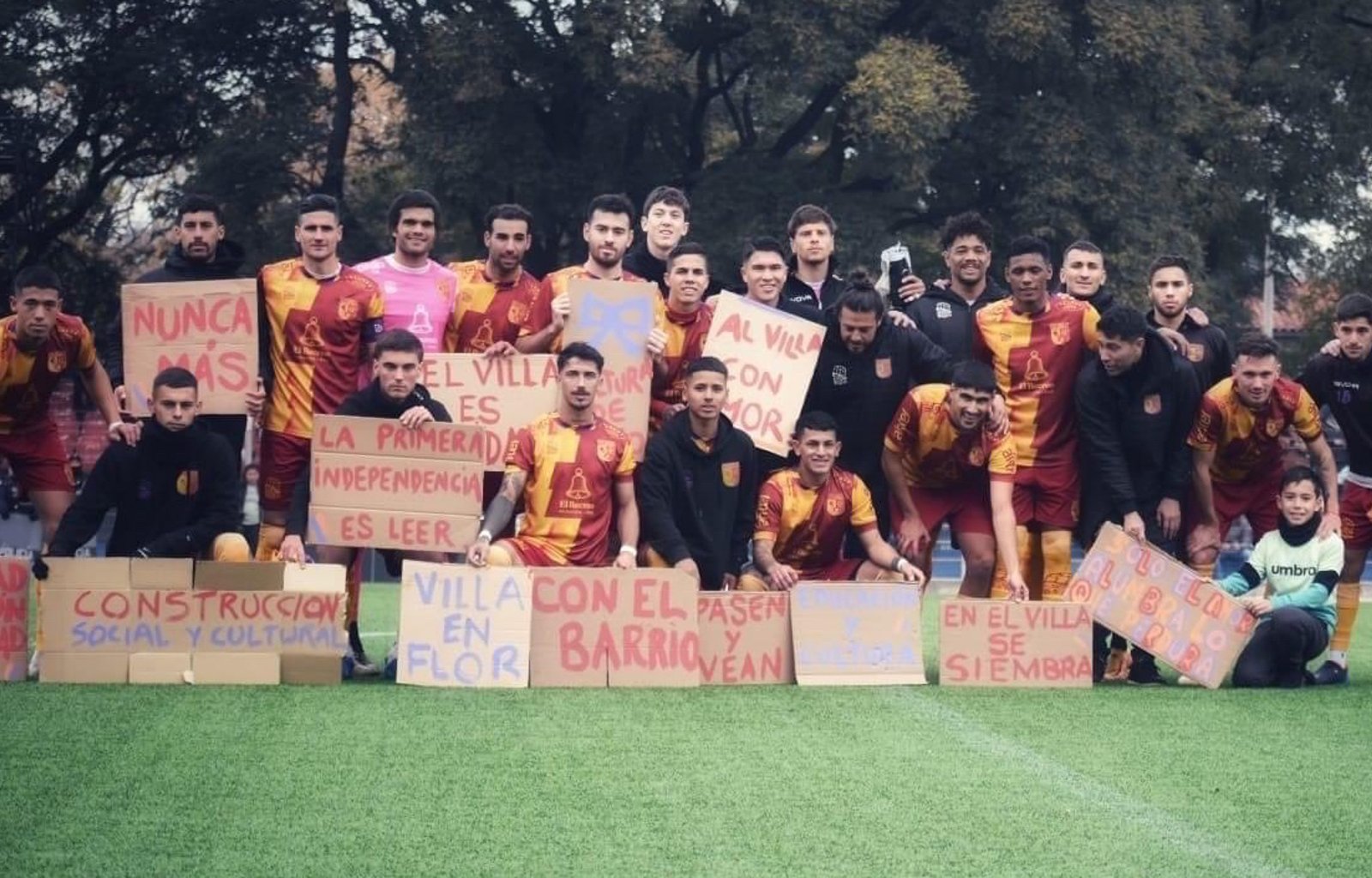 {0} min. reading time
The MUFP stopped football in Uruguay because of threats against Villa Espanola players


The strike prompted an unprecedented change in security protocols and the inclusion of players in the processes


"We are satisfied by these important changes," says MUFP secretary Mitchell Duarte
30 June 2022 marked the beginning of a substantial and progressive improvement in player safety for Uruguayan football when the Mutual Uruguaya de Futbolistas Profesionales (MUFP) union decided to go on strike because of "serious acts of violence" that took place at Villa Espanola.
The measure lasted until 6 July and marked a turning point in understanding how player protection should be approached in a country that lives and breathes football.
What happened?
Villa Espanola, a Montevideo club that plays in the second division, was experiencing internal political conflict that escalated into requiring state intervention and, after a series of bad results, spilled over to the players.
"At the end of a match they lost, they could not leave the dressing room for more than an hour because there was a threatening, violent group of fans who didn't want them to leave," said MUFP secretary Mitchell Duarte.
"We stepped in at that moment and as it was the last match of the initial tournament stage, training was cancelled for a few days to calm the tension. However, when we returned, the club was in a vacuum, the directors had resigned, as had the coaching and medical staff. The boys went back to training and there was no-one there."
In this climate of extreme uncertainty, direct threats were made against some of the team members who had strong links to the club.
"That's when the situation began to transcend the world of football and could have become more serious," explained Duarte. "It was no longer a question of security at matches, but of being able to go to training without worrying about what might happen."
Mutual Uruguaya De Futbolistas Profesionales
• Division: South America
• Established: 1946
• FIFPRO Member since: 2019
• Website: mufp.uy What was done?
With the conflict at its peak, the MUFP had no intention of intervening in a club's internal politics but there was concern about player welfare, so it called for all professional football activities in the country to come to a standstill.
The objective was not only to keep the players of Villa Espanola safe, but to create a starting point that would benefit all professionals. This is why the MUFP sought meetings with the Uruguayan Football Association (AUF) and the Uruguayan government, specifically with the Secretary of State for Sports and the Ministry of the Interior, in charge of managing the police.
"We formulated some demands that went beyond football and we reached agreements that got us back to work," said Duarte.
"We worked on two main areas: one, safety for footballers during matches. The other was the approval of a competition manual that had been in the pipeline for a long time but had been shelved for political reasons. In Uruguay, there is a lot of room for improvement in terms of organising events which is why we encouraged new positions within the organisation, including the footballers' representatives."
"Football is the greatest show on earth and should not be tarnished by this type of situation that also puts jobs on the line."

— by Mitchell Duarte, MUFP secretary
What was achieved?
In the specific case of Villa Espanola, players were given protection to train normally and it was administratively guaranteed that they could continue to compete and that players would not suddenly be left without a job.
In general, it was agreed to introduce stewards and match delegates who would ensure that everything runs smoothly inside the stadium, while the MUFP would also be involved in the area of logistics and security coordination. One of their jobs is to highlight potential problem situations.
"If a team is doing badly in sporting terms and has a complicated fan base, we'll keep an eye on them so that we don't have to go through the same situation again," said Duarte.
In addition, the MUFP worked with the government on a security protocol focused on the matches in which "the footballers are protected from the moment they arrive until they leave the stadium".
"This provides bodyguards for the teams and it is working well. It had to be done because stadium security is private in Uruguay and many clubs put fans in charge of it. Consequently, the first line of security can potentially become the first line of attack," said Duarte.
In addition, new technology – drones, for example – has been brought in to back up tools available for security and to try to "keep violence out of football".
"It is the greatest show on earth and should not be tarnished by this type of situation that also puts jobs on the line," said Duarte.
What objectives remain?
"We are satisfied by these important changes [since the strike] but to come full circle we have to improve the stadium buildings," said Duarte.
"Football has changed a lot and some stadiums have fallen behind, with poorly located changing rooms or little security infrastructure. We set deadlines, some of them short and others longer, mindful of the money factor. The idea is to be as ready as possible and prevent problems arising.
"The issue is on the table and if the deadlines we set are not met, we will not go to those stadiums. This would lead to further union action because some situations are just unsustainable."