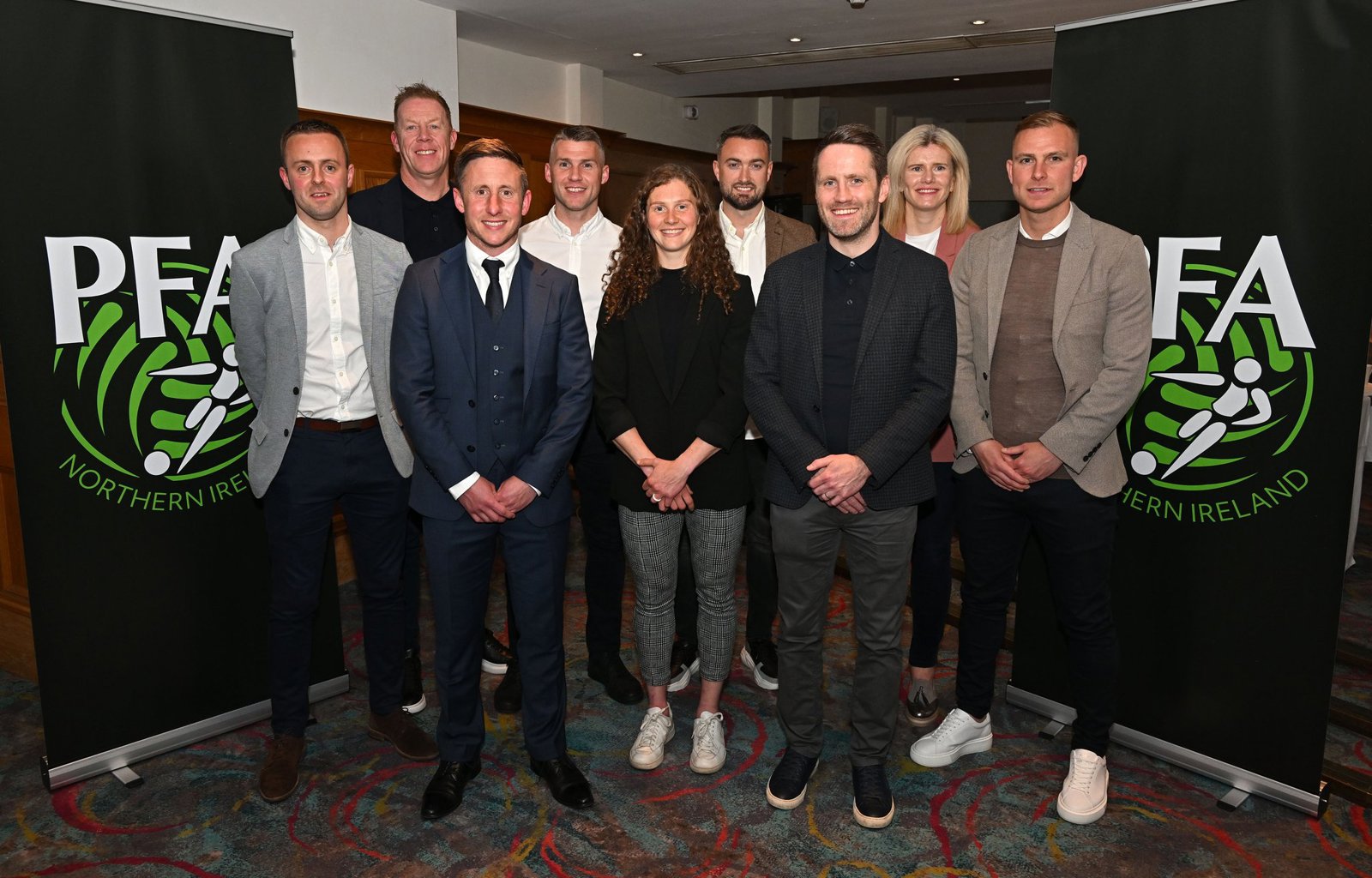 {0} min. reading time
Professional Footballers' Association of Northern Ireland (PFA NI) was granted observer status by FIFPRO in June


Recognition of the work being carried out by one of football's youngest unions, serving players from one of the oldest football associations


Michael Carvill highlights the union's work serving players – from standard contracts to mental health support 
The Professional Footballers' Association of Northern Ireland (PFA NI) took a significant step in June when it was granted observer status by FIFPRO, paving the way for potential candidate membership with the global players' union.
It is recognition of the important work being carried out by one of football's youngest unions, currently serving players from one of the oldest football associations.
"We have three leagues where we serve players in Northern Ireland: the top two men's leagues that each have 12 teams and the women's top-flight which has 10 clubs," explains Michael Carvill, a member of PFA NI's management committee. "The leagues are run by a governing body, Northern Ireland Football League, who fall under the Irish Football Association (IFA).
"There has been a real increase in the professionalisation of our leagues in recent years; the men's Premiership has six full-time teams now, while women's players are also signing professional contracts. With the leagues going from strength to strength and more players going full-time, it means there's even more need for a players' union here." Now 35, Carvill spent 13 seasons playing in Northern Ireland's top-flight as a forward, picking up five league winners' medals with Linfield and Crusaders.
He currently serves as player-manager of Kilmore Rec, as well as working as a coach educator for the IFA.
It was during his teenage years at Charlton Athletic and Wrexham where Carvill was first inspired by the work of England's PFA and in 2019 would eventually set up a union in his homeland.
"I was looked after incredibly well by PFA England and when I came back to Northern Ireland, I felt a bit guilty that players didn't have the same protections or the same support network. So, I always felt a union was needed here," said Carvill. "I met Stephen McGuinness, the General Secretary from PFA Ireland [editor's note: Republic of Ireland], who was incredibly generous with his time and who helped connect me with FIFPRO. From there, we started to slowly build as a union."
The growth of PFA NI would dramatically accelerate on the back of tragic circumstances, when the league's players rallied around the family of Carrick Rangers defender Jerry Thompson after the 24-year-old died by suicide.
"The players got together in a WhatsApp group as we wanted to put money towards the funeral for his family and somebody mentioned that it was time there was a player body to help with mental health," recalls Carvill. "Somebody then replied, 'Michael Carvill is building one at the moment' and things propelled from there.  
"Mental health support is one of the key services we provide and the buy-in has been strong from players. Northern Ireland is a small place, so if you're a footballer going through a difficult time, the one thing you want is confidentiality.
"We provide 24-7 mental health support and in the last 18 months we've had roughly 20 players reach out for counselling, which is what we categorise as 'getting care', and we had one player who needed emergency rehab.
"It's no guarantee Jerry's life would have been saved if this was in place when he was struggling – but what it could have done is identify a problem and got him help. So, if we have this system in place that can potentially save a life, then it's absolutely worth having."
As well as mental health support, PFA NI also provides legal and educational services and has strived to implement protections in the form of insurance and standard player contracts.
"The current contract we have is not fit for purpose, hasn't changed in the last 10 years and doesn't protect the rights of players," said Carvill. "When observing other nearby leagues such as the Republic of Ireland and Scotland, and even further aboard within FIFPRO Europe, we feel our players should be entitled to the same support.
"We're also trying to introduce an insurance model that when a player gets injured, the club covers the costs of rehab and surgery."
Knowledge sharing from neighbours 
Through FIFPRO funding, PFA NI has been able to take advantage of their close geographical ties with long-established player associations in England, Scotland and the Republic of Ireland, who have been on-hand to lend support and guidance to the fledgling union.
"The support from all three unions has been incredible, especially from PFA Ireland and Stephen McGuinness," said Carvill. "I'm currently walking down a path that Stephen's already walked and he's always there to share knowledge and experience.
"For example, during the standard contract negotiations with the IFA, Stephen has helped us pick up on details that will give added protections for players – which gives us a better opportunity to make our contract stronger now, instead of five years down the line when it's too late.
"It's because of the support from FIFPRO funding and connecting us with these unions that our management committee has been able to receive invaluable education on key issues, which in turn means we can provide support for our players."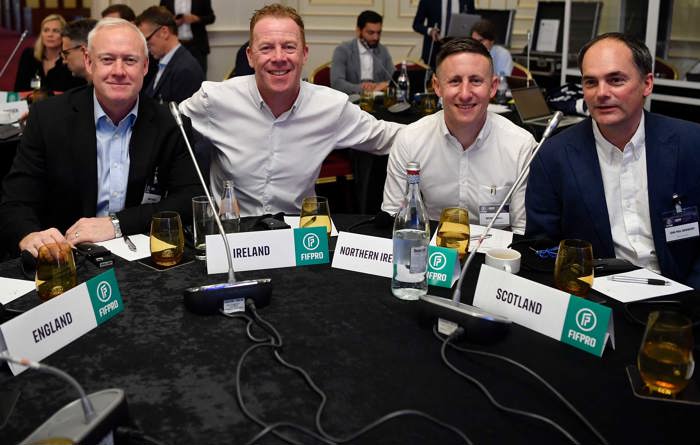 Left to right: Simon Barker (PFA England), Stephen McGuinness (PFA Ireland), Michael Carvill (PFA Northern Ireland) and John Paul Mowberry (PFA Scotland)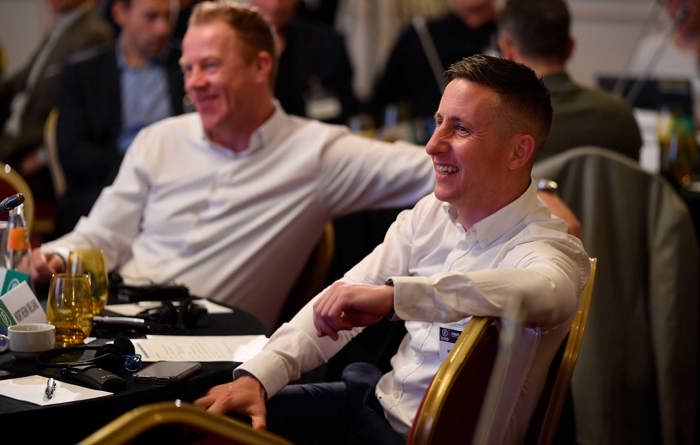 Stephen McGuinness (left) with Michael Carvill (right)
Though PFA NI has made impressive strides in their four-year existence – the union was only officially launched in May 2023 – its management committee knows there is still a long way to go.
"We've done well to get to this point in a short space of time, but we need to keep pushing and progressing," said Carvill. "With the way the union is now built, we have a strong committee who are driving it forward.
"We firmly believe we'll be able to sit at the top table with the IFA, Northern Ireland Football League, and the major government bodies here and build a union that will be strong enough to last for as long as the leagues continue.
"Players here now know that we are there for them. We want it to become the norm that if they ever need support, PFA NI is always available to help."