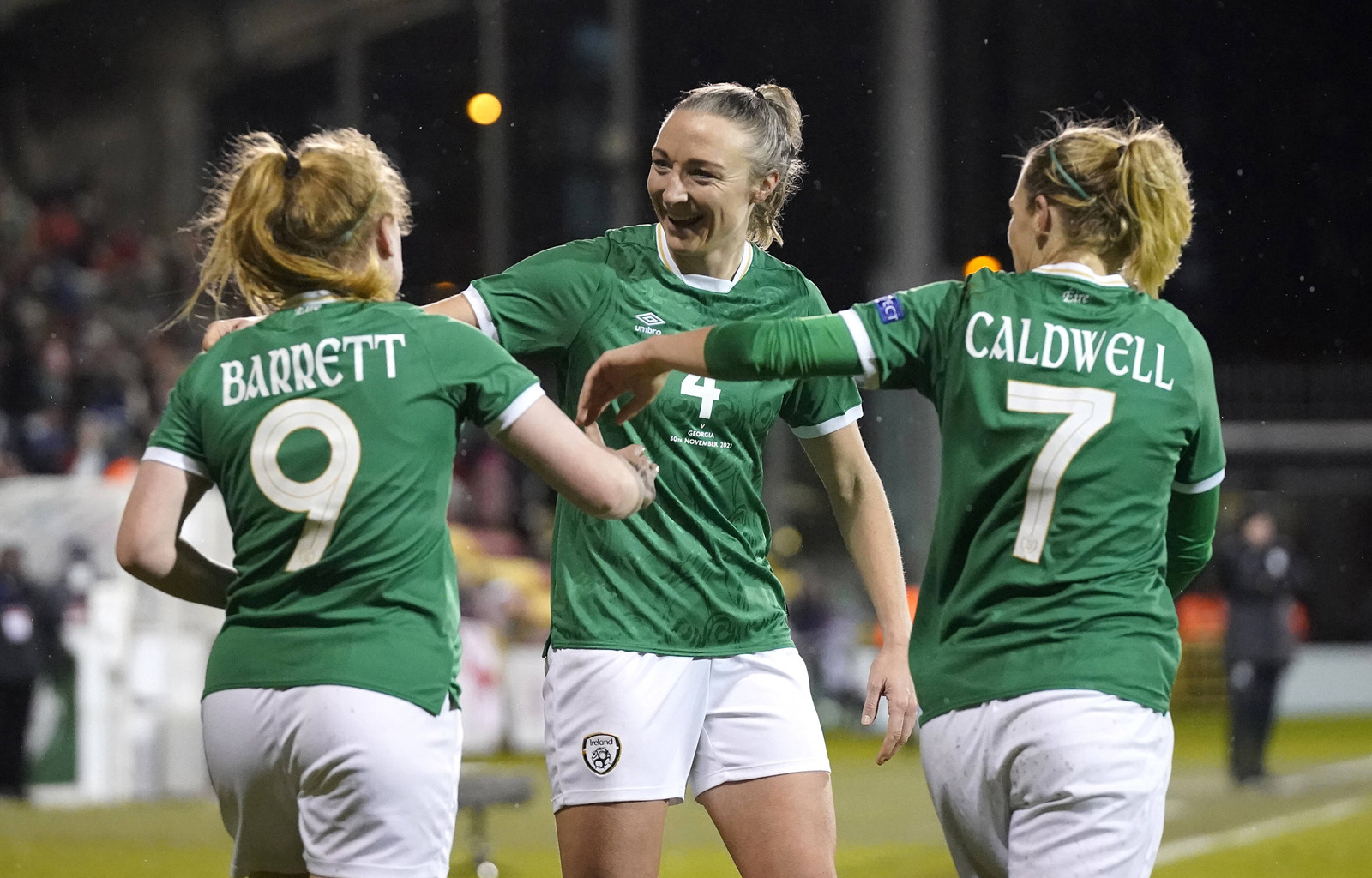 {0} min. reading time
30 August marks one-year anniversary of Republic of Ireland's equal pay deal


While announced in 2021, the agreement was years in the making


Defender Louise Quinn and PFAI General Secretary Stephen McGuinness talk us through progress to date
30 August 2021: a landmark date in Irish football.
The Football Association of Ireland (FAI) announced that players representing the Republic of Ireland senior men's and senior women's international teams would start receiving the same match fees on international duty.
The agreement was brokered by FAI CEO Jonathan Hill, advisor to the men's and women's players Ciaran Medlar, and Irish captains Katie McCabe and Seamus Coleman.
Though the deal was announced in 2021, it was years in the making.
"It was something that started well before 2021, when we spoke up about our rights," said Birmingham City and Republic of Ireland defender Louise Quinn, speaking at last month's Raising Our Game forum.
"Without our own captain Katie McCabe and the men's captain Seamus Coleman, part of this wouldn't have been able to come together, while Ciaran Medlar was able to talk on behalf of the team.
"I think how it was all instigated from the PFAI was priceless – to give us that confidence to know we are worthy in our sport, and in that association, has been massive."
The origins can be traced back to 2016 when then-captain Emma Byrne approached the Professional Footballers Association of Ireland, who helped the women's national team in becoming organised.
"The squad was always changing, which at the time was making it difficult for the players to organise themselves," said PFAI General Secretary Stephen McGuinness. "But as we were organised as a union – and funded by FIFPRO and had their backing – we were able to pull the players together and push for changes.
"The FAI at the time refused to address any of the basics: loss of earnings, charter flights, gym, strength and conditioning. Even equipment and apparel were all men's fit. Ultimately, we got where we needed to get to with securing better working conditions.
"The FAI never recognised the union as a representative of the players and we had a mediator who went between.
"We helped create a situation where the players were able to deal directly with them. We always encourage the players to negotiate themselves on their own behalf, but they always know the support of the union is there and we will step in whenever needed."
Professional Footballers' Association Of Ireland
• Division: Europe
• Established: 1960
• FIFPRO Member since: 1996
• Website: pfai.ie
The deal was arranged with the help of the men's national team, which agreed to a reduction of their own match fees. The FAI matched that reduction and added that to the women's match fees.
The outcome of securing the deal was felt way beyond the Emerald Isle.
"We've had other national teams come to us, come to PFAI Ireland, to figure out the route that we took as players," explained Quinn. "We get asked by fellow [club] team-mates about the process we went through to get to where we are.
"We're a small nation but we're getting places."
Sights set on first major championship
Five years ago, the Republic of Ireland women's team threatened to go on strike in a protest over treatment by the FAI. It led to doubts over whether a World Cup qualifier would go ahead or not. Fast forward to 2022 and the Republic of Ireland are in with a chance of securing a play-off place in 2023 World Cup qualifying, as they hope to reach their first major women's championship.
"We're now seeing the outcome of those investments made by the FAI," said McGuinness. "The women's game is going well but it is only going well because the players made a stand and demanded conditions be better."
"A lot of changes have been made in the association and everything is going in the right direction," said Quinn. "We have a voice, there is parity and there's opportunities for all Irish players to play on the international stage."
"We've had other national teams come to us, come to PFAI Ireland, to figure out the route that we took as players."

— by Louise Quinn (Republic of Ireland)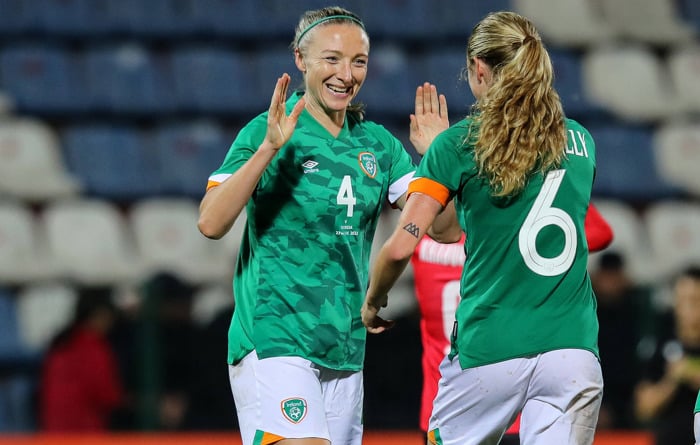 As ever, though, more can always be done. And while strides have been made with the women's national team, developments can also be made with Ireland's domestic league, according to Quinn.
"There's scope for more consistency across the board to ensure we're in the best condition to play for the national team, to make sure that we're qualifying for tournaments," said Quinn. "It's also about developing the domestic league and making sure players there are supported and have a pathway to the national team.
"Playing aboard is fantastic but we need to make sure domestically that things are ticking over and that when players from the League of Ireland are coming into the national team camp, that it's up to standard. We need to ensure that from grassroots upwards that there are opportunities for Irish girls."