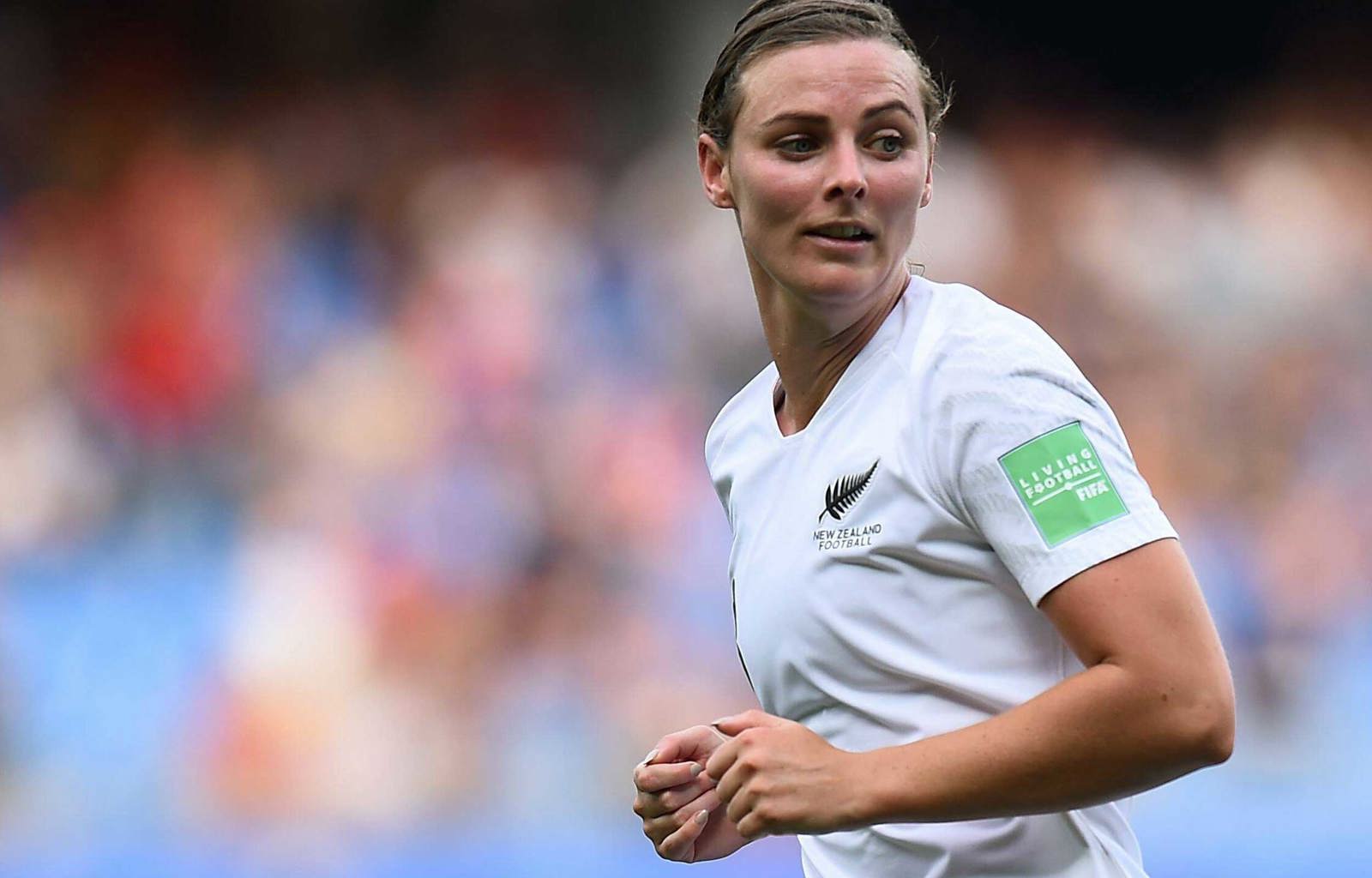 {0} min. reading time
Former New Zealand international Anna Green won 82 caps for the Football Ferns between 2006 and 2023


Sydney FC defender is NZPFA's representative on FIFPRO's Asia/Oceania Division board


Green reflects on the journey of women's player conditions and what can be achieved via collective action
As well as being an historic celebration for the country, New Zealand's Women's World Cup victory against Norway was also a time of reflection for a former Football Fern.
Anna Green, who announced her international retirement earlier this year, amassed 82 international caps for New Zealand between 2006 and 2023, playing in three Women's World Cups and four Olympic Games.
"It was the most amazing thing to see years of hard work and dedication all come together in that moment," said Green, reflecting on the 2023 co-hosts' opening-match win; their first victory at the global finals.
The Sydney FC defender continued: "I played for the Ferns for 16 years, and when I was starting it was all pretty much amateur. We were lucky to keep the shirt you were wearing in matches, and travel regularly included 10-hour layovers."
Conditions for women's players have much-improved at Australia/New Zealand 2023, thanks to the collective action of FIFPRO, its member unions and international players from around the globe.
A board member of FIFPRO Division/Oceania, Green sat down with FIFPRO to reflect on the journey of women's player conditions, her work with the New Zealand Professional Footballers' Association (NZPFA), and what can be achieved through collective action.   
FIFPRO: New Zealand won their first-ever Women's World Cup match. How was that experience for you as a former player, and what are your hopes for the rest of the tournament?
Anna Green: It was the most amazing thing to see years of hard work and dedication all come together in that moment. The fact that it was on home soil, in front of the biggest ever football crowd in New Zealand, made it almost feel like fate. I think that game played out exactly how it was supposed to. The team's already captured the heart of our rugby-focused nation and I can't wait to see that carry on throughout the rest of the pool play and hopefully further into the tournament. You were a Fern for over 15 years. What changes did you see during your time as an international, and what is the biggest difference between when you started and today?
I played for the Ferns for 16 years, and when I was starting it was all pretty much amateur. We were lucky to keep the shirt you were wearing in matches, and travel regularly included 10-hour layovers. I think the main changes have been seen in conditions and accommodation arrangements, which have meant that the game itself has become a better product. By bringing in these changes – specifically after 2018 when we worked together with the All Whites (New Zealand's men's national team) to secure equality for both teams – the athleticism, the standards and the performances have just continued to grow. Women's football is on this amazing trajectory at the moment, and I think continuing to improve conditions will keep growing interest and investment in the game.
Can you explain how your journey with the NZPFA started, and the role that you play now with the association?
I was lucky enough to be room-mates with Sarah Gregorius for a long period of my Ferns career. Anyone that knows Sarah (now the Director, Global Policy and Strategic Relations Women's Football at FIFPRO) knows how infectious her passion and energy is. Hearing about her work with the NZPFA, I jumped at the opportunity to be involved when she subsequently left the NZPFA to pursue her role at FIFPRO.
I'm currently the NZPFA representative on the Asia/Oceania Division board and I also get to use my chartered accountant skills on the FIFPRO Global Finance Committee. Within the NZPFA my main role is player relations, although we're a small organisation so I'm across an array of topics as and when needed. In 2018, the NZPFA were able to successfully broker a deal which ensured equality in terms of pay, prize money, image rights and travel conditions between the men's and women's national team. How did this come together, and what impact did it have for you as player?
New Zealand is a country that is used to being at the forefront of social issues. I look at parts of our history really proudly, particularly when I think of the country's position on women's voting rights, being nuclear-free and gay marriage, to name but three examples. For us as a union, it's about trying to continue that legacy and be at forefront of progressing rights for players. The fact that in 2018 we were able to achieve equality was a real testament to that and has given our national team, particularly the Ferns, a real stake in the ground to say we deserve the same as the men, and if we're not receiving it, there's a clear commitment for our federation to be held accountable. It was the first time we'd come together, and the women felt really included as part of the union.
To have the support of the men's team, led by players like Chris Wood and Michael Boxall, was a special moment, too. It laid down some great foundations moving forward that, although took place just five years ago, happened when the women's football landscape was nowhere near as developed as it is now. Societally, it's the exact kind of progressive stance that we in New Zealand are proud to advocate for, and across the wider game we want to provide an example, even if we are not one of the bigger nations in the world.
What unique challenges and issues do players from New Zealand face, and how does the NZPFA support the players?  
One of the unique issues that New Zealand players face is our geographical isolation. This means that our players often have to leave home at a young age and can feel disconnected from their support system and 'home'. Our Player Development Manager Hayley Bowden (nee Moorwood, former New Zealand and Chelsea player) works for our union and tries to support players through this transition and anything and everything that they might need help with.
Another challenge that comes from our location is the sheer amount of travel our players have to do. You might have seen that Liv Chance clocked the highest distance in the recent workload and travel report from FIFPRO. We at the NZPFA have been working closely with FIFPRO to use this data as evidence to support the high workload demands of players and to demonstrate the need for better quality travel. We want to make sure that our federation has a more complete picture of the loading of players and what the repercussion are for them in terms of load management, particularly when they're first arriving in camp for international duty.
New Zealand players were among those who signed FIFPRO's letter to FIFA ahead of the World Cup which successfully called for improved conditions and pay for players. How proud were you that the Ferns were involved in that, and what legacy do you think this creates for collective action in women's football?
I'm always so proud of our players when they stand up for something they truly believe in and do this in a public forum. While our players have the security of receiving a certain percentage of World Cup prize money through our collective bargaining agreement, that's not the case for many other countries that are playing at this tournament.
An important part of FIFPRO's conversations with FIFA and the outcomes from that campaign were around guaranteeing that 45 percent of the prize money goes directly to players. This is a game-changer for women's footballers around the world and something that I know our players felt strongly about. It's every player's responsibility to help progress the game, not just for themselves but for all players around the world, and this collective approach was the perfect example of that. I hope players see the results of that as proof of the power of collective action; that when they come together and stand up for their rights they can achieve what might've initially seemed impossible.