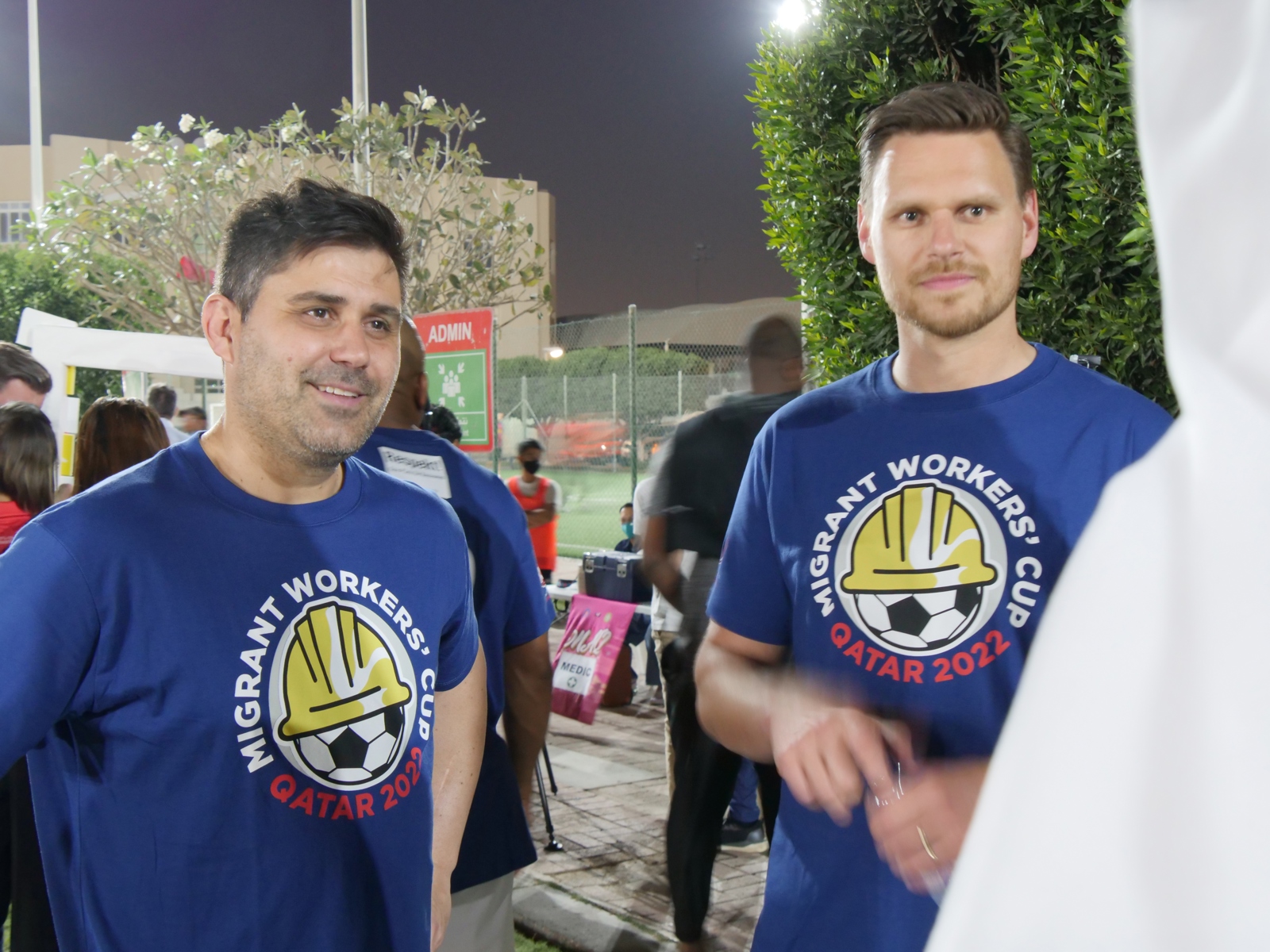 A FIFPRO delegation led by President David Aganzo and General Secretary Jonas Baer-Hoffmann visited Qatar this week to continue working towards an enduring legacy from the 2022 FIFA World Cup for the migrant workers who built the tournament's stadiums.
The group which also included deputy general secretary Simon Colosimo, global board member Damiano Tommasi, African board representative Thulaganyo Gaoshubelwe and Policy Advisor & Strategic Project Coordinator Erica Puppo held talks with government authorities in Doha as well as executives from other World Cup stakeholders including sponsors and football federations.
It was the third visit by FIFPRO to the Gulf state since signing a collaboration agreement last year with Building and Woodworkers International (BWI), the trade union which has been working on behalf of the 2 million migrant workers in Qatar for a  decade.
Before playing in a tournament of migrants on Wednesday night, Aganzo spoke of how BWI had helped bring them and other workers from different nations closer to FIFPRO and national-team players who will be the face of the World Cup.
"Our members – many of who will play in the stadiums you have built here in Qatar – know and understand their responsibilities to you and your community," Aganzo said. "They want to do everything within their power to build a legacy of human rights and workers' rights that will improve lives long after the FIFA World Cup ends."
In recent months, FIFPRO and BWI have arranged a series of video calls between migrant workers and professional footballers so players can understand how they can help. Former Finland captain Tim Sparv who participated in one of these  calls visited Doha this week with FIFPRO staff to see first-hand the employment situation in Qatar.
During the trip he spoke of his thoughts in a video interview.
In an open letter also published during the trip, Baer-Hoffmann and BWI secretary-general Ambet Yuson said while there had been significant legislative changes to improve worker rights it is crucial to make sure those changes are protected by creating a Migrant Workers Centre where expatriate employees can receive legal support.
At a BWI conference in Doha on Tuesday, Colosimo spoke of how footballers in some small and mid-size leagues face some of the same hardships that migrant workers face from unscrupulous employers.
"There are many footballers around the world that share the same difficulties and the same grievances" Colosimo said. In some football leagues, "we see non-payment, we see disrespect of contracts, we see the lack of freedom of movement.
"In the conversations we have had, the migrant workers were amazed to hear that, but the truth is we are both fighting together for trade union rights."