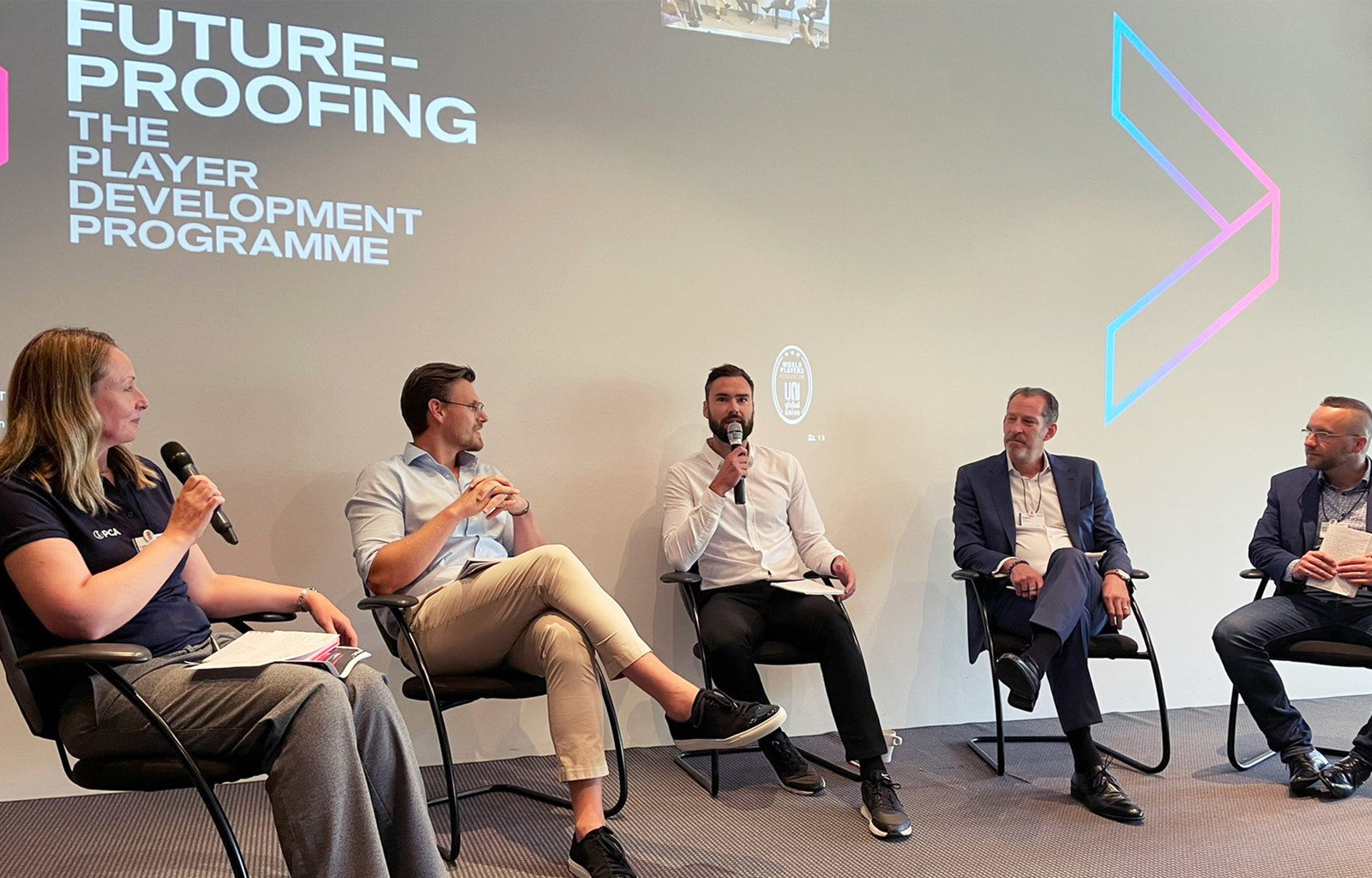 {0} min. reading time
World Players Association's Player Development Conference 2022 took place in Nyon, Switzerland


Over 100 player development managers – 27 from FIFPRO – attended three-day event focused on future-proofing


FIFPRO staff played an active role in proceedings with keynote speeches, panel discussions
FIFPRO members were strongly represented at the World Players Association's Player Development Conference 2022 in Nyon, Switzerland this week.
The World Players Association is the leading voice of organised players in the governance of world sport, bringing together 85,000 athletes from more than 100 player associations in over 60 countries.
Over 100 player development managers – 27 from FIFPRO – attended the three-day event on 21-23 June 2022, which focused on planning for the future of player development and wellbeing.
Player Development Conference 2022
21 June: Identifying challenges & changes players will face in the next 10 years
22 June: Skills players will expect of the PDM in future
23 June: How the PDM can best support athletes re: abuse, trauma, discrimination and activism 
Sessions featured expert speakers and panels from across the world of sport – and FIFPRO staff played an active role in proceedings.
On Wednesday, Union and Player Relations Officer Dr Alex Culvin delivered a keynote speech: Creating a Player Development Programme that Reflects Athletes' Need, highlighting why players should be at the centre of decisions in professional sports.
Dr Culvin's research focused on how women's players required gender-specific support now the women's game is rapidly professionalising.
"Player Development Managers hold unique positions in players' lives: they have the trust of players and the opportunity to shape them," said Dr Culvin.
"The growth of professionalisation [in the women's game] has been rapid. We have to prepare players for the increased expectations that they will undoubtedly experience. It's up to us to push for equal and equitable conditions for players."
The keynote speech was soon followed by Dr Culvin being part of a panel titled: Rising Issues in a Diverse Membership, hosted by FIFPRO Player Development Manager Nienke van Gerven.
The cross-sport panel, which also featured Line Roddik Hansen (Danish Football Players Association), Sene Naopu (International Rugby Players) and Jenny Rogers (Gaelic Players Association), shared valuable knowledge and insight into supporting players on a range of gender-specific issues – from training to medical care. On Thursday, FIFPRO General Secretary Jonas Baer-Hoffmann spoke on the panel: The PDM and Player Association Role in Supporting the Athlete Activist.
Baer-Hoffmann was joined by Tim Sparv. The former Finland captain has used his platform to advocate for improved working conditions for the Finnish women's national team and migrant workers in Qatar.
"We need to educate athletes on the consequences of activism. We need to be transparent, and then empower them to take their own decisions based on whether they are comfortable or not," said Baer-Hoffmann. 
"There's this push and pull of athletes currently: you have more and more public expectation that all of them should be activists, that athletes should now use their platform just because some choose to do so. We can help players navigate that."
"I think athletes are generally getting a little bit tired of decisions being made without their influence – and that's why athlete activism is getting more powerful," said Sparv.
"We need to create a diverse group of people who come from different parts of life: unions, human rights activists, former players. I think they would take better decisions than we've seen in the past."
The last keynote speech of the three-day event was delivered by PFA England, which looked at player wellbeing through a mental health lens.
Player Wellbeing Director Dr. Michael Bennett and Player Wellbeing Executive Jeff Whitley gave insight into PFA England's personal, confidential 24-hour support for players.
"When we ask players how they are, we are genuinely interested. That empathy breaks down barriers and gives us the response we're after," said Dr Bennett.
'We tell players that we're not your club, we're your union. We're here to provide help for you. Because we're able to do that, players come forward to seek our support."