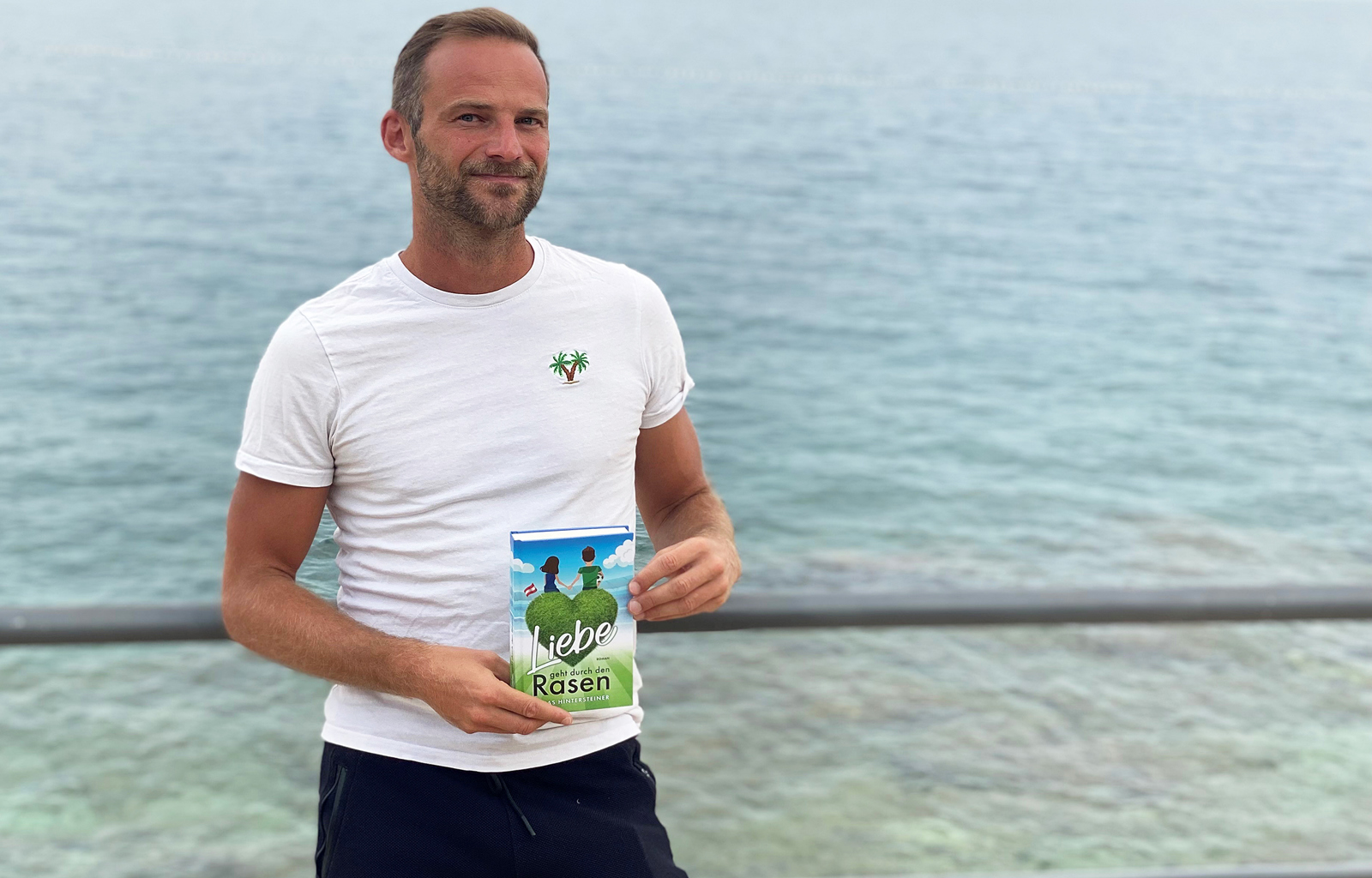 {0} min. reading time
• Austrian footballer Lukas Hintersteiner published his first novel ahead of the 2020 Euros
• The book is a romantic comedy that unfolds during Austria's qualification to the tournament
• Despite a playing career cut short by injury, Hintersteiner has found new passions through his love of football
This May, former LASK Linz player Lukas Hintersteiner delved into the literary world with the publication of his first novel: "Liebe geht durch den Rasen" (Love goes through the pitch).
At 17-years-old Hintersteiner looked to be a promising figure in Austrian football, but injuries cut his career short, with just twelve minutes game-time at the Bundesliga level.
However, this didn't stop him from putting his experiences as a player into good use and, at the age of 39, Lukas has channeled his passion for football into other pursuits - both as a writer and a coach in training.
"I didn't set out in life planning to pen a novel, but I have always enjoyed writing in some capacity. During the eight years that I was studying for my degrees in sports science and sports management I actually worked as a sports journalist for weekly newspaper Niederösterreichische Nachrichte.
While this role definitely developed my passion for writing, the concept of being an author hadn't really occurred to me. Not until one night when I was lying in bed and an idea for a novel just popped into my mind, and I just knew that I had to put it in motion. The next morning, I sat down, took my laptop out and just said to myself: 'Well this is it, I am going to write a book'. "Liebe geht durch den Rasen" tells the story of the Austrian national football team's qualification to the 2020 UEFA Euros through the eyes of Tommy, who gets a break in both career and love when he is assigned to report on Austria's performance in the lead-up to the tournament. Although things are looking up for Tommy in his courting of Julia, he never misses an opportunity to put his foot in his mouth, putting this firmly in the romantic comedy genre. Although it is indeed a story about love, it is football that lies at the heart of the novel – a passion that Tommy and I very much have in common.
The day that I graduated from secondary school I signed my first contract as a professional football player – and it was the proudest moment of my life. Unfortunately, luck wasn't on my side and, due to various injuries, my career spanned just three years – a short time even by football's standards.
Injuries are just part of the parcel when you're a player, and sustaining a bad one can spell a quick end to your time in the spotlight – just as it did for me. I was soon aware that I wouldn't be able to play indefinitely, and even while I was still an active footballer, I started considering other possibilities and opportunities – which led me to my education and work as a sports journalist.
I think this "Plan B" should be considered a priority for most players, whether this is a university degree, a profession or even working on coaching certifications. With the best will in the world, all it takes is a wrong move or a mistimed tackle and a professional sports career can quickly be over.
While rising through the ranks of football stardom wasn't on the cards for me, it doesn't mean that I fell out of love with it – quite the opposite. My experiences inspire me every day in my job as a secondary school sports teacher in Vienna, and I feel very fortunate to have been able to combine my passions for both the game and writing in my novel. Perhaps not unlike my character of Tommy, who is besotted with football, yet finds it leads him to another kind of love entirely.
Through my writing I have actually established a way to give back to the football community in a way, and I am donating part of the novel's proceeds to Amnesty International Austria in support of the "Blow the Whistle" campaign. The movement is fighting for fairer working conditions for those building major stadiums, and I hope that my contribution can help secure a safer future for migrant workers.
I still play football at an amateur level with SC Siebenhirten, but that too will soon come to an end – however I'm not quite done with football yet! I have lots of plans for the future, including taking courses to achieve my coaching license which I hope will be a prominent feature of my career to come. This doesn't mean that I will be giving up on writing anytime soon though, and the idea for a next novel is already taking shape in my mind – so watch this space!