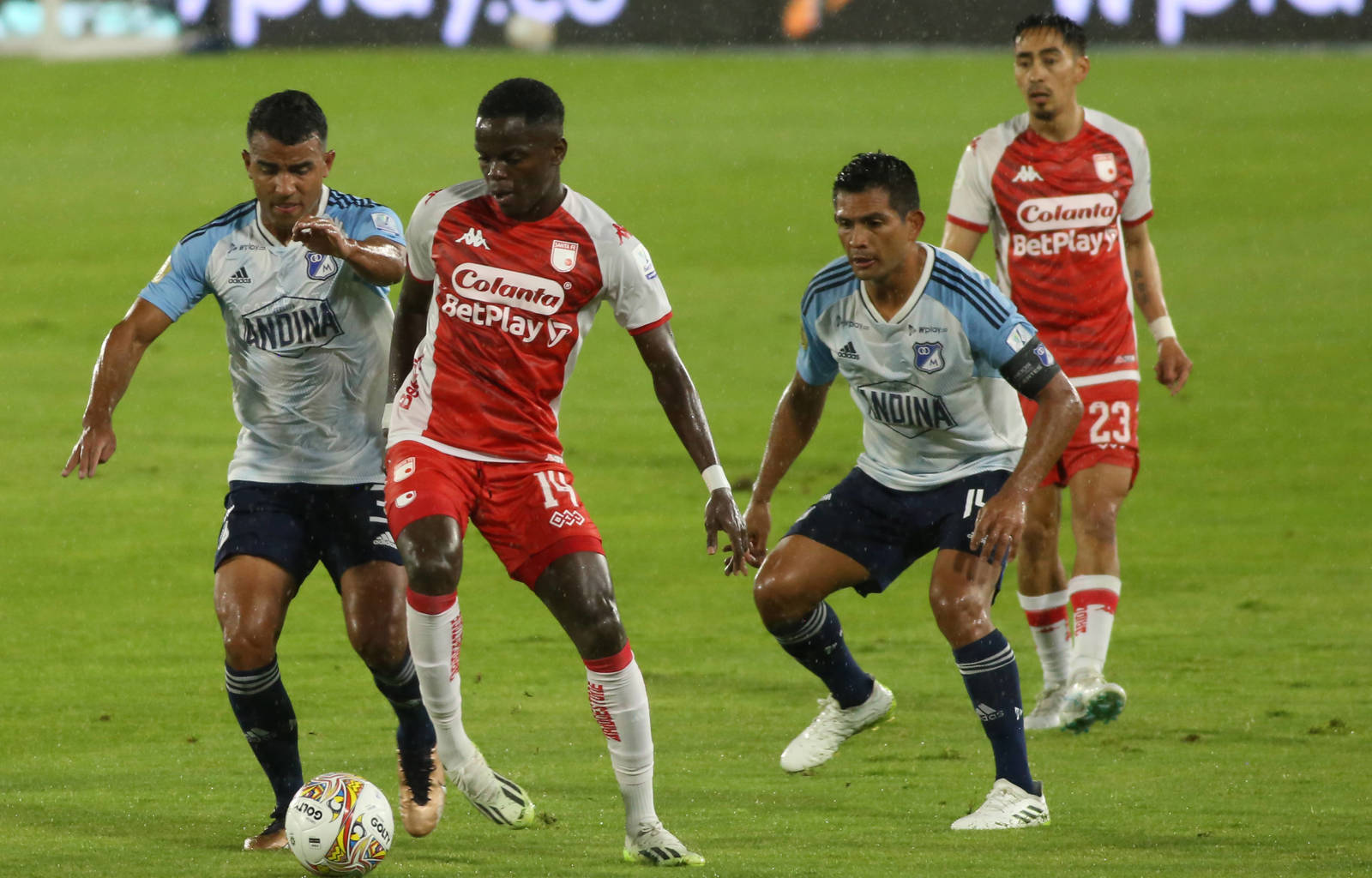 {0} min. reading time
Colombia's Ministry of Employment determined the Colombian Football Federation and Dimayor League must open channels of dialogue with ACOLFUTPRO


ACOLFUTPRO was assisted by FIFPRO, through General Secretary Jonas Baer-Hoffmann, in submitting a complaint to the International Labour Organization


Carlos Gonzalez Puche, executive director of ACOLFUTPRO and a member of the FIFPRO board, gives an in-depth account of the current situation in Colombia
On Monday, Colombian football woke up to the great news that finally, after an intense four-year struggle, the Colombian Association of Professional Footballers (ACOLFUTPRO) can sit down and negotiate the 12 points it considers necessary to improve working conditions for the country's men and women players.
Colombia's Ministry of Employment has determined that both the Colombian Football Federation (FCF) and the Dimayor League must open the relevant channels of dialogue with ACOLFUTPRO to negotiate its demands, a right it has been systematically denied since they were presented in 2019.
At the same time, the Ministry of Employment could penalise the federation and the league for ignoring the association's claims for all this time.
To achieve its objective, ACOLFUTPRO was assisted by FIFPRO, through General Secretary Jonas Baer-Hoffmann, in submitting a complaint to the International Labour Organization (ILO).
FIFPRO spoke with Carlos Gonzalez Puche, executive director of ACOLFUTPRO and a member of the FIFPRO board, to get an in-depth account of the current situation in Colombia.
FIFPRO: Carlos, what do you think of the government's decision to force the Colombian Football Federation and the Dimayor League to listen to your demands?
Carlos Gonzalez Puche: It's a success. It's taken many years of work to achieve this possibility. We really feel vindicated by this government that came in a year ago, because the constitutional obligations that previous governments failed to enforce really are finally being fulfilled. We've been negotiating at the Ministry of Employment for eight months. We called for the rational process of negotiation, which is how absolutely everything is resolved: by negotiation and agreement through the mechanisms of social dialogue. Why was it necessary to reach the point where the Ministry of Employment had to intervene?
In 2019 we submitted a list of demands to Dimayor and the FCF. We did this because negotiation by economic sector does not exist in Colombia, as it does in England and Spain for instance. So, we addressed our demands to those who regulate our activity, which is not the clubs. Because the status of players, the competition calendar, holidays, the women's football championship, the disciplinary code, playing times and rest periods for matches are not determined by any club, they're instead established by the federation and the league. But they said they were not employers and that contract issues were resolved with the clubs.
Since then, as there is no collective bargaining and our association is not a trade union, governments have refused to put pressure on the executives. However, that is what this government has done by telling them with this resolution: 'you're unwilling to begin collective negotiations, but objections can no longer be allowed. Everything you're saying is unacceptable. ACOLFUTPRO has full legal authority to negotiate its demands with you, not with the clubs. Sit down and negotiate'.
Twelve points ACOLFUTPRO is demanding agreement
The professional competition calendar and rest and recovery periods;
The status of FCF players;
The FCF disciplinary code;
The FCF obligatory standard draft employment contract;
The professional women's football championship;
Supplementary health insurance policies;
Times, intervals, and rest periods between matches;
Annual match of the Colombian senior national team in aid of ACOLFUTPRO;
Share of television rights;
Two annual meetings of ACOLFUTPRO with members of the Colombian men's and women's national teams at the base camp;
Agreement on the number of tickets for local championship and Colombian international matches;
Adoption of protocols containing policies against discrimination, harassment at work and gender-based violence. One of the means of pressure was reporting the case to the ILO…
As we did not receive a positive response to our demands, we submitted a complaint to them. That was when FIFPRO intervened through Jonas. Why the complaint? Because the agreement stipulates negotiation by economic sector and our constitution establishes that international agreements ratified by the Colombian government, such as the ILO agreements, are part of the constitution. In other words, they are part of the obligations of each sector. But neither the FCF nor the Dimayor League were doing so. They don't want anyone coming in and telling them anything about the championship, about duration, rest periods, women's football. They are executives unwilling to accept a change in which all of us involved can take part.
The present government has had to resort to the legal options it has, which are to impose millions in sanctions on both Dimayor and the FCF. But our interest is not in sanctions; it's in dialogue. What we hope is that we can have discussions, that we can have a dialogue, as is already happening in Peru and Uruguay, where they're on strike at the moment because they haven't agreed some issues in the collective agreement. In Colombia calling a strike is very difficult, because players are afraid of the reprisals that may be taken against them; they're not prepared to take a radical stance to negotiate demands. So, here the association has been fighting through legal action. But if there is dialogue, then there's no need to resort to that.
How helpful has international support been?
It's been very important. Not just from FIFPRO. I spoke with the chair of the ILO Freedom of Association Committee, Dr Karen Curtis, who was already aware of the issue, and we agreed that the ILO would mediate the problem. I also asked her to call in FIFA, so Dr Curtis called in FIFA's general secretary and its chief legal officer, who have been present at the four meetings we have held this year with the ILO, the Ministry of Employment and the representatives of the FCF and Dimayor.
Which of the 12 points will be given priority?
They're totally opposed to anything involving money. They've told us that they're not going to negotiate image rights, for example. A new television contract is going to be discussed here in two years and this could be an opportunity for us to negotiate a percentage in the next contract, so that whoever takes on responsibility for broadcasting should hand over some resources, as happens in Chile, for example, where the owner of the television rights paid the union 10 million dollars, at a rate of a million per year. In Argentina they've had two percent of the television rights for a long time. In any case, this is a crucial point which they're not going to allow us to address.
There's also the subject of the women's league. They say they have no sponsorship, but women in Colombia can't carry out their professional activity when a championship lasts 90 days for the first phase and 120 days for those who ending up playing the finals. This can't ensure that women will be able to practice their profession in just four months of work.
Another crucial issue for us is the calendar. We play all the time here. There's no rest, no holidays. The championship finishes on 22 December and on 3 January they're back in training. There are many highly sensitive issues on which changes have to be made according to the arrangements to be implemented by order of FIFA. When it comes to sitting down to negotiate and make agreements, the most important thing is to open the door and establish that ACOLFUTPRO is a legitimate interlocutor for ongoing dialogue on football matters.