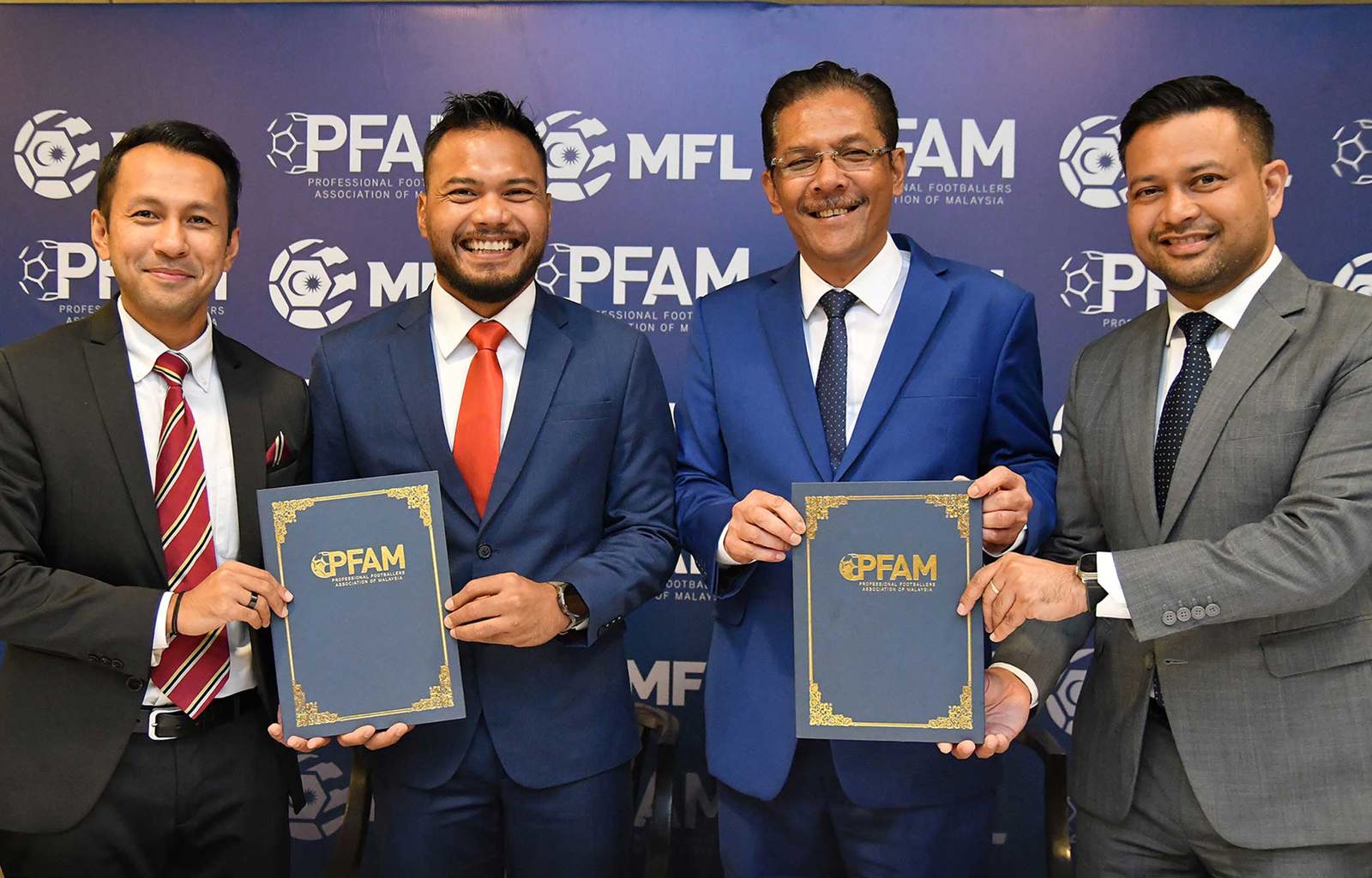 {0} min. reading time
Players will benefit from player centric protections and employment standards


Professional football in Malaysia will benefit from sustainable growth and an attractive playing market


Global Labour Agreement supports domestic football market development in Malaysia and social partner relations in the entire region
Malaysian player union PFAM and the Malaysian Football League have this week signed their first cooperation agreement at the FIFPRO Division Asia/Oceania general assembly in Kuala Lumpur, Malaysia.
The agreement builds on a longstanding relationship between the players and the league and expresses the common objectives of the partners to accelerate the sustainable growth of professional football in Malaysia by providing an exciting domestic playing environment that is built on the principles of decent work and player welfare.
It comes after FIFPRO and the World Leagues Forum (WLF) in September 2022 signed a ground-breaking Global Labour Agreement (GLA) at the International Labour Organization (ILO) to take greater responsibility as social partners to strengthen collectively agreed solutions in the football industry.
The GLA is committed to support domestic football market development in Malaysia, as well as promote social dialogue and social partner relations in the region and across Asia.
The signing of the cooperation agreement will benefit players in Malaysia with employment protection and also aims to contribute to sustainable market growth in the country. PFAM CEO Izham Ismail said: "As the representative body for professional footballers in Malaysia, we are committed to working with MFL to ensure that our players' rights are protected while maintaining the integrity and commercial value of the league. This collaboration agreement is a testament to our shared vision and dedication to developing the professional football sector in Malaysia."
MFL CEO Stuart Ramalingamc said: "At MFL, we are focused on creating a sustainable and thriving football ecosystem in Malaysia. Our partnership with PFAM is a crucial step in achieving this goal, as it will enable us to work towards a common goal of protecting the interests of both professional players and football clubs. We are excited to see what we can achieve together in the future."
Graeme Buckley, Director Sub-Regional Office of the ILO Decent Work Team for East Asia, South East Asia and the Pacific, said: "The ILO warmly welcomes the cooperation agreement between PFAM and the Malaysian Football League. It shows once again that social dialogue can be used to ensure fair treatment and working conditions for players and promote overall growth and development of the game. We hope that this is a first step towards many other such agreements in the world of football."
About the GLA: Global Social Dialogue in Professional Football
Signed in September 2022, the GLA established a new international bargaining framework between FIFPRO and the WLF in which both entities and their respective members act as employer and employee representatives.
The GLA follows the fundamental principles and rights at work set out by the ILO in the 1998 Declaration on Fundamental Principles and Rights at Work, which was amended in 2022. It is also in line with the Points of Consensus of the ILO Global Dialogue Forum on Decent Work in the World of Sport (2020).