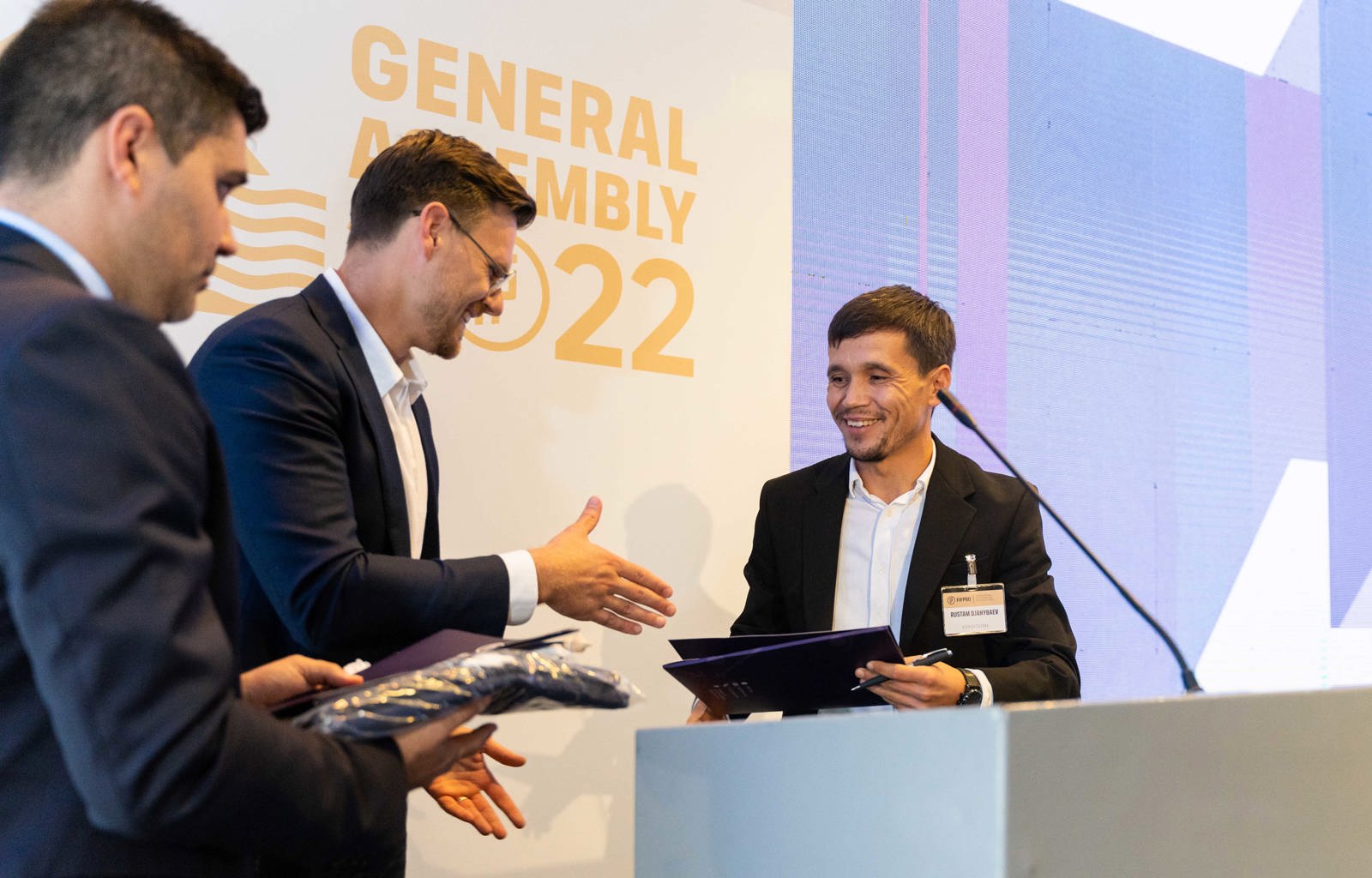 {0} min. reading time
Kyrgyzstan union AFPKR was announced as a FIFPRO candidate member last week


President Rustam Dzhanybaev gives insight into the union's past and present


"This will help grow the players' confidence in us," says Dzhanybaev
The Association of Professional Football Players of Kyrgyzstan (AFPKR) was last week announced as a new FIFPRO candidate member.

FIFPRO spoke with union president Rustam Dzhanybaev, a former FC Abdysh-Ata Kant midfielder, to learn more about the union's past, current status, and what it means to become a FIFPRO candidate member. 
History of the union
"We needed to create a union to help protect players from the many problems they were facing in Kyrgyzstan and outside the country. The number of problems started to increase, and because our players did not know their rights, they often lacked the respect of the clubs. Foreign clubs were aware that Kyrgyz players would not fight for their rights when these would be violated, and exploited this situation.
"I began to help players in 2015 on a voluntary basis. I am not a legal expert, but I know our country's regulations and the FIFA regulations. I consulted, for example, colleagues from the union in Ukraine. I supported national team player Valery Kashuba when he was experiencing problems with a club from Tajikistan (FC Khujand), and we won his case at the FIFA Dispute Resolution Chamber. I was also successful with helping Ivan Filatov win his case against a club from Oman (Sohar).
"By winning these cases, I earned the trust of other players, and started receiving more requests. We needed to have a more systemic approach, and in 2016, the national team players asked me to lead the process of creating a players' association, which I did.
"I had numerous meetings with football players, directors, journalists, and I received a visit from FIFPRO Asia/Oceania Chairman Takuya Yamazaki. He gave me valuable advice on building the organisation and its activities. In May 2017, our union was officially registered." Current status of the union
"Our union has 380 members, including 340 men and 40 women players. One of the most well-known players is Aidana Otorbaeva, who received special recognition from FIFPRO for her community work during the Covid-19 pandemic. 
"The APFKR received more than 400 requests from players asking for support. We successfully helped players filing cases at the FIFA dispute resolution chamber, and recently helped launch a project that should lead to the establishment of a national dispute resolution chamber.
"Furthermore, we rolled out the FIFPRO Red Button app and launched second career and anti-doping projects.
"Last but not least, we signed a Memorandum of Understanding with the football federation and the football league. Being one of the three stakeholders of Kyrgyz football enabled us to have an impact on positive changes in our game. For example, we had a joined campaign to eradicate violence against women last year after a woman was brutally killed. We arranged that players participated by painting red or black stripes on their face, and distributing their statements.   
"I think our most important accomplishment is that, during the five years of our existence, we have united all football players in Kyrgyzstan."
Goals
"Kyrgyzstan is not a big football country and neither our national team nor our clubs have won any trophies or recorded impressive results. However, we want our footballers to be respected and appreciated – both in our country and abroad. Of course we want our players to earn that respect on the field, therefore we have to improve the status of our football and the profession, in order to enable the players to realise their full potential.
"But these footballers are human beings first. They should be respected for trying to develop their personal qualities and we need to provide them with the possibilities to realise this. That's why we deem it important that players learn more about their rights, get an education, and start broadening their horizons to prepare for their lives after their playing career.
"We have some challenges. Recently some players tested positive for doping, which is why we launched our anti-doping campaign. Next to that, we also have to deal with people pretending to be an agent, scout or club director, who are deceiving players with false promises resulting in players losing money or getting into problems.
"Another challenge is making women's football more professional and introducing player contracts in their game." Being a candidate member
"For the APFKR, becoming a FIFPRO candidate member is a huge step. It is recognition that we are doing some good things for players and that we are advancing as a player organisation. This will help grow the players' confidence in us. At the same time, we expect that this will increase our influence in Kyrgyzstan, as other stakeholders have to work with us now.
"The new status will grow our network within FIFPRO and gives us more access to expert knowledge from all associations around the world. Hopefully, we can develop as an organisation, hire more employees and implement more projects."