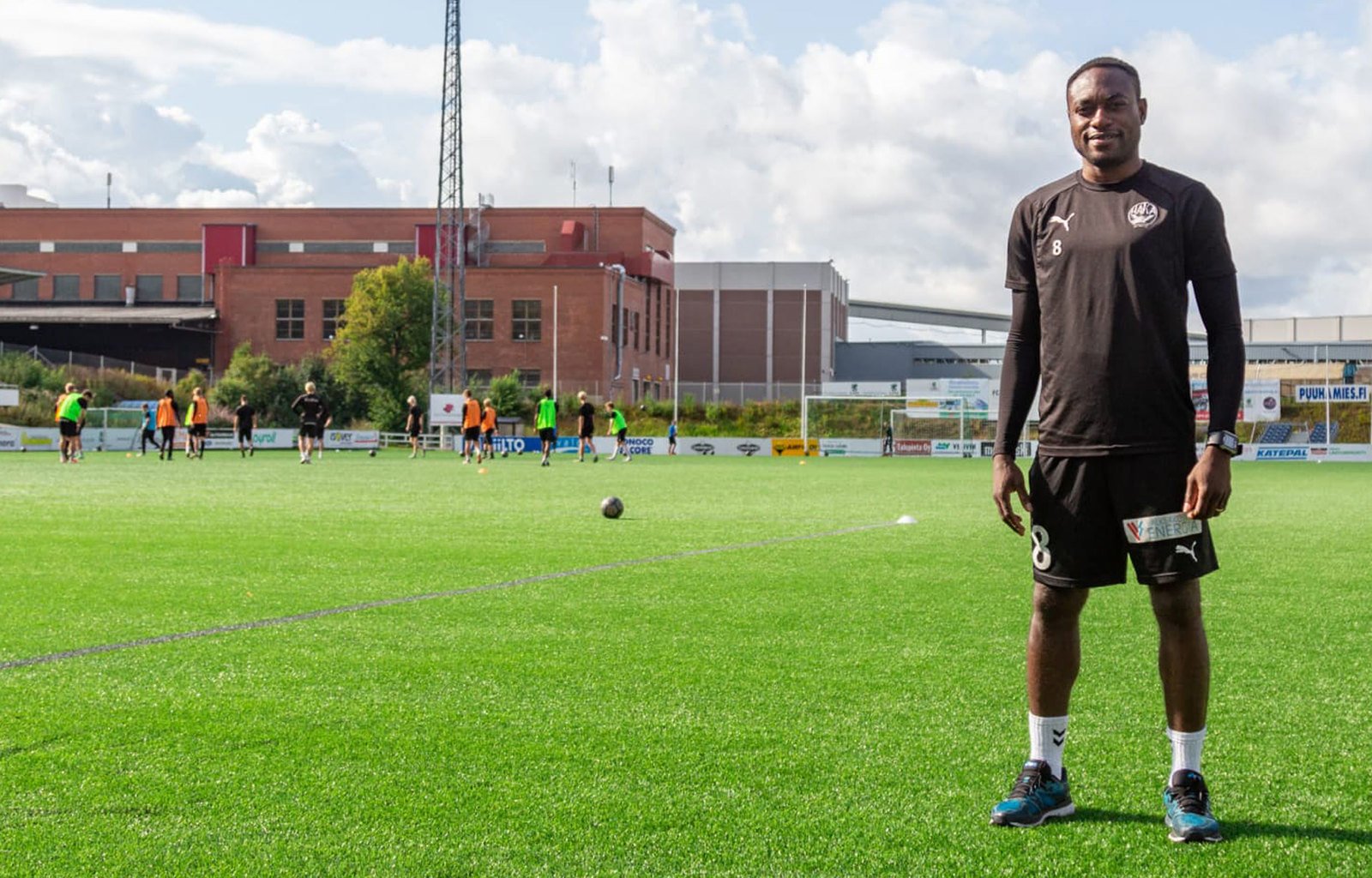 {0} min. reading time
Cameroon-born Jean Fridolin Nganbe Nganbe has spent 10 seasons in Finland, married to a Finn, and is now a Finnish citizen  
Holder of an UEFA B licence he was player and assistant coach of Ilves-Kissat last season  
Jean (33) is an Ambassador of the Finnish Football Players Association (Jalkapallon Pelaajayhdistys ry)  
"I left my country when I was really young, and I grew up in France and Germany as I have family there.I struggled a lot with the system and after a few years, I decided that I needed to help other foreign players with finding their way into society in Finland, with things like taxation, the weather and integration.  
"Now I am part of society, but it was not easy. There is a lot of social distancing, so after training I would be by myself. There is little interaction between players. Only during those two hours of training and during matches. After that, everybody goes their own way.  
"As an African, I am not used to that. For us, it is all about socializing with others, helping each other and sharing. As an Ambassador of the Players Union, I try to educate the players and help them with their problems. I try to get the clubs to understand that if a player is feeling good off the pitch, she or he will be able to give their best on the pitch. "I spent a short time playing in Poland and I experienced racism in football there. That has not been the case in Finland, but I have faced it when I walk in town with my Finnish wife. People can make comments. We have to deal with that every day. This is part of life. It should not be, but at the moment it is.  
"The biggest problem for foreigners is that they are looked at differently. If a local player makes a mistake, they say that it is part of the game, but when a foreign player makes the same mistake, then it is immediately assumed that there must be some sort of match-fixing involved and then clubs will release players because of that.. There is no credit for foreign players. There has to be a footballing culture that allows mistakes, but here in Finland, there is none.   
"At the moment, I am doing this work through the players' union, but after my graduation (he is studying to get his Bachelor of Business Administration) I want to start an organization which works with the players union. An organization that helps foreign players in Finland become integrated.  
"There is also very little money in Finnish football. So players come to Finland to play football thinking that it is the right place for football, which it is not I'm sorry to say. For living, working, yes, Finland is a great country, but not for playing football. But players come  with their dreams, how to develop, how to earn money like Zidane, Messi, all those guys. But the reality is very different. Here they offer you 800 euros, and then they give you an apartment which costs 500 euros and the club says you are earning 1,300, which is the minimum salary. "But football life is maybe 10 years or so. We need to help players, not only earn more money, but also plan what comes after their career. Clubs are not helping in that way. Sometimes salaries are not paid for several months. It happened to me. And when I went to the officials and asked for my salary, they told me that if I kept on asking, they would send me back home to Cameroon. 
"That kind of a situation makes it easy for criminals to approach players for match-fixing. The players are saying I am earning 1,000 euros and here I am being offered 10,000 for one game. The players can say: 'Let me think about that.' Not every player is going to say 'no' right away. The clubs should also do more to help players in such a way that they do not have that temptation.  
"There is a lot of pressure on players. Players have a dream of making it as a footballer and families put themselves into debt to send their children to Finland to pursue that dream. But then they come here, and they face reality. And then they face pressure to satisfy the family back home. It's easy for them to be targeted. So, I feel sorry for those players.  
"I grew up in a society where your reputation, your name, your family name can be destroyed by a single mistake. For me, it is all about respect and you have to respect what is giving you living. You cannot destroy it because of one mistake. That is part of my project, to educate players about these things. I always use my own example, I came here with a big dream, but I ended up studying because there is little money in football in Finland. I ended up getting married, I ended up being part of Finnish society."