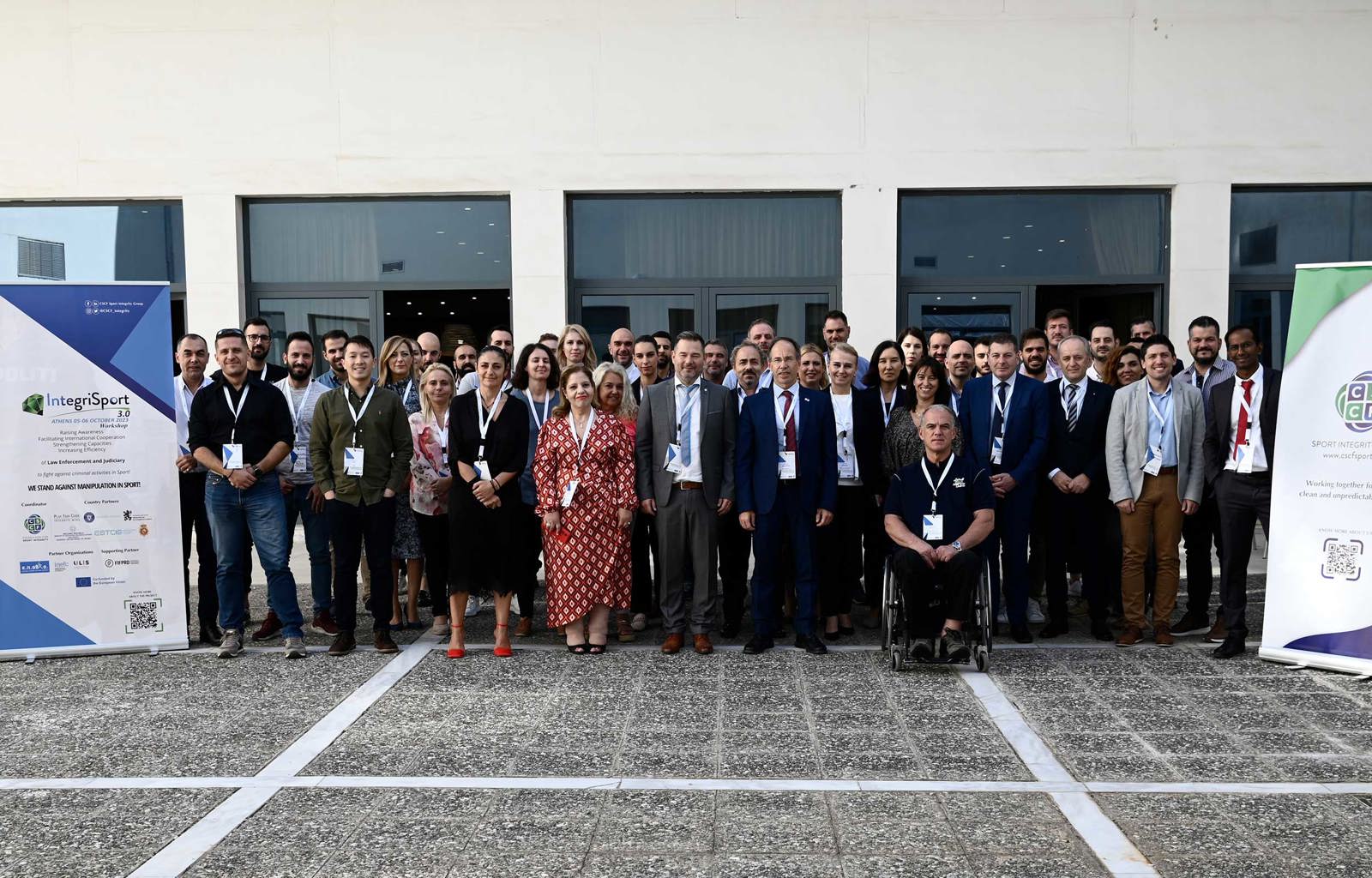 {0} min. reading time
IntegriSport 3.0, of which FIFPRO is a supporting partner, is committed to the preservation of sports integrity and fight against sport manipulation
Event held practical sessions for law enforcement and judiciary on match-fixing in Athens, Greece on 5-6 October
Greek player association PSAPP's Director General Giannis Braho was among keynote speakers at the event
Multiple stakeholders gathered in Athens, Greece on 5-6 October for awareness raising practical sessions on sport manipulation, including Greek player association PSAPP.
The sessions were part of the IntegriSport 3.0 project organised by CSCF Foundation for Sports Integrity, of which FIFPRO is a supporting partner.
IntegriSport 3.0 provides theoretical and practical support for law enforcement and judiciaries in the fight against sport manipulation in Austria, Bulgaria, Estonia, Greece, Romania and Spain, co-financed by the European Union.
Also in attendance at the two-day workshop was Greece's Ministry of Education, Religious Affairs and Sports, the Greek National Platform for Sport EPATHLA and UEFA EURO 2004 champion Theodoros Zagorakis. What is IntegriSport 3.0?
Two-year project: 2023-2024
Co-funded by EU under Erasmus+ Sport funding scheme
Tackles sports manipulation-related crime by providing awareness and training to law enforcement agencies and judicial authorities
Extension of the previous two IntegriSport Projects (2019-21 & 2021-22)
"Match-fixing is a great plague in the world of football and it is our duty to tackle it and protect the players," said PSAPP Director General Giannis Braho. "Greater cooperation between stakeholders is needed and the IntegriSport 3.0 project gathered us all together to exchange ideas and practices in order to help protect our sport."
CSCF Foundation for Sport Integrity Director Norbert Rubicsek said: "Our dedication to upholding the purity of sports has propelled us to organise this ground-breaking event.
"We firmly believe that by fostering cooperation among all stakeholders, we can forge a resilient framework to combat sport manipulation and safeguard the values that make sports so special."
The Red Button app: Tackling match-fixing in football
Football is the most-targeted sport by international organised crime, according to Europol. Those engaging in this criminal behaviour will often exploit players who are in financial difficulties, such as those not regularly receiving their salary.
To protect players and support the fight against match-fixing, FIFPRO launched the Red Button app in 2020 which allows footballers to report match-fixing approaches safely and anonymously.
The app, which is distributed by FIFPRO and its member unions, is recognised by FIFA's dedicated Integrity department and UEFA as a valid reporting tool.
Built with technology that ensures no trace of a report is left on players' smartphones, the Red Button app enables players to report match-fixing to national authorities such as police and government anti-corruption units.