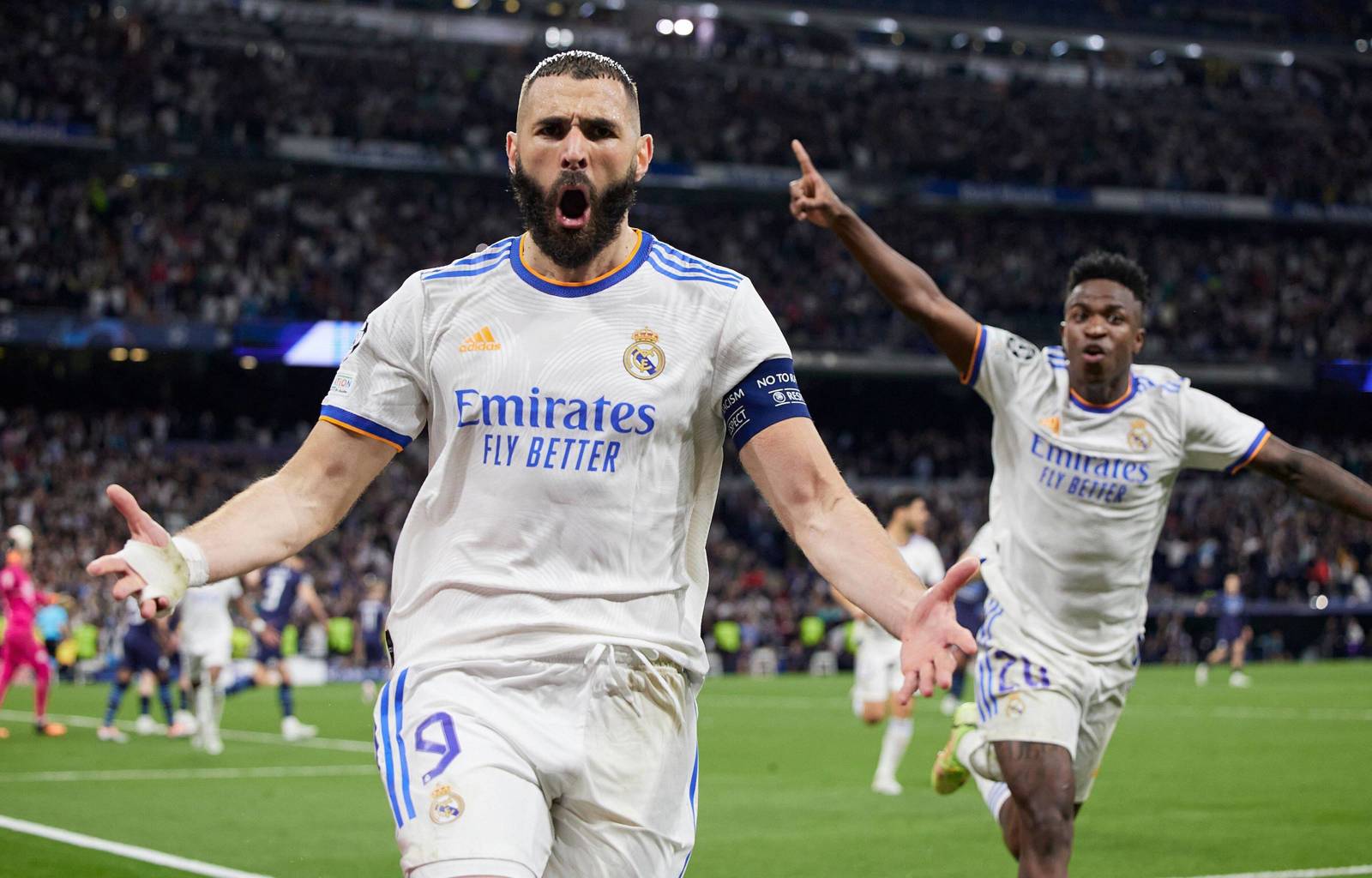 {0} min. reading time
Karim Benzema was one of the great stars of the 2021/22 season


His performances for club and country saw fellow professionals vote him as a nominee for the World 11


FIFPRO looks at five moments that could earn him his first FIFA FIFPRO World 11 place
Karim Benzema will never forget his 2021/22 season. The Frenchman played an integral role in Real Madrid winning their 14th UEFA Champions League trophy, finishing the 2021/22 campaign as the competition's top scorer.
Benzema is one of the final nominees for the 2022 FIFA FIFPRO Men's World 11 thanks in part to his goalscoring exploits. The frontman topped La Liga's scoring charts and helped Los Blancos to league glory, the Spanish Super Cup and the UEFA Super Cup.
Success also came at international level for Benzema, whose goals in the semi-finals and final helped France to their first UEFA Nations League crown in October 2021.
FIFPRO looks back at five great Benzema moments from the 2021/22 season that could earn him a World 11 place for the first time.
Real Madrid 3-1 Paris Saint-Germain: 9 March 2022 | UEFA Champions League Round of 16, second leg
 Benzema's first great European night on his way to the title. Real Madrid had lost 1-0 in Paris and found themselves trailing 1-0 in the second leg at the Santiago Bernabeu. All seemed lost for Los Blancos until Benzema scored a hat-trick in just 17 minutes.
From the 61st to the 78th minute, Benzema's hurricane of goals propelled Los Blancos to a qualification that was unthinkable moments before.
As if that wasn't enough, at the age of 34 he became the oldest player to bag a Champions League hat-trick and took his record number of goals at the club to 309, surpassing the legendary Alfredo Di Stefano as the club's third all-time top scorer.
Real Madrid 2-3 Chelsea: 12 April 2022 | UEFA Champions League quarter-final, second leg
Real went into the return leg with Chelsea following their 3-1 first-leg victory at Stamford Bridge, courtesy of Benzema's second consecutive hat-trick. A difficult match was expected at the Bernabeu with Chelsea racing out of the blocks. It proved to be true as Chelsea stormed into a 3-0 lead.
When Rodrygo scored and took the tie into extra time, it was Benzema who produced a moment of magic to secure the winner. In the 96th minute, he scored with a header and won his side a place in the Champions League semi-finals.
Real Madrid 3-1 Manchester City: 4 May 2022 | UEFA Champions League semi-final, second leg
The eventual Champions League winners reached the final thanks to another late Beznema goal, the latest in his 14-goal haul in the competition. Again, in an action-packed tie, the Frenchman had scored twice – this time in a 4-3 first leg defeat.
The decider was left to the second leg, with Madrid needing to win by two goals to qualify. Riyad Mahrez had silenced the Bernabeu stadium on 73 minutes before Rodrygo brought it to boiling point with a brace after 90 and 90+1.
But it was Benzema who sent the Madrid faithful into the raptures with a penalty that made it 3-1 after five minutes into the first half of extra time. The 14 goals not only made him top scorer of the 2021/22 competition, but he also became the Frenchman to score the most goals in a single edition.
Spain 1-2 France: 10 October 2021 | UEFA Nations League final
Finals are typically tight contests and this one, on the San Siro pitch, was no exception. Mikel Oyarzabal's goal after 64 minutes was a blow for France, but not in Benzema's books: just two minutes later, the frontman equalised with a spectacular strike from the left-hand corner of the area. Then Mbappe made it 2-1.
France won their first UEFA Nations League and Benzema was voted Man of the Match. Three days earlier he had become Les Bleus' 6th all-time leading scorer by netting against Belgium in the semi-finals, with a new record of 32 goals, overtaking Zinedine Zidane.
Real Madrid 2-0 Eintracht Frankfurt: 10 August 2022 | UEFA Super Cup final
Yet another title for Real Madrid once again had the Frenchman in the spotlight. In the 65th minute, with the final already 1-0, he scored with a right-footed shot that dodged the hands of German goalkeeper Kevin Trapp.
The trophy was not only Benzema's first as captain of Real, but a historic milestone: it was his 324th goal, overtaking the eternal Raul Gonzalez as the club's second-highest scorer.
There is still a long way to go to reach Cristiano Ronaldo's 450-goal haul, but Benzema has already proven his capabilities.