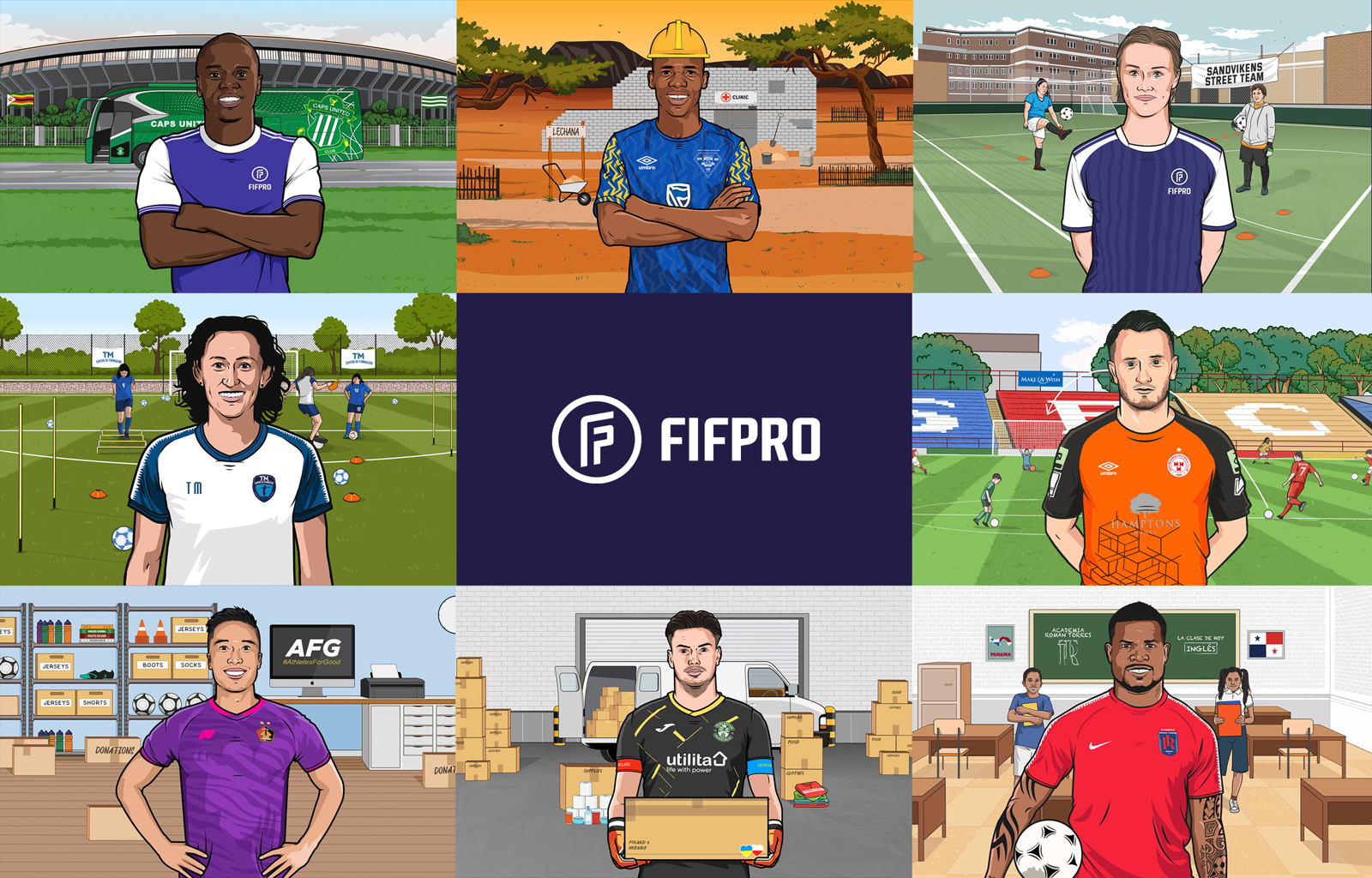 {0} min. reading time
5 September is United Nations' International Day of Charity


Footballers around the world have displayed selfless acts of charity


Take a look at players' stories that have been documented by FIFPRO in 2022
5 September marks the United Nations' International Day of Charity, which celebrates volunteerism and philanthropy.
Away from the pitch, many footballers from around the world have displayed selfless acts of charity to help contribute to a more inclusive and resilient society.
Take a look back at some players' charitable stories that FIFPRO have documented in 2022 – from humanitarian aid to building medical clinics and schools.
Brendan Clarke
Brendan Clarke took part in a 'Crossbar Challenge' fundraiser that saw him travel to every stadium in the League of Ireland's top two divisions.
The Shelbourne goalkeeper helped raise over €26,000 for Make a Wish Ireland, who work to bring joy to the lives of critically ill children.
"Knowing that every penny we raised was going towards making a tangible difference in the lives of so many families really kept us going," said Clarke. "No matter how tired we were, or what time we had to get up at, we just jumped in the car and did it all again.
"If, as a footballer, you get a chance to use your position to better the world around you, then grab it with both hands."
Kevin Dabrowski
Kevin Dabrowski has been helping AUGB Edinburgh with their efforts in providing relief for Ukrainian refugees by loading vans with food, clothing and medical supplies.
The Hibernian goalkeeper felt a particular affinity to the cause, due to the geographical proximity of the war to his home country of Poland.
"As players we set an example to our community and we should use this influence to spread some good in the world, and it goes so much further than physically loading up the vans," said Dabrowski.
"We have the platform to encourage our fans to donate what they can, organise our clubs to auction signed shirts for funds, or even utilise our social media to raise awareness."
Maano Ditshupo
Former Botswana international Maano Ditshupo embarked on a project to build a medical clinic in the rural village of Lechana.
Previously, Lechana residents needing medical treatment had to travel 35 kilometres to the nearest clinic, where travel logistics also presented additional complexities.
"I started raising the money by hosting a football tournament. We found sponsors and the teams paid to enter the tournament. I also raffled some of my jerseys and that raised further funds," said Ditshupo.
"Local musicians supported my idea by hosting a festival at the same ground we were using to play football. After the last games, they hosted the festival and a percentage of their income went to the clinic."
Arthur Irawan
Arthur Irawan founded Athletes for Good, an organisation which encourages athletes to give back to their local communities.
The Persik Kediri player is concentrating his efforts on Indonesia for now, but hopes to inspire others to take up the initiative elsewhere.
"It's not just about donations of a monetary value, but making football a viable part of the ecosystem that supports it – pouring our time and efforts back into the communities we live in," said Irawan.
"Coaching classes, for example, can bring so much joy to underprivileged kids. Some of them may discover an aptitude for the game, while others may simply have a fun experience – both are valuable outcomes."
Tania Morales
Tania Morales is one of the great icons of women's football in Mexico. The national team midfielder decided to commit herself to developing women's football from grassroots level.
Morales created a women's football academy that admits girls from six years of age to equip them with their first skills in the sport.
"One of the most important factors for me at my training centre is equal opportunities," said Morales.
"That's why, over the years, we have been able to give different scholarships to girls with fewer economic resources, so that they too can dream of becoming footballers."
Nyasha Mushekwi
Nyasha Mushekwi bought Zimbabwean side CAPS United a team bus to thank the club that gave him his first professional contract.
The Zhejiang Greentown striker's charitable act is being felt further afield than CAPS United, though, given the coach is also being used by the national cricket team, the women's national football team, and more.
"When I left Zimbabwe, I saw what buses teams in Europe and even South Africa were using, and I wanted to give something back to CAPS for taking a chance on me.
"I decided to buy them a proper team bus, like they have in Europe. You don't want to be squeezed up as you are in a normal bus. The seats have to recline and there should be TV screens at the back of the seats in case they're traveling long distances. I bought the bus in China and sent it to Zimbabwe."
Ingrid Stenevik
Ingrid Stenevik dedicated considerable time to Sandviken IF, a street football team in Norway which offers a safe space for women who have been struggling with several factors in life – from mental health to substance abuse.
Although Stenevik no longer works as close with the charity as she once did, the SK Brann Kvinner player was nonetheless a pioneering figure in the initiative's success.
"As I don't have an education in psychology or therapy, I needed to take a step back from getting too close, as I haven't been trained on how to dissociate myself from the hardships that these women have had to face, or how to help them overcome their difficulties," said Stenevik.
"However, I can be a friend. They know they can trust me and open up to me and the other women and helping them in this small way was so rewarding."
Roman Torres
Roman Torres, Panama's captain at the 2018 World Cup, set up an academy to help vulnerable and socially at-risk children and teenagers.
Today, 130 students attend the programme, which includes a psychologist, a social worker, literacy classes and English classes. His next goal is to create a high-performance sports centre for children below the poverty line.
"The problem for these children is that the neighbourhood still has a strong influence over them. They leave the academy and they see shootings, murders in their neighbourhoods, they are tempted by drugs," said Torres.
"When some kids leave here, we don't know if they are going to come back or not. With a high-performance centre, we could help them to get their lives back on track even more."