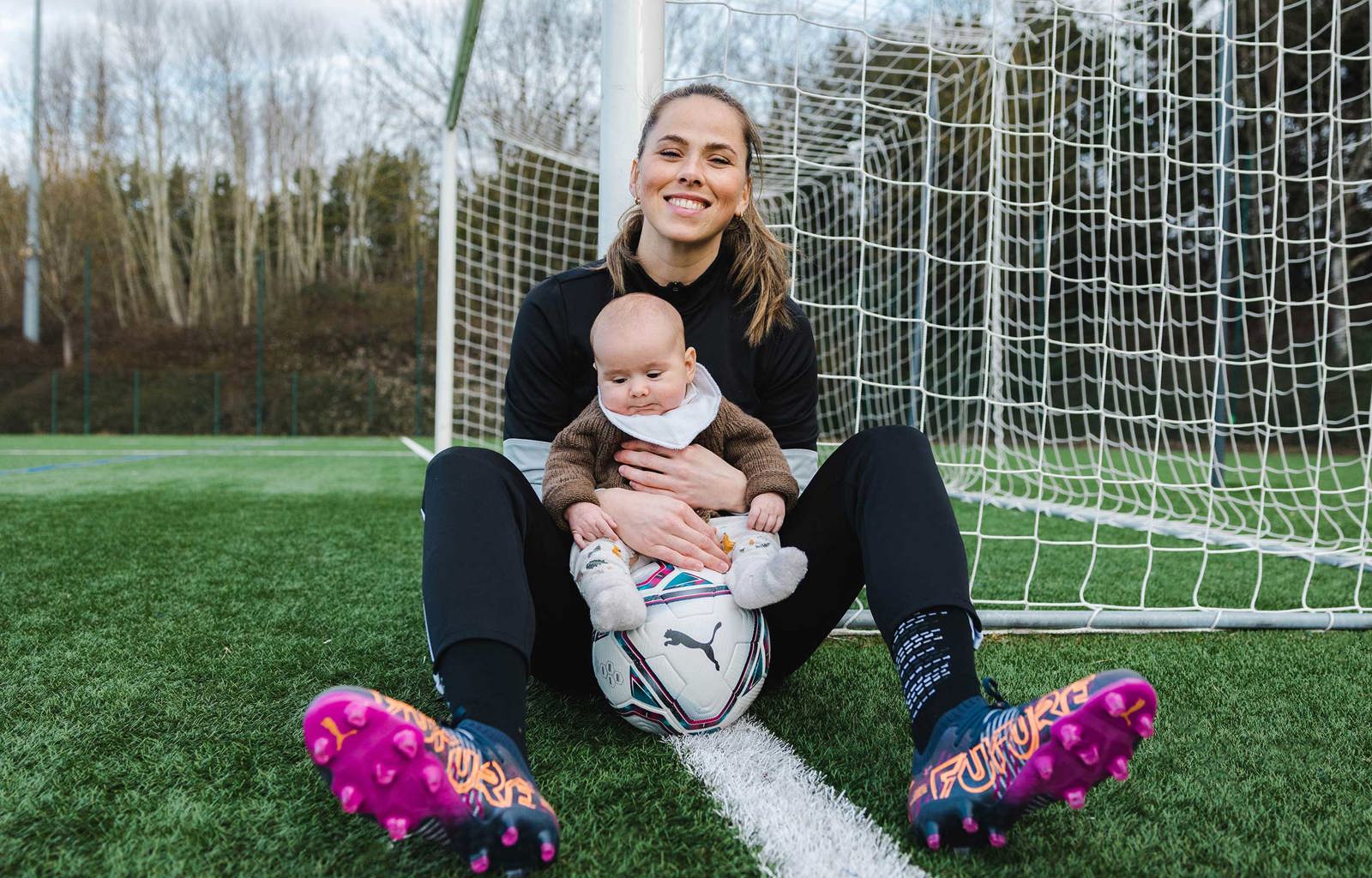 {0} min. reading time
Sara Bjork Gunnarsdottir became first player to win a claim through the FIFA Maternity Regulations


FIFA Dispute Resolution Chamber ruled that Icelandic midfielder was entitled to full payment throughout her pregnancy and until the start of her maternity leave during time at Olympique Lyonnais


FIFPRO sat down with Bjork Gunnarsdottir and Senior Legal Counsel Alexandra Gomez Bruinewoud to reflect on the groundbreaking case
In May 2022, Icelandic midfielder Sara Bjork Gunnarsdottir became the first player to win a claim against a club through the FIFA Maternity Regulations.
The regulations, which were introduced in January 2021 after pressure from FIFPRO, entitled Bjork Gunnarsdottir – now at Juventus – to full payment throughout her pregnancy and until the start of her maternity leave when at former club Olympique Lyonnais.
Bjork Gunnarsdottir's case showed that all players, even those at high-profile clubs, need protection. It also demonstrated how important it is to regulate minimums and not leave them to the goodwill of the parties.
FIFPRO provided legal support to Bjork Gunnarsdottir – from explaining her rights to representing her before the FIFA Dispute Resolution Chamber.
FIFPRO sat down with Bjork Gunnarsdottir and Senior Legal Counsel Alexandra Gomez Bruinewoud to reflect on a groundbreaking case, and what else needs to be done to protect the rights of players going forward.
FIFPRO: Sara, how did this issue with your former club first start?
Sara Bjork Gunnarsdottir: When I first saw that a payment had been missed from Olympique Lyon, I assumed it was a mistake. I had been nervous to tell them I was pregnant initially, but they were reassuring. They also understood my desire to return to Iceland during the pregnancy, especially given the high rate of COVID-19 in the team at that point, and even spoke to the press about how they were going to support me.
Then a second payment was missed. When I asked what was happening, the replies were evasive, until finally I was informed that they were following French law on sick leave instead of FIFA's maternity regulations, which would not entitle me to full payment during pregnancy and until the start of the maternity leave. FIFPRO quickly made me aware that this was something they had no right to do. How did FIFPRO support from a legal perspective?

Alexandra Gomez Bruinewoud: The FIFA provisions on maternity are a minimum and are mandatory, and Lyon – a club that has always championed the progress of the women's game – should have known this. A labour case was raised before the FIFA Dispute Resolution Chamber which Sara won. There was a very clear blueprint for any club that thinks FIFA's maternity laws don't apply to them. They do. Players deserve the support and security that Sara was denied. Also, the decision is quite clear in the explanation of the duty of care that clubs, as employers, have towards players, as employees.
What did it mean for you to win the case?
Sara Bjork Gunnarsdottir: I am proud of what I have achieved, not just for me, but for all women who are to follow; all the players who are about to become mothers, and who won't have to worry about their careers because they can use the example that I have set to ensure fair treatment. My pregnancy was of course a time of happy anticipation for me and my partner, but I always had this worry about my career and next steps in the back of my head.
As well as winning the case, I am proud of being part of the conversation around motherhood in football. It's not just Lyon that has to do better – but everyone. There should be more preparation; it shouldn't come as a shock when a young woman becomes pregnant and wants to continue her career after the baby is born.
Why are clubs still not adhering to these regulations despite the fact they were introduced in January 2021?
Alexandra Gomez Bruinewoud: Unfortunately, many federations have not yet implemented these regulations at national level. What does this mean? According to the FIFA rules, all 211 member associations should have copied and pasted these maternity regulations in their own national football regulations. When implemented at national level, everybody is aware of them. So, clubs and players will have the information, and if there is a case before the federation's bodies, or before the national courts, it will be easier to apply those incorporated regulations.
Clubs sometimes do not apply them because of bad faith, but many times it is due to the lack of knowledge that these exist and that they are mandatory also at national level (always as a minimum: so, if the national regulations or law provide for higher standards, these prevail). The other reason is that FIFA is, at the moment, not imposing sanctions on those federations that do not comply with this. 
Does there need to be a wider change in how pregnancy is viewed within football?
Sara Bjork Gunnarsdottir: It's not just about financial support. As a sport, we need to understand that pregnancy is not an injury – it's an important part of life for many people and clubs should have a system to accommodate this. The club must follow up on and fully support the player, not just abandon them until they are able to play again. If someone at Olympique Lyon had just reached out to me, given advice on how to safely train, asked how I was feeling, it would've made the world of difference.
Even after my son was born, I was made to feel difficult because I wasn't ready to leave a three-month-old baby overnight. Being a mother was seen as a negative influence, a possible distraction for the other players, when my son's presence actually brought a lot of joy to my team-mates. They loved having him around in downtime and it was a real bonding experience. What should players do if they find themselves in a similar situation to what Sara experienced with her former club?
Alexandra Gomez Bruinewoud: They should immediately report to their union, or to FIFPRO. Players will receive free legal advice and counselling at their unions and at FIFPRO. On top of the valuable help that we can provide, it is very important for us to know of these cases so that we can understand the reality better – and keep on improving the system and the different mechanisms in place.
The priority is to get this implemented in every federation, and therefore improve legal certainty. However, the dissemination of the information is fundamental too: for players, for clubs, for federations, for lawyers, etc. Everybody needs to understand that these protections are in place, why they are in place and how to enforce them.
What more needs to be done to support players who are mothers?
Sara Bjork Gunnarsdottir: Maternity doesn't stop when a baby is born. There are so many things that should be taken into consideration, such as a nanny, support for away trips, facilities for comfortable breastfeeding. Even just checking in to see how balancing motherhood with a career in top-flight football is, and the dedicated training that is required and that few professionals in football are trained in.
When a mother returns to work, she will have the same or even higher potential on the pitch. But she and her needs might be different. If you want the best out of the player, you need to invest in the person. We have the possibility to keep players in the game and continue developing it, let's not waste it. Is FIFPRO seeking to introduce more rules around parental leave?
Alexandra Gomez Bruinewoud: When we negotiated these regulations with FIFA and other football stakeholders, it was discussed already that this was just a starting point – and that we would gather later on to assess how things were going and regulate further. There is much more to be done, but we deem that the ultimate priority now is getting what we already enforced.
Further matters to address are, for example, the contract protection for 180 days after the birth of the child. This means that even if the contract comes to an end during pregnancy or maternity leave, the player can rest assured that their contract will still be valid for a minimum of 180 days after the birth of the child. This is very necessary if we understand how women's football works. The average length of a contract in women's football is only one year. Therefore, if we do not add a prolongation of the contract, we have a beautiful regulation in place that will scarcely apply. We believe that with how the regulations stand today, the automatic extension of the contract could already be interpreted, but we don't want uncertainty on this field. The automatic prolongation has already been incorporated in CBAs in Spain and Argentina, for example. Something else that we need to work on is in the clarification on the fact that salary should be paid in full during pregnancy and until maternity leave starts. This is clear to us, but there has been some discussion around this when interpreting the regulations, so it is essential that we draw a very clear line. Salary is paid in full during pregnancy and until maternity leave, regardless of the choice of the player to provide alternate services.
What still needs regulation is adoption and artificial insemination, since obviously all parents in any shape or form should be protected, so that is in the to-do list as well. Furthermore, a leave for the non-bearing child parent is fundamental. We had proposed already for the initial regulations a 15-day leave for non-bearing child parents, and this unfortunately did not go through, but we are optimistic that it will in the future. Moreover, post-maternity needs broader regulation. What protections do we give to players after they have returned to play, with the little ones? There are many things that can be considered, for example in terms traveling with the infant and a companion, support in club facilities with nursery or nanny, etc. But also, we need to regulate further the support in specialized training that the player receives during pregnancy and after the comeback.