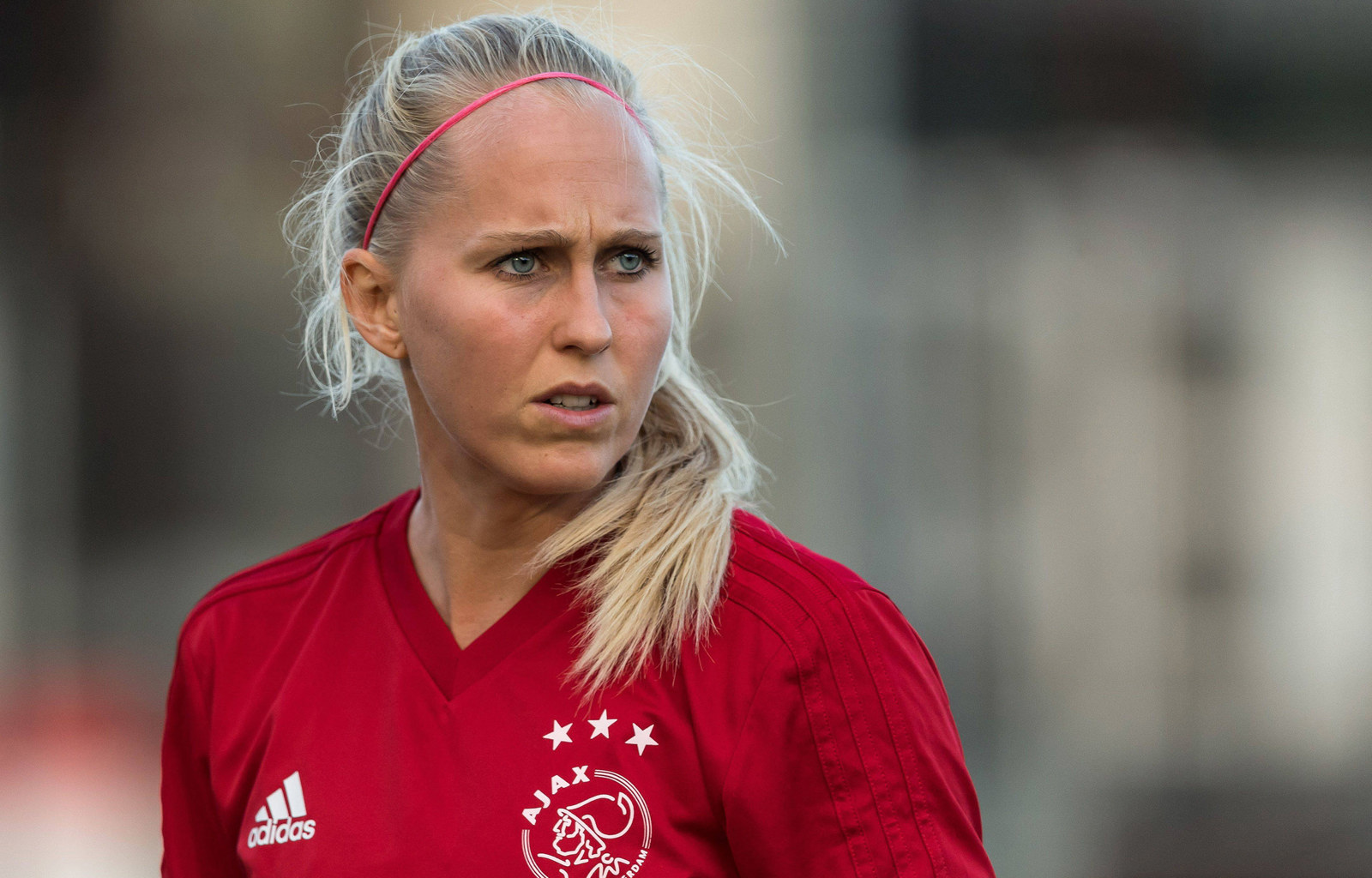 {0} min. reading time
Line Roddik Hansen spent 15 years playing for Danish national team


Former Olympique Lyon, Barcelona and Ajax defender retired ahead of having first child


Says football can learn from handball with regards to players returning after maternity
Line Roddik Hansen called time on her playing career to start "a new life".
The 123-time Denmark international announced her retirement in December 2020 on social media, writing: "This has been the hardest thing I've ever done, but I'm ready for a new adventure to start".
Hansen's new adventure? Motherhood. The former Olympique Lyon, Barcelona and Ajax defender gave birth to her son Otto in July 2021.
"It's difficult for me to say I'm a former player because I still identify as a footballer," said Hansen, who spent 15 years playing for Denmark. "I got pregnant and that was one of the reasons why I ended my career. I couldn't see how I could continue to play after giving birth."
In 2017, FIFPRO issued its global report on employment in women's football, which highlighted how pregnancy and maternity played a focal part in players retiring too early.
A survey of 3,295 players showed:
• 69% of female players are between only 18 and 23 years of age
• 90% stated they were going to retire early
• 47% said they would retire early to start a family
• 2% had children and of that number, 61% had received no childcare
FIFPRO tabled a proposal to implement minimum standards for maternity protections, that were successfully negotiated with FIFA and international league and club representatives, leading to the implementation of the current rules by FIFA.
"We compare it with being injured, like an ACL injury," said Hansen, comparing the lengthy lay-off both entail. "There's the economic part for Danish footballers because most of them are part-time.
"After giving birth, I thought: 'I have a child, I have to work, I have to play football, and I have to get that all to work together'. I just couldn't see it happening."
Hansen has been working at the Danish Football Players Association and 4Player, a cross-sport union with strong connections to handball, since January 2021.
Through the work with 4Player, Hansen has been able to gain a unique insight into cultural differences between football and handball when it comes to players returning after maternity. "It's more often that handball players in Denmark have a child and come back, compared to football," said Hansen. "On the handball side, there has been quite a change. There was a period where clubs were telling players: 'You can't get pregnant because we don't want that'.
"Now, it's much more accepted. You can see that the players coming back after giving birth can give something completely else to the game – and that also means they stay in the game for a lot longer.
"In handball, you're now seeing the benefit of having that culture where it's possible. It's still not as often as we maybe wish for, but you see it's becoming more regular, and I think we're starting to see the benefits and what it gives to the game."
Danish PFA (Spillerforeningen)
• Division: Europe
• Established: 1977
• FIFPRO Member since: 1993
• Website: spillerforeningen.dk
Hansen may have hung up her boots, but the 2010 Danish Football Player of the Year is still very much involved in the beautiful game.
She is part of the players advisory team with the Danish Football Players Association, paying particular focus on the development of women's football
"I've been in football for so many years that I've seen the development, but have also seen how slow it's been going and all the work that is needed.
"I want to help the next generation to feel more respected."