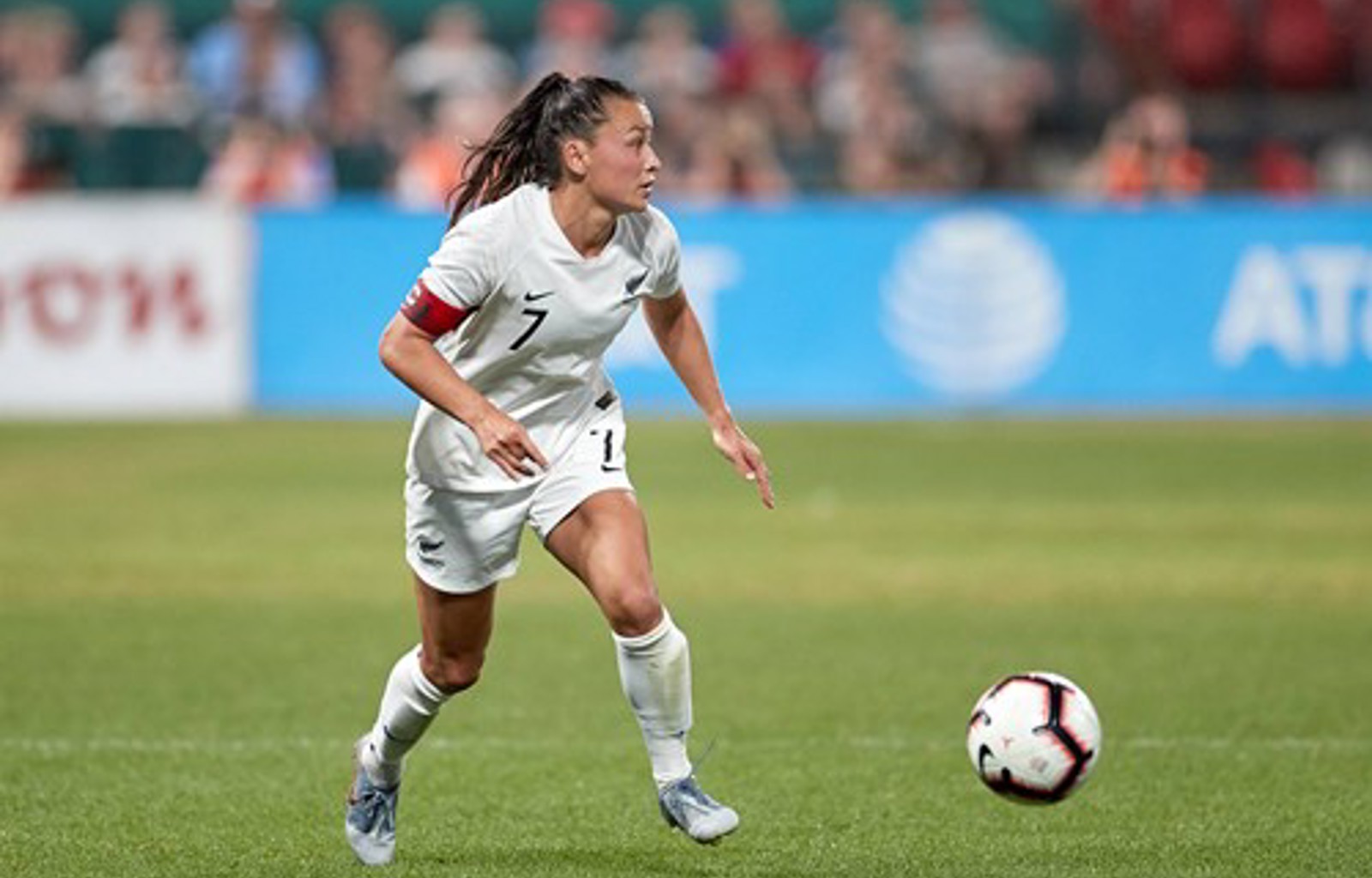 {0} min. reading time
New Zealand captain to host new FIFPRO podcast about women's football
Riley believes it's important to hear from past and present stars about the game
New series will feature a player from every Women's World Cup so far
FIFPRO has launched it's first-ever podcast series dedicated to women's football, "Changing The Game". The series, launched to coincide with the 30th anniversary of the FIFA Women's World Cup, focuses on the stories and views of the players who have featured in the tournament, with each episode featuring a player from each of the eight editions of the competition.
Ahead of the opening episode with Lucy Bronze, FIFPRO caught up with the host of the series, Orlando Pride defender and New Zealand captain Ali Riley - a player who has competed in four World Cups herself.
Can you tell us what "Changing The Game" is all about?
Changing The Game is all about telling stories, especially the stories that may have been forgotten or have never got the attention they deserved because women's football has only recently been at the forefront of some sports media. It's about giving a platform to players who have had, or continue to have, incredible careers.
We're looking at how far we've come in the women's game and how far we still have to go. It's a celebration of the sport and of the players, the achievements of incredible and strong women.
Why is a podcast like this so important?

Only now are we getting the media attention around our game, but there are so many important stories from over the years to understand. The history of the pioneers and the trailblazers that came before the superstars that we recognise now.
It's so important to hear these voices, diverse voices, with such different experiences, different backgrounds and different perspectives. We've spoken about so many different topics that a podcast like this can be so helpful for players, young girls, coaches and even parents. It really is for anyone who's interested in the game.
Have you had fun recording the series?

It's been incredible to actually have an hour to speak one-on-one with some players that have paved the way for someone like me to enjoy the career that I've had and understanding just how little support there used to be. I think it gives me an important perspective. It gives me really good energy too, and motivation to keep fighting, to make things even better, but also feel so proud to be a woman.
"We've spoken about so many different topics that a podcast like this can be so helpful for players, young girls, coaches and even parents. It really is for anyone who's interested in the game."
How important is it for an organisation like FIFPRO to provide a voice for players, for example in a new podcast series like Changing The Game?

Giving people a voice is the most important thing. How else do we know what to change? How else do we know who to support? What kind of support needs to be given? People need to have a voice to express what players need and what they want.
FIFPRO has been doing that for a long time, and this is just another fun, interesting way to do that - giving players a voice and getting real insight into where the game is, where it needs to go and what needs to be done.
The podcast is about the World Cup's history, but the next edition promises to be the biggest yet. How excited are you about the 2023 World Cup, especially as it is in your home nation?

2023. Yes. I'm so excited. I think given that we have the opportunity now, in 2021, to share our stories and have a voice, and we have organisations like FIFPRO listening to us, it is an opportunity - in 2023, for FIFA to come through and make the changes that we're all asking for.

The World Cup offers a different way to support and grow the women's game - 2023 will really be a chance to prove that people are listening to us and investing in us.
In the coming weeks, 'Changing The Game' host Ali Riley's interviews will speak to one of the biggest players in each World Cup edition since 1991. Subscribe to the podcast on Spotify, Apple or wherever you get your podcasts.