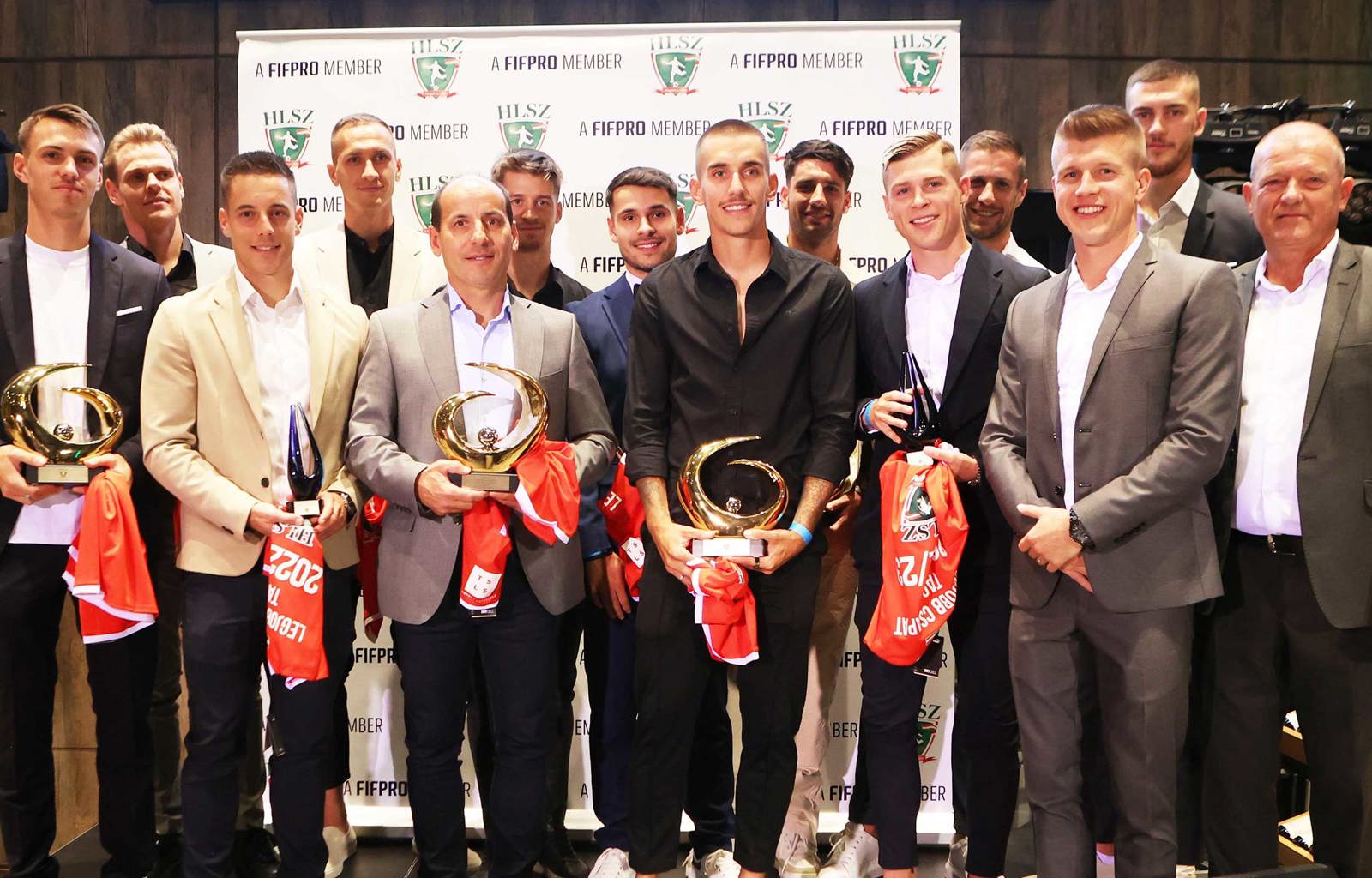 {0} min. reading time
Hungarian player association (HLSZ) held their awards evening last month


General Secretary Gabor Horvath, Legal and Education Officer Klaudia Fabian discuss the importance of their gala


HLSZ hope to build on gala and have a Players' Day with general assembly and training
The HLSZ is one of various FIFPRO member unions who organise an annual player vote. Some associations ask professional footballers in their country to select the best players or compose a team of the year. A handful of member unions present awards during a dedicated event, including the HLSZ, which hosted a gala dinner on 4 September in Budapest. 
"We started 33 years ago, in 1990, the same year our union was established," said Horvath. "Back then, there was only one award: Best Player of the Year. Through the years we have developed our concept."
Fabian said: "Currently, we have eight individual player categories, and the Team of the Year. The individual awards include two women's categories: Best Player and Best Goalkeeper. As women's football is still developing in our country, we aim to introduce more categories in the future, including a Women's Team of the Year."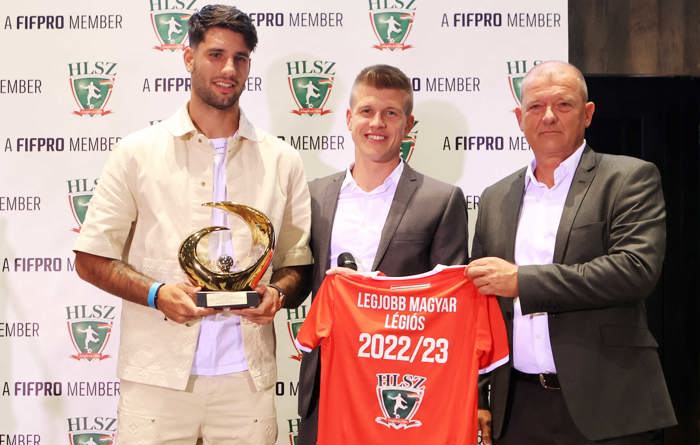 Dominik Szoboszlai of Liverpool with David Siger (centre) and Gabor Horvath (right)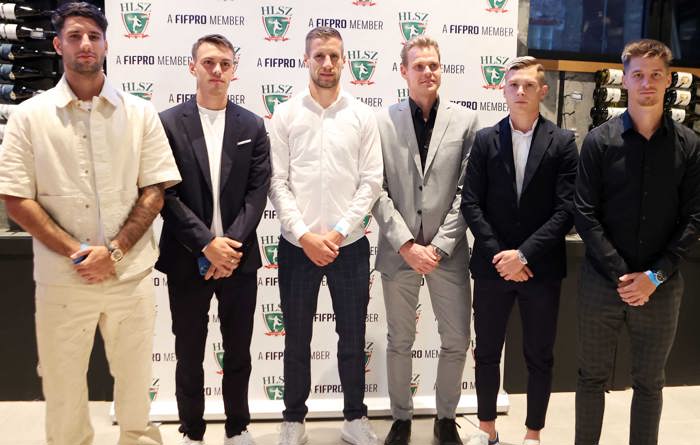 Hungary men's national team players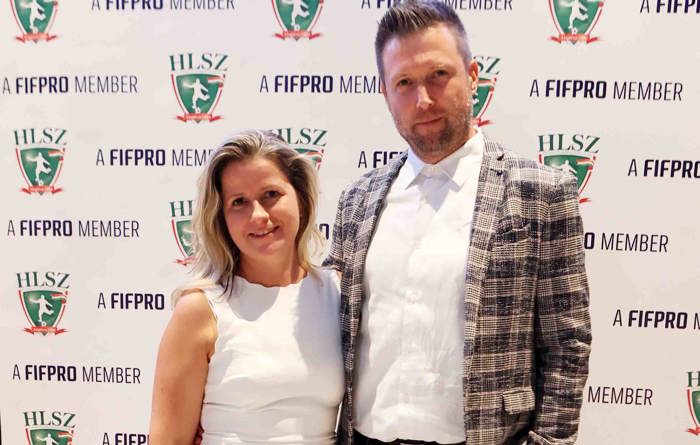 Legal and Education Officer Klaudia Fabian (left)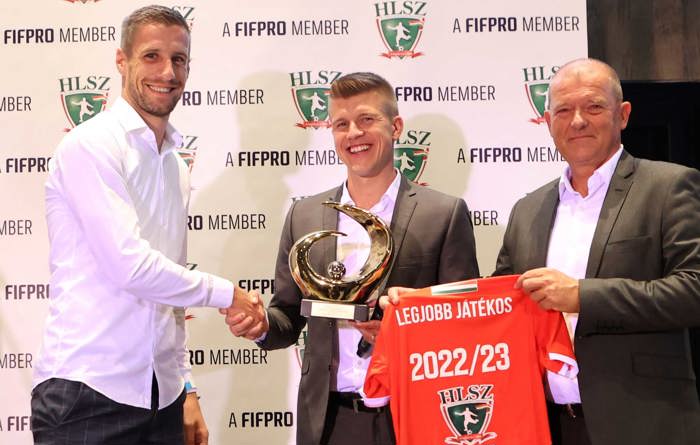 Barnabas Varga of Ferencvaros with David Siger (centre) and Gabor Horvath (right)
The HLSZ also hands out a special prize for the best goalkeeper save, to honour the late Marton Fulop, who made 24 appearances for the national team. After a long career in Hungary, England and Greece, Fulop worked as a team coordinator for the union for two years until he passed away due to cancer at the age of 32.
"Marton was a popular player, and a very nice and beloved man, who helped our organisation a lot," said Horvath. "His death shocked Hungarian football. Together with his parents we created the award to honour him."
Bringing players together
One of the reasons the HLSZ launched its player awards was to improve the image of the country's footballers. "Until 2010, our national team and club teams were struggling internationally, playing conditions were not that good, and the reputation of our players was also not that great," said Horvath. "We needed to lift the image of the players. The players are doing better now. We have various top players playing abroad and our national team is doing well."
Currently, the event is a way to put the spotlight on players and the association. "Everybody wants to be there," said Horvath. "We had around 160 guests, including many players and former board members, but also around 30 media representatives. It is a moment that we can highlight what we are doing to support the players, and that the players are together. For the players, it is a great opportunity to meet each other."
Horvath continued: "We celebrate the players, and try to highlight them as role models. This year, we created a special area for children where they could meet the players when they arrived. They could talk with them and ask for autographs. We also handed out gifts to the children."
The vote is organised in two phases: first the HLSZ asks a committee of around 40 captains, coaches, experts and reporters to present a shortlist with five players for each category; in the second phase, the players can pick the winners in each category. "Every year, we have between 600 and 700 players who vote," said Horvath. "We used to have a vote with paper ballots, but since the Covid-19 pandemic we've developed a digital voting system."
Fabian said: "The fact that players are being chosen by their colleagues makes these awards so valuable for the players. That is what they always say when they receive their prize."
Celebrating the best of Hungarian football
This year's winners included Brigitta Goder (Best Women's Player), Barnabas Varga (Best Men's Player) and Dominik Szoboszlai (Best Hungarian Men's Player Abroad).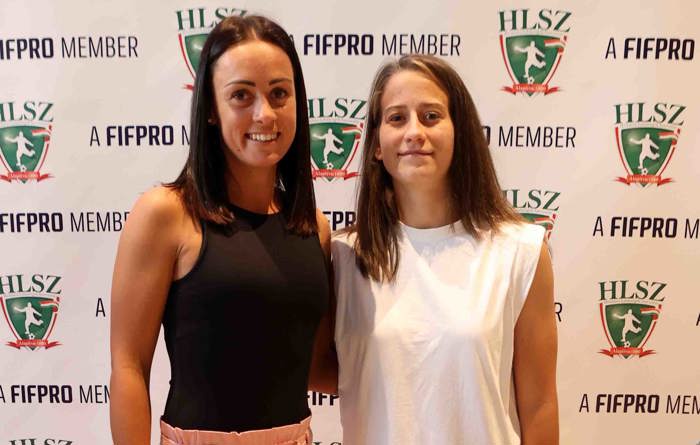 Barbara Szeman Toth and Eszter Rita Kovacs of Puskas Akademia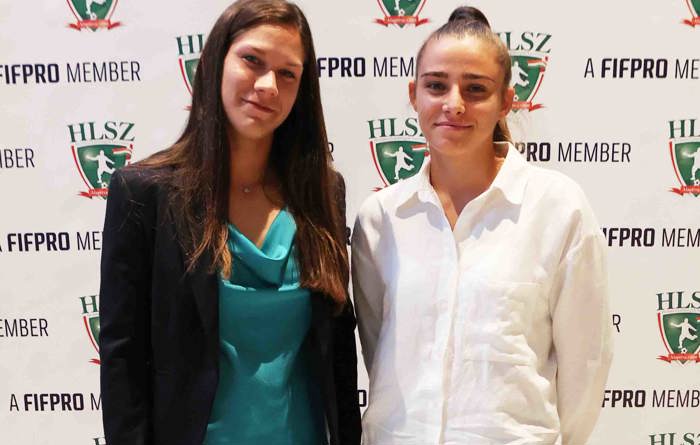 Korinna Ramor and Diana Moldovan of Fehervar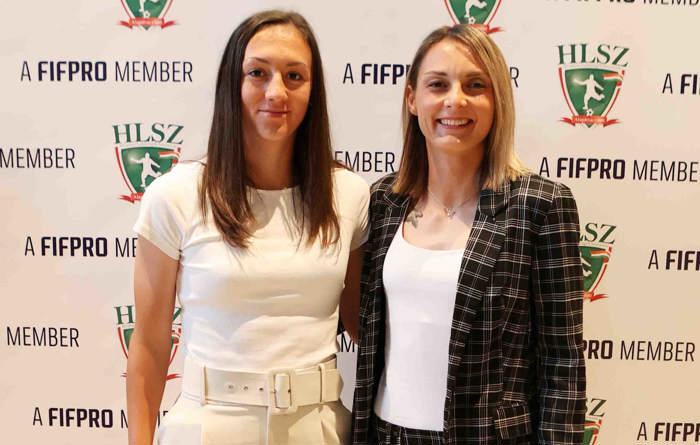 Fanni Nagy and Cintia Oreg of ETO Gyor
Most of the players were present at the gala to collect their award, including Szoboszlai and other national team members. "It is always a challenge to get the players there," Horvath said. "We must look for moments in the calendar where they are available. Mostly those are on Mondays, as that normally is their day-off. This time we looked at the window for the men's national team as well, which allowed national team players to attend the event."
Fabian said: "We also discussed this with the women's players, as some of them could not make it this time, because they had to play qualifying matches for the Champions League. We even proposed to have a separate women's event, but the women insisted that we continued with the joint event. We always ask players for feedback, so we can use their input to improve our event."
The HLSZ aims to further develop their player gala by expanding it. "We are thinking about making it a very special day, combining the gala with our general assembly or with a training session, for example," Fabian said. "So, during the day we would have the assembly or training, and in the evening the gala dinner."
Horvath said: "We want to have a Players' Day. We are talking about it with other stakeholders during our social dialogue meetings. We want to have one dedicated day included in the match calendar that we can use to organise such an event with our players. That's our long-term goal."