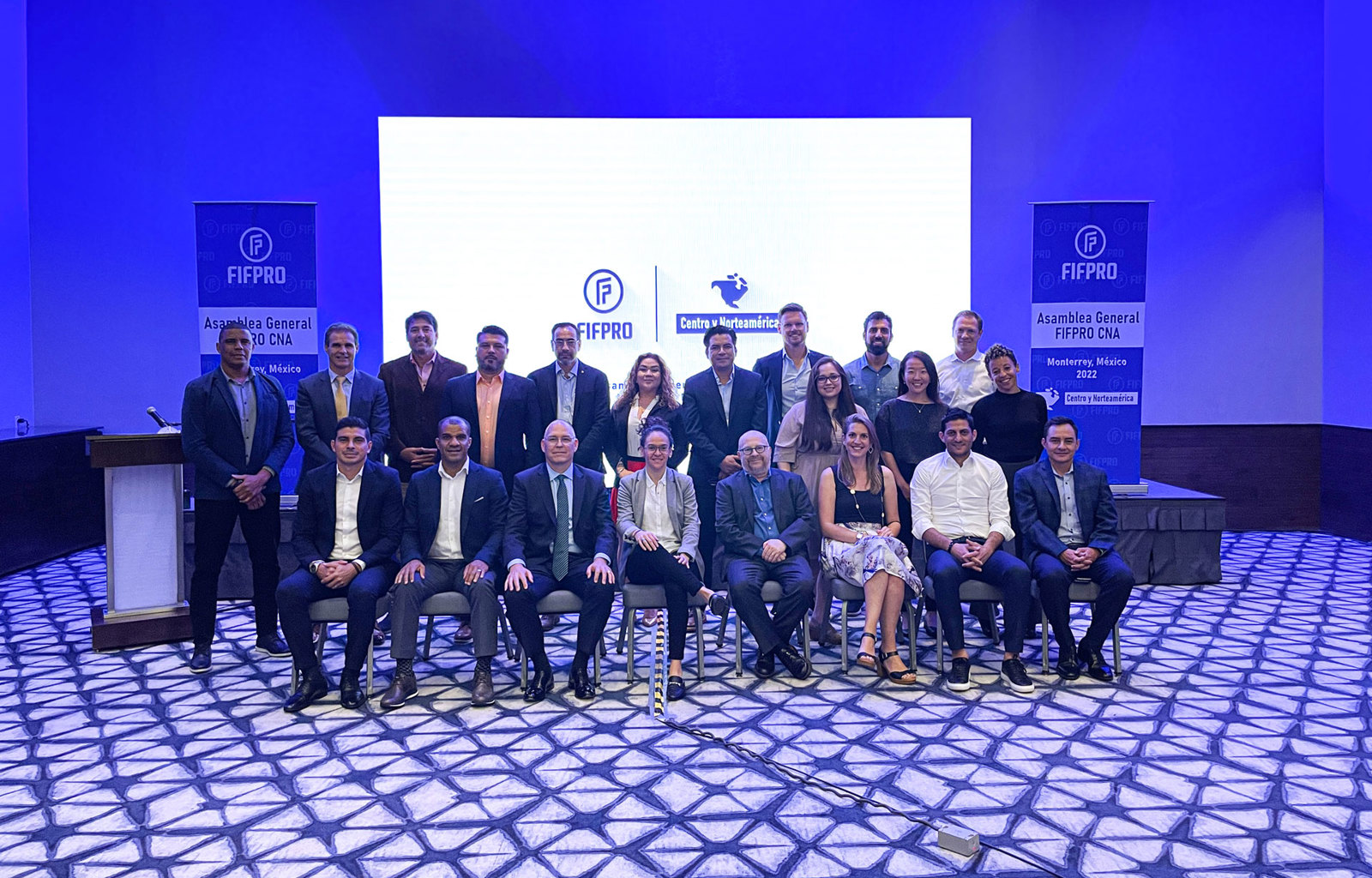 {0} min. reading time
FIFPRO Central and North America held its first ever general assembly in Mexico on 6-8 July


FIFPRO President David Aganzo and General Secretary Jonas Baer-Hoffmann attended three-day meeting


Special focus on women's football with two dedicated panels
FIFPRO Central and North America held its first ever general assembly after last year's organisational changes to FIFPRO Division America. Central and North America consists of seven player unions and was established to strengthen representation of players from the region.
The meeting, which was hosted by Mexican player union AMFpro, was attended by FIFPRO President David Aganzo and General Secretary Jonas Baer-Hoffmann. President Aganzo praised the daily work of all seven unions attending the conference and underlined the importance of working together to address the challenges of players.
During the meeting, representatives of all seven unions presented a summary of their everyday reality, challenges, achievements and future projects. FIFPRO Central and North America
• AFHO (Honduras)
• AFUTPA (Panama)
• AMFpro (Mexico)
• ASOJUPRO (Costa Rica)
• MLSPA (USA)
• PFACan (Canada)
• SIFUPGUA (Guatemala)
"I enjoyed and appreciated these presentations," said General Secretary Baer-Hoffmann. "I noticed the progress made and was impressed with the work carried out on industrial strategies. Many of the unions are pushing hard to get more recognition from other stakeholders in football, whether it's collective bargaining rights or to have a functioning national dispute resolution chamber."
Two different panels during the assembly illustrated that unions are increasing their initiatives to support women's players in the region. A panel, moderated by FIFPRO Senior Legal Counsel Alexandra Gomez Bruinewoud, discussed issues such as maternity and sexual abuse, along with Vanessa Ovando (Guatemala), Angelica Islas (Mexico) and Baer-Hoffmann.
Another panel, led by FIFPRO Director of Global Policy & Strategic Relations for Women's Football Sarah Gregorius, focused on the development of the women's football industry, in particular the progress of the Mexican women's league and its role in the professionalisation of other women's competitions in the region. The panel also featured Mariana Gutiérrez (Director Liga MX Femenil), Juan Ramón Solis (President AFUTPA) and Alvaro Ortiz (President AMFpro). Alvaro Ortiz, president of both host union AMFpro and FIFPRO Central and North America, looked back on a successful congress. "I am not only proud to have organised this first General Assembly in our territory, but I am also proud that this meeting confirmed that, with the work and support of all, we will be able to grow both as a region and in each of the member countries in our work to improve and enforce the rights of women and men footballers.
"For us, the contribution of the different discussions on women's football was fundamental, as we firmly believe that women players are an important part of our region. It is necessary to give them the place and respect they deserve. Year by year, with everyone's participation, we must work to achieve the professionalisation of women's football in the countries that have not yet taken this step."
FIFPRO Deputy General Secretary Simon Colosimo and Union and Player Relations Manager Shoko Tsuji also held presentations, respectively informing the assembly about how American unions statistically compared to colleagues worldwide, and about communications and player relations.