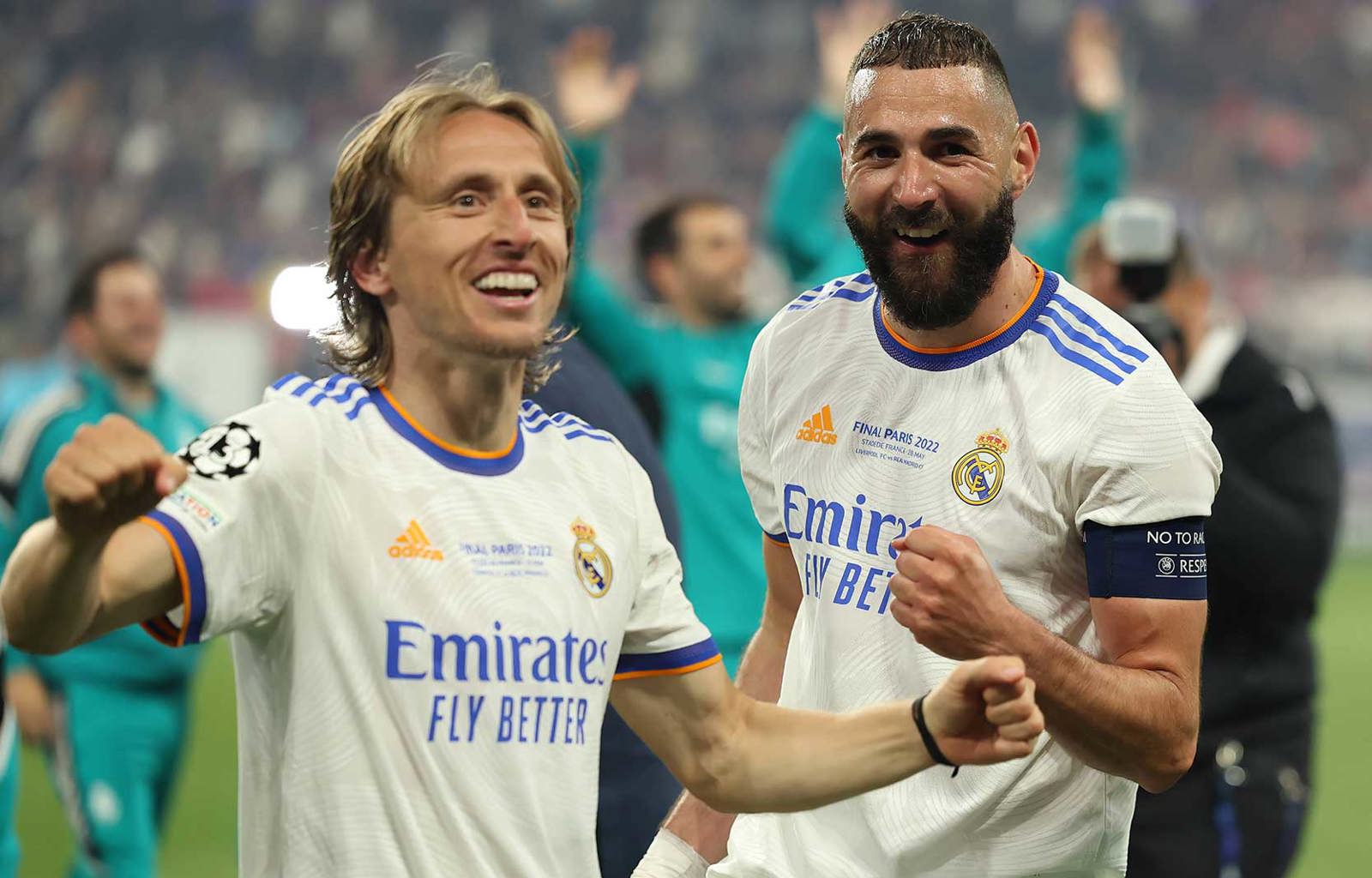 {0} min. reading time
Five current Real Madrid players could be named in the 2022 FIFA FIFPRO Men's World 11


Casemiro, who left Madrid for Manchester United in August 2022, also on nominees list after being voted by peers


FIFPRO takes a look at Los Blancos stars who could make the World 11
The 2021/22 season was a memorable one for Real Madrid, who added yet another La Liga title and UEFA Champions League gong to their burgeoning awards cabinet.
It is therefore no surprise that professional footballers around the globe have nominated five current Los Blancos stars – as well as Casemiro, who made the move from Madrid to Manchester United in August 2022 – to be in the running for the 2022 FIFA FIFPRO Men's World 11.
FIFPRO takes a look at the Real Madrid players who could be named in the Men's World 11, an award recognising the best players for the period 8 August 2021 to 18 December 2022.
Thibaut Courtois
Nobody made more saves in the 2021/22 UEFA Champions League than Thibaut Courtois. The Belgian stopper made five clean sheets en route to lifting European football's premier club competition, as well as being chosen as the Player of the Match in the final against Liverpool. It is little wonder why Courtois was named as the goalkeeper in the 2021/22 UEFA Team of the Tournament.
Courtois is yet to make a FIFA FIFPRO Men's World 11 appearance and is up against fellow stoppers Alisson Becker (Liverpool, Brazil) and Emiliano Martinez (Aston Villa, Argentina) who professional footballers around the globe have voted as the top three goalkeepers for 2022.
What the manager said
"We have been lucky to have great keepers: Casillas, Diego Lopez, Buffon, Cech, Neuer. Thibaut is among the best without doubt and he is the best at the moment."
Real Madrid manager Carlo Ancelotti Antonio Rudiger
German defender Antonio Rudiger was unveiled at the Santiago Bernabeu in June 2022, on the back of a trophy-laden 2021/22 campaign with Chelsea. The commanding centre-back picked up an FA Cup winners' medal, scored the winning penalty in the 2021 UEFA Super Cup final and was also crowned a world champion after winning the FIFA Club World Cup.
Primarily deployed as a centre-back, Rudiger is a trusted presence at the back and has demonstrated his versatility by playing at both left-back and right-back when needed for Los Blancos.
What the manager said
"He [Rudiger] is very intelligent. He can play in that position [left-back], just as he can also change in the match with [David] Alaba."
Real Madrid manager Carlo Ancelotti Luka Modric
At 37-years-old, Luka Modric is still among football's elite – it's why the Croatian has been voted by his peers to be one of the 26 nominees that could make the 2022 FIFA FIFPRO Men's World 11. Should the midfielder make the World 11, it would be his sixth appearance having been previously named in the 2015, 2016, 2017, 2018 and 2019 sides.
Real Madrid still rely on Modric's vast experience to control matches through his movement and passing: in their successful 2021/22 Champions League campaign, only Benzema, Courtois and Vini Jr played more minutes. And Modric's success during the 8 August 2021 to 18 December 2022 voting period was not just limited to club level: he helped inspire Croatia to a bronze medal at the 2022 World Cup.
What the manager said
"Luka Modric is immortal. He's always ready."
Real Madrid manager Carlo Ancelotti Federico Valverde
24-year-old Federico Valverde has established himself as an integral part of Real Madrid's midfield. Perhaps Valverde's greatest strength is his versatility: the Uruguayan has impressed in various positions, whether switching between the centre and the flank, or even offering defensive cover in midfield.
Valverde's relentless stamina allows him to cover large areas of the pitch and, combined with his ability to dominate midfield, counter-attack, and make well-timed tackles and passes, gives the Los Blancos midfield plenty of options.    
What the manager said
"The way he runs, the way he shoots, the way he passes, his positioning – and if you have to think of a modern midfielder – Fede Valverde is the man that comes to mind."
Real Madrid manager Carlo Ancelotti Karim Benzema
Karim Benzema provided the star-power up front for Real Madrid as they secured La Liga and the Champions League title last season. Benzema finished top of the scoring charts in both competitions, netting 27 goals in 31 La Liga appearances – not to mention 12 assists – as well as ending his Champions League campaign with 15 goals.
Yet it's Benzema's ability to produce match-winning goals that really sets him apart from the competition: in the 2021/22 La Liga season, he bagged six winners; while in the Champions League he netted three times over two legs in the semi-final against Manchester City.
What the manager said
"Karim is not only a striker, not only a top scorer, he's a fantastic football player. We are lucky to have Karim. Everyone at Real Madrid thinks we are lucky to have Karim. Football is lucky to see Karim play."
Real Madrid manager Carlo Ancelotti