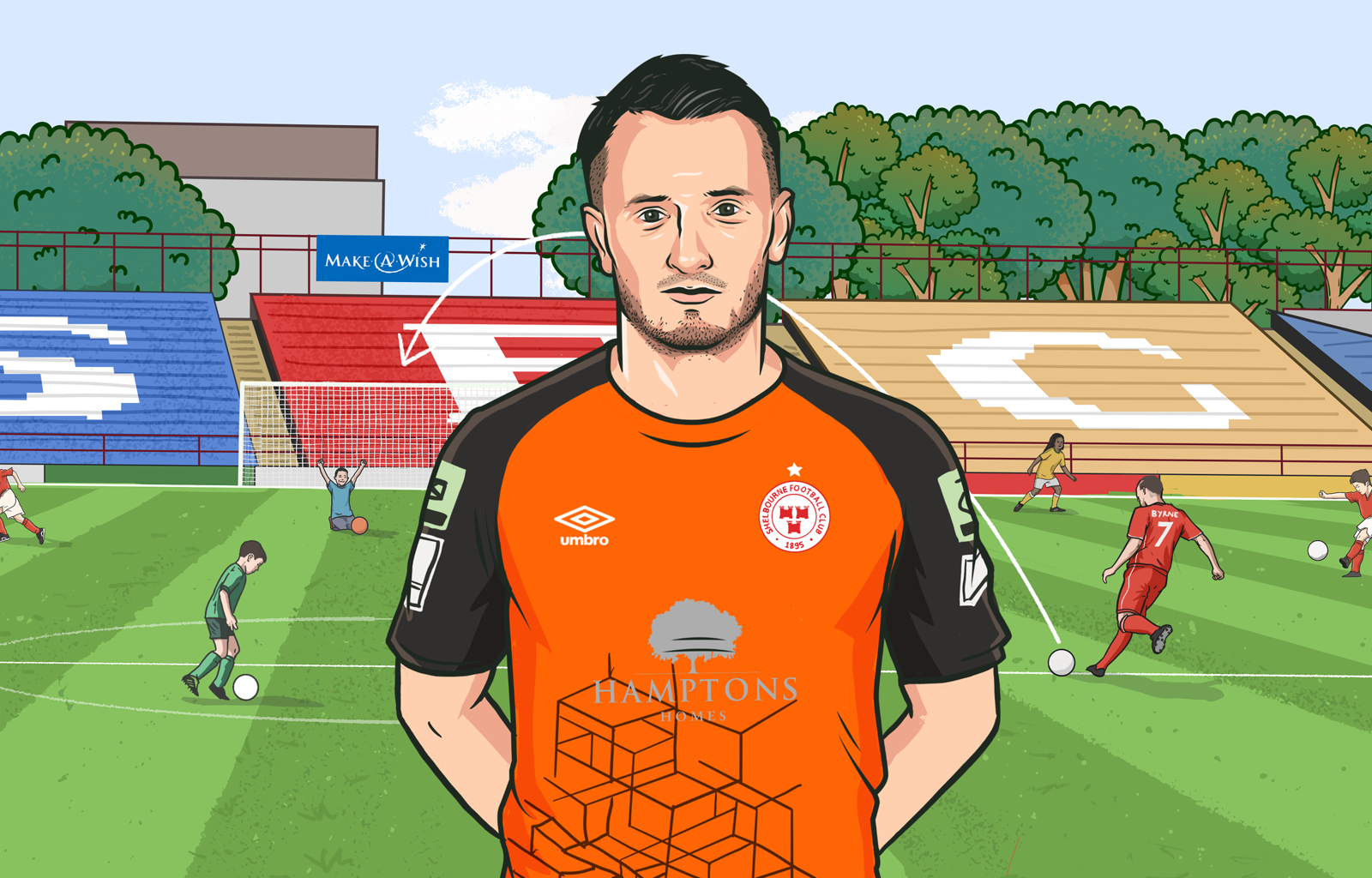 {0} min. reading time
Myself and Conan set ourselves the goal of travelling across the country to play the crossbar challenge at every stadium in the top two divisions of the League of Ireland, with the goal of raising €10,000 for "Make a Wish Ireland" in the process. Obviously, it's all about taking part and the score isn't important - but I did beat him to the crossbar 13 times to seven…
The footballers reading this will be pretty familiar with the concept, as we've all played it when messing around together at the end of training, competing to see who can hit the crossbar with the ball first from the half-way line. But I think it's fair to say Conan and I took it to the next level. We set off driving around to the 19 different stadiums and once we arrived, we couldn't leave until we'd smacked that crossbar. Sometimes we did it on the first try, like in Waterford – where we just rocked up, kicked the ball, and were back in the car in the next five minutes. Derry City was a different story though. The pitch is absolutely huge, and it took us no less than 36 tries – we were desperate to get to our beds by the end of it.
Conan, my teammate for many years before he retired, has an astounding resume when it comes to his charity work, but it was my first time being involved in a big fundraiser and I was totally blown away by people's generosity. We met our target on the very first morning, and it was amazing to see how people can come together in the name of a good cause.
It might have only been Conan and I kicking the ball, but the funds we raised was down to hundreds of contributors. Whether it was those who donated money, those that retweeted our efforts, the stadium staff who opened the doors and set up the grounds for us during off season, or even clubs – who would normally be opponents – sending through stuff to be auctioned to support the fundraising. All rivalries were put aside for something bigger, and it was incredible to be a part of that. 
We even had a guy respond a last-minute cry for help from the two of us, as we had found ourselves without a content team; Paul Mladjenovic just volunteered three days of his life - jumped on a bus from Galway to Dublin in time to come with us and document the journey. There's no way we would have got the traction that we did without his content.
It was an Ireland-wide effort to raise money for a truly deserving cause. Make a Wish is a brilliant charity, that works to give children with life-threatening illnesses an experience that they've always dreamed of. For some that might be Disneyland, for others it's a bedroom makeover, and sometimes it is just simply a desire to meet their heroes. These kids' lives are often dominated by treatment schedules and hospital appointments, and reaching out to give them that treat or memory that they've always dreamed of is so special. Fundraising has been more difficult over the past few years with Coronavirus restrictions As a result there were around 200 children on a waiting list for their wishes to be granted. As parents to young children ourselves, the work that they do really resonated with Conan and I, and it really hit home how much it would mean to us if the shoe was on the other foot, to see so many people pulling together to put a smile on one of our children's faces.
Knowing that every penny we raised was going towards making a tangible difference in the lives of so many families really kept us going. No matter how tired we were, or what time we had to get up at – we just jumped in the car and did it all again – because we had the power to make people's dreams come true.
If, as a footballer, you get a chance to use your position to better the world around you – then grab it with both hands. As players we have these platforms that can reach so many people, and that influence can be invaluable for charities.
I also think it's important to give people the chance to see a different side of you; the person that comes out during the 90 minutes of a game isn't all that you are – and it's good to show that you're just a normal person. In my case someone who travelled across Ireland with his buddy, having great craic, and failing to hit a crossbar after 36 attempts…
Before I have focused energy on improving conditions for players, through my work for PFA Ireland – and I love the drive to make a difference to this world that we work and live in, and I hope to be part of positive change for the next generations. However, this is the first time that I've truly immersed myself in activism outside of the game and, not only did I do some good in the world, but I loved every second of it.
FIFPRO's Community Champion series highlights a professional footballer's activities that positively impact the lives of others. Discover more HERE.