FIFPRO spoke to the Scottish player union about encouraging players to learn a new skill for life beyond football.


PFA Scotland is giving the players the opportunity to sign up for courses such as tiling or plastering. Their members are also given the opportunity to become a qualified gas engineer or personal trainer.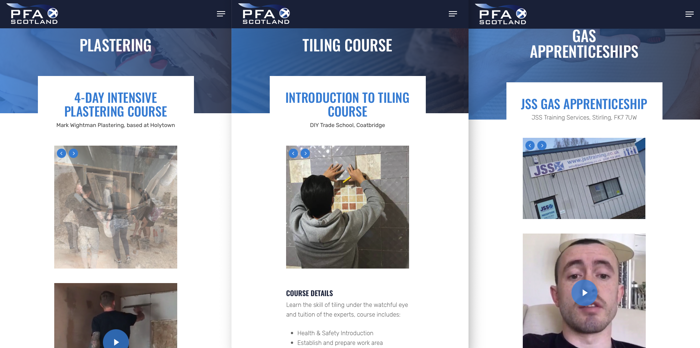 The driving force behind these courses is PFA Scotland's player development manager, Chris Higgins. FIFPRO spoke to him about the initiative.
How did these trade courses come about?
Some players prefer studying at university, whereas other players are just interested in something more practical that allows them to get out and about and earn some money. Every single person is different and has their own outlook on life. That's what makes the job exciting.
What do players make of them?
Once players get the ball rolling with preparing for the future, they enjoy it and actually continue doing so. It's just that first step that's the most difficult. The players that are embarking on a preparation for a post-playing career, they also enjoy playing football more.
Why is taking that first step so difficult?
It's probably because all they've wanted to do since they were a small kid is to play football. When you leave school, it's 'football-football-football'. You want to improve and have the best career possible. They're scared that a course might take away from their focus or performance on the pitch and they're not quite confident enough.
Is difficult for players to find time for a course?
Well, from my experience not. As a matter of fact, I met with Professor David Lavallee a while ago. He studied how preparing for life after football affects your performance. It showed that, at the very worst, it didn't affect the players at all and in a lot of cases it actually enhanced their performance.
How do you engage with players?
I try to encourage players to find their own path and the thing I say to players is: go and do something. What's the worst that could happen? You might enjoy it, you might not. If not, you take a step back and try something else. If you start that sooner, it helps you prepare and be in a better place when you're a more experienced player.
Which of the courses that PFA Scotland offers is most popular?
A lot of players are interested in getting their coaching badges, because that's kind of a natural progression, from playing. Personal training is quite a popular one. The reality is that there's thousands of different courses in different areas.
"What's most important is to find a course that is specific to the individual, because not one person is the same"
How do you pick the right course?
What's most important is to find a course that is specific to the individual, because not one person is the same. Before Covid, I'd see a player in person to have a coffee and a chat. We would then try and find a pathway that is specific to that individual. It shows you care. I care about people and I certainly care about players, because I understand how footballers feel and the difficulties and the barriers that some players have.
What if it turns out they didn't like the course they picked?
Part of my role is to stay engaged with the players and to continue asking a person how they are doing. When a player tells me they didn't enjoy the course, I say to them: "well okay, that's fine, let's go again. Let's look at what your thoughts are now – how can I support you?" It's really about maintaining that engagement, to keep the discussion going and to continue the arm of support. Hopefully they will eventually reach out, open up and decide to do something that's going to prepare them for the future.
What else do you have in store for the future?
We're always looking to expand and I'm trying to find different areas for courses. So, we've done a survey to find out what the players want. We're also running the second edition of an event called My Future Now, where we'll be teaching second year apprentice players skills like creating a CV and basic interview techniques.
Let's be honest, footballers have a fantastic career. They retire at mid to late thirties and the majority of footballers in Scotland still have twenty to thirty years of working life ahead of them. That's where we're trying to help players understand that if they do something sooner, they can actually throw themselves into a job that they are really going to enjoy when they do come to the end of their playing career.
---
Are you a professional football player and considering to start preparing for life after football? Get in contact with your player union now. They are able to support you with finding what you are looking for: studies, scholarships, courses, qualifications, internships, jobs and much more. Don't wait – do it today!