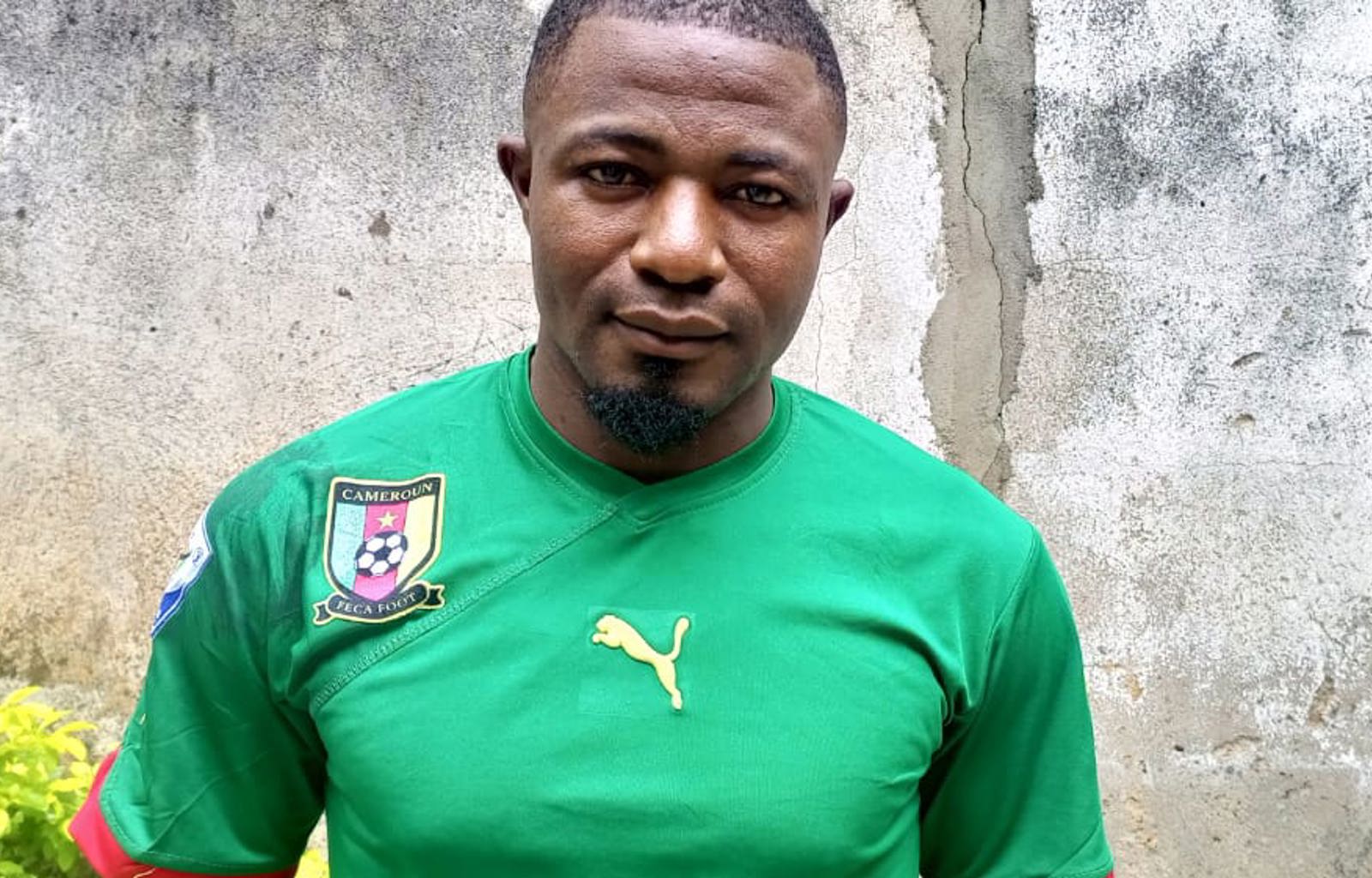 {0} min. reading time
Stephane Dassi Tatan's career was cruelly cut short at the age of 23 after a severe injury


A promising prospect in Cameroon's top flight, he fought for seven years to get his former club to pay money he was owed


"Since the beginning, SYNAFOC have been by my side," says former New Stars right-back
The final matchday of the 2015 Cameroonian season is one that still plays on Stephane Dassi Tatan's mind.
At a time when he was on the verge of breaking into the senior international set-up, the former New Stars right-back suffered a broken jaw after a brutal clash in a game against Union de Douala.
"Their left-back played a one-two with a team-mate. I tackled him and as he tried to dodge me, his knee hit my jaw," said Dassi Tatan. "I fainted and six hours later, I woke up in hospital with a broken jaw. I couldn't eat or drink and had to be treated."  
To make matters worse, his club abandoned him. Dassi Tatan had to wait ten days before he was operated on. During a difficult period where he spent more than six months with his jaw wired closed, he was supported by his family and player union.
"If it wasn't for my family, I think I wouldn't have had the operation. I had a tube placed in my mouth through which I fed myself. I only took water, milk, and porridge. My diet was too complicated and expensive.
"Fortunately, friends like Serge Ngal and Patrick Ngoula, and kind-hearted men like the late SYNAFOC President David Mayebi and Vice President Lucien Mettomo were there to support me."
Cameroon PFA (SYNAFOC)
• Division: Africa
• Established: 1995
• FIFPRO Member since: 2001
• Website: synafoc.org
Even now, Dassi Tatan still experiences physical repercussions from the incident.
"I still have stitches in my mouth, as some of my teeth are still moving," he said. "I am missing nine teeth – I lost two because of the clash and during the operation, the doctor had to pull out seven more. I still can't chew my food properly, which is why I regularly have digestive problems."
To make matters worse, New Stars President Faustin Domkeu then refused to pay Dassi Tatan money that he was owed. 
"During my two seasons at New Stars, I was the starting right-back. I gave everything to New Stars, but in return I received nothing from the club," he said.
"I had a signing bonus of USD 1,600 for two seasons. The president gave me half in advance and a cheque for the other half. I went to the bank to cash that cheque and I was told that there was nothing in that account."
Faced with Domkeu's categorical refusal to pay Dassi Tatan's unpaid salaries and signing bonus, SYNAFOC took the matter to the National Dispute Resolution Chamber. The trial lasted almost two years.
"In 2017, we won our case and the NDRC condemned New Stars to pay me the sum of USD 7,500 as damages."
Dassi Tatan, however, did not immediately receive the sum. It would take him five years to finally receive the money he was owed. "Domkeu had openly said that he would not give me anything."
Fortunes change thanks to Samuel Eto'o
Dassi Tatan's luck began to change for the better when Samuel Eto'o, who had become president of the Cameroon football federation (FECAFOOT) in December 2021, entered the fray.
The former Cameroon, Barcelona and Inter star ordered clubs to respect decisions taken by the NDRC, threatening to relegate clubs by two divisions if they did not comply. "I jumped for joy telling myself that I was finally going to get what I was due," said Dassi Tatan. "Domkeu asked to meet me for an amicable arrangement."
Dassi Tatan agreed. Accompanied by the union's legal director Daniel Bassega, he attended the meeting in which the club president offered USD 1,950 of the 7,500 owed.
"I found it insulting. I refused. If I could wait seven years, I could also wait a little longer to get what I was legally owed."
It worked. Domkeu came with a new proposal (USD 4,750) and Dassi Tatan accepted, closing a difficult chapter in his life.
"Since the beginning, SYNAFOC have been by my side, they assisted me, free of charge," he said. "It took me almost a year to recover from the clash. When I wanted to return to football in 2019, all the clubs I went to called me a contentious and problematic player. I would successfully pass trials, but once it came to signing and the clubs heard my story, they all balked. No club wanted me anymore.

"I can say that New Stars and Domkeu stole my life. They stole my career, they took everything from me." Dassi Tatan now works as a driver for a pastry shop in Cameroon. "I deliver cakes to shopkeepers. That's how I try to make ends meet.
He continued: "It is thanks to the union that I have been able to hold on. The simple fact of knowing that there is a house where you can cry, and someone will listen to you, is comforting. I will conclude by inviting all footballers to believe in SYNAFOC, our union, and to join it."