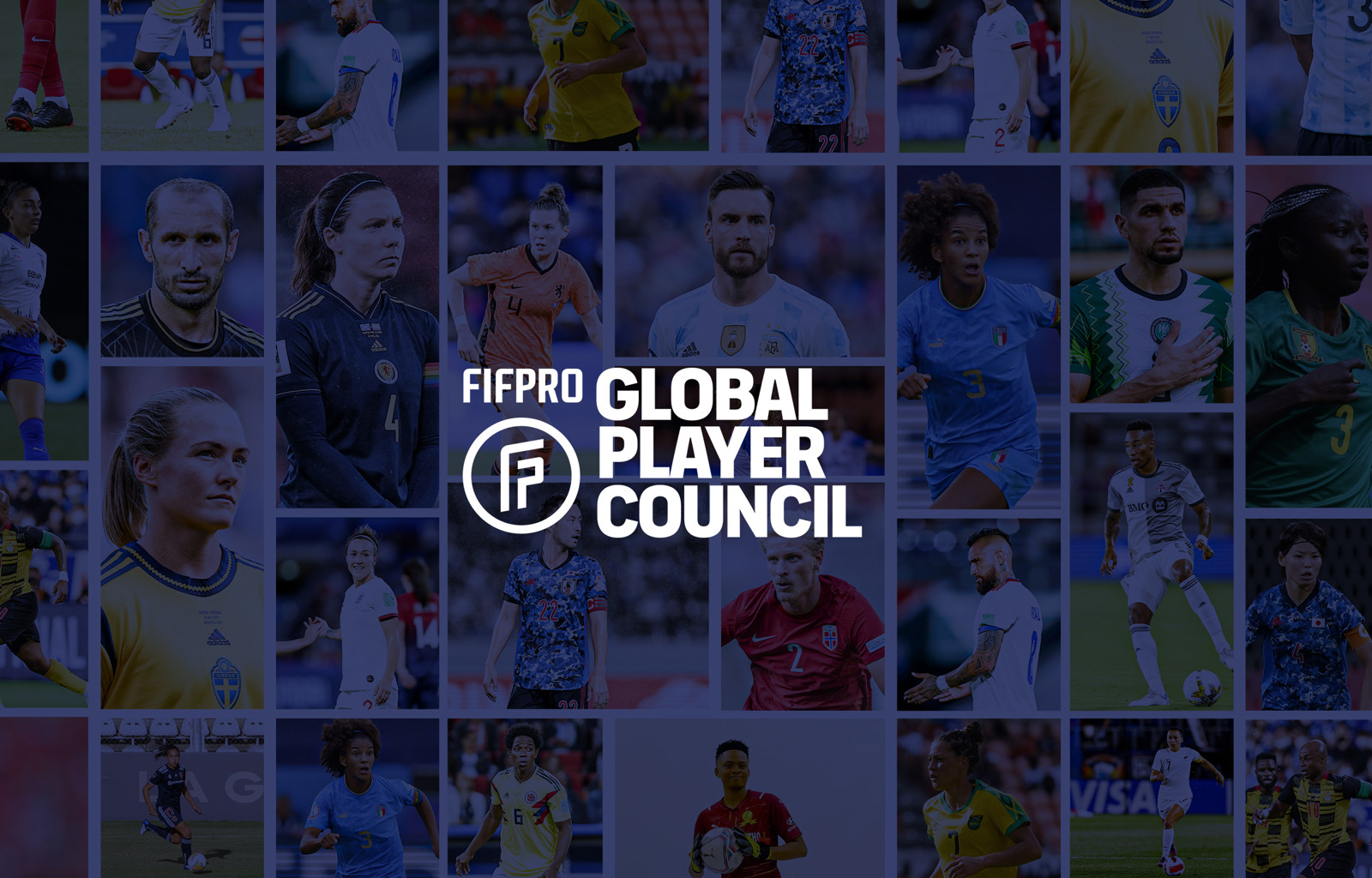 {0} min. reading time
FIFPRO launches a new Global Player Council (GPC) with 29 players


Council to put footballers at the heart of decision-making


Group of players had their first video call meeting yesterday
FIFPRO today launches a new Global Player Council (GPC) to put men and women professional footballers at the heart of decision-making in international football.
The 29-strong council will assist FIFPRO and its 66 affiliated national player associations to represent footballers in negotiations about global issues that directly affect them including the international match calendar, employment standards, the use of personal data and social media abuse.
The group of players, which had their first video call meeting yesterday, have agreed to continue the work of the inaugural council launched in 2019. They will meet regularly, either via video call or in person. The Global Player Council's participants will continue to evolve over time.
Lucy Bronze, Giorgio Chiellini, Saki Kumagai and Nicolas Tagliafico are among players continuing on the council but most of the 29 men and women are new to the group. They are all national-team players and were selected by their respective national player union and FIFPRO for leadership qualities and a strong interest in player issues. They play for clubs in Africa, Asia, the Americas and Europe.
Chiellini said he is looking forward to sharing insight of the game with younger players. An accomplished leader on the pitch, he won nine Serie A titles with Juventus and captained Italy to EURO 2020 success before joining Los Angeles FC in June.
"If I can help footballers worldwide with my words, with what I've done, maybe even with the knowledge I have, then it's really an honour to represent my colleagues and to be part of this council," Chiellini said.
"It is the best way to start making our voice heard among football's authorities." 
Ali Riley, the captain of Angel City and New Zealand, said it is vital that today's players are part of decision-making in football because "we're the ones living it."
"I want to use my platform, my voice, and my experience to help those who don't have the same opportunity," Riley, who has played in four World Cups, said. "I joined the Global Player Council because I want to make a difference."
FIFPRO President David Aganzo was present to address the players as a group for the first time via video call yesterday.
Aganzo said: "All of these players are leaders on and off the field in different countries around the world and will do a fantastic job in representing their profession at an international level. On behalf of players around the world, we thank them for devoting their time and effort to defending players rights."
FIFPRO Deputy General Secretary Simon Colosimo said: "We are inspired by the enthusiasm and sense of solidarity of the new Global Player Council. I was a president of the Australian player union while I was a player on the national team and so I can identify with their passion to represent their fellow professionals."
The following are members of the Global Player Council:
Kellyn Acosta (Los Angeles FC & USA)
Chinyelu Asher (AIK & Jamaica)
Andre Ayew (Al Sadd & Ghana)
Leon Balogun (QPR & Nigeria)
Sedilame Boseja (Mamelodi Sundowns & Botswana)
Lucy Bronze (FC Barcelona & England)
Giorgio Chiellini (Los Angeles FC & Italy)
Sebastian Coates (Sporting Lisboa & Uruguay)
Rachel Corsie (Aston Villa & Scotland)
Merel van Dongen (Atletico de Madrid & Netherlands)
Crystal Dunn (Portland Thorns FC & USA) 
Isabella Echeverri (CF Monterrey & Colombia)
Magdalena Eriksson (Chelsea & Sweden)
Sara Gama (Juventus & Italy)
Pamela Gonzalez (Granada & Uruguay)
Mark-Anthony Kaye (Toronto FC & Canada)
Saki Kumagai (FC Bayern Munich & Japan)
Ajara Nchout (Inter Milan & Cameroon) 
Andre Onana (Inter Milan & Cameroon)
Fernanda Pinilla (Club Universidad de Chile & Chile) 
Ali Riley (Angel City & New Zealand) 
Raquel Rodriguez (Portland Thorns FC & Costa Rica)
Carlos Sanchez (Santa Fe & Colombia)
Eugenie Le Sommer (Olympique Lyonnais & France)
Nicolas Tagliafico (Olympique Lyonnais & Argentina)
Morten Thorsby (Union Berlin & Norway)
Arturo Vidal (Flamengo & Chile) 
Tameka Yallop (Brann & Australia) 
Maya Yoshida (FC Schalke 04 & Japan)