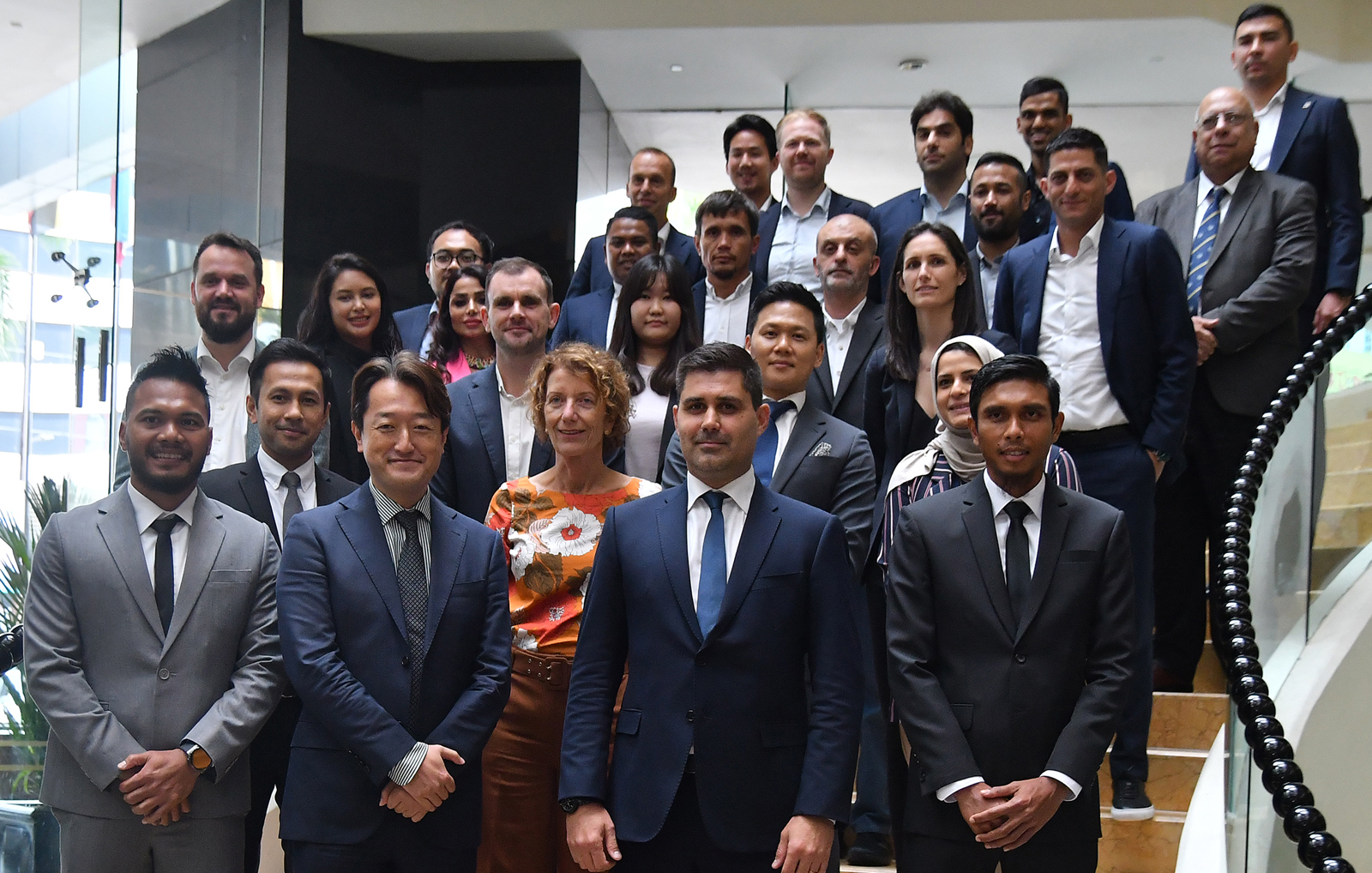 {0} min. reading time
FIFPRO Division Asia/Oceania general assembly took place in Kuala Lumpur, Malaysia


Signing ceremony of UN's Football for the Goals initiative, collaboration session with WLF took place


"A great platform for leagues and player unions to share experiences," says FIFPRO Asia Chairman Takuya Yamazaki
FIFPRO Division Asia/Oceania enjoyed a special general assembly with the signing ceremony of the United Nations' Football for the Goals initiative and a collaboration session with the World Leagues Forum.
About 30 representatives of 14 Asian/Oceanian player associations (Australia, India, Indonesia, Iraq, Japan, Jordan, Korea, Kyrgyzstan, Malaysia, New Zealand, Qatar, Singapore, Thailand, and Uzbekistan) participated in the two-day event on 19-20 September in Kuala Lumpur, Malaysia, as did FIFPRO President David Aganzo and Deputy General Secretary Simon Colosimo.
The first day of the congress included presentations of seven player associations, sharing insights about the projects they launched as part of FIFPRO Asia's Capacity Building Projects, while FIFPRO's Head of Legal Roy Vermeer informed the delegates about the latest juridical developments.
On the second day, it was announced that FIFPRO had joined the United Nations' Football for the Goals initiative. Both organisations celebrated the occasion with a panel discussion about how players can contribute to these goals and can benefit from the collaboration with the UN.
"It's a privilege to witness the launch of Football for the Goals in Kuala Lumpur," said Safee Sali, the President of PFA Malaysia, former national team player and current striker of Kuala Lumpur City.
"Football is the world's game, it's a game that almost everyone understands, and so we have a great opportunity to send a message to supporters around the world that we all need to do our part to meet these global objectives."
Next to Sali, three other national team players participated in the congress: New Zealand's Anna Green (also a FIFPRO Asia board member), Malaysia's Razman Roslan (PFA Malaysia Vice President) and women's captain Steffi Sarge Kaur (PFA Malaysia board member).
In the afternoon, FIFPRO and the World Leagues Forum (WLF) held a working session to discuss how they could collaborate in the future. WLF General Secretary Jerome Perlemuter was one of the guests, next to leaders of the Australian A-League, Malaysia Pro League, Saudi Pro League and United Arab Emirates Pro League.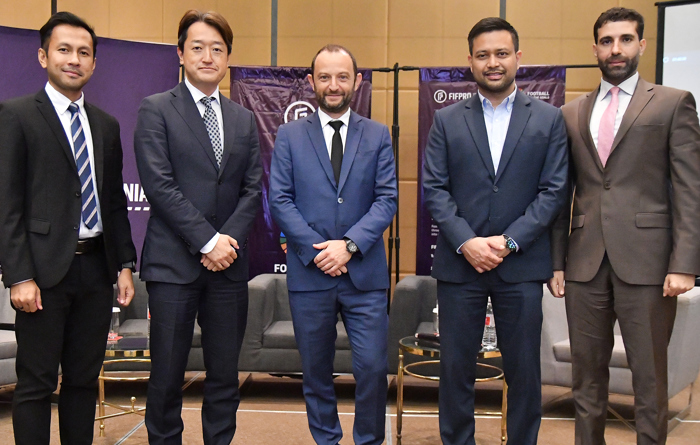 FIFPRO board member Izham Ismail, FIFPRO Asia Chairman Takuya Yamazaki, WLF General Secretary Jerome Perlemuter, Malaysia Pro League CEO Stuart Ramalingam and Saudi Pro League Legal Manager Malek Badri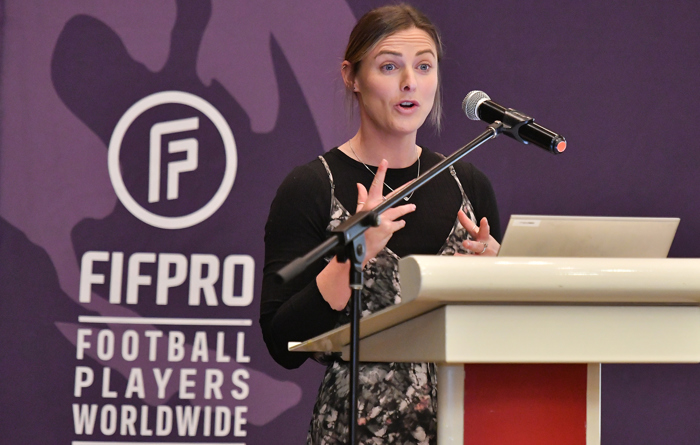 FIFPRO Asia board member Anna Green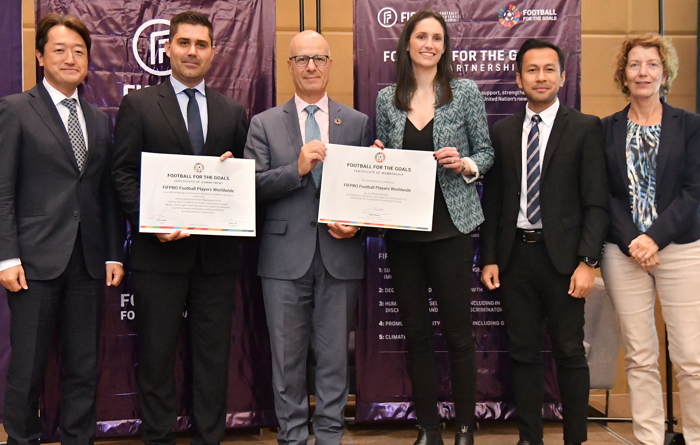 FIFPRO Asia Chairman Takuya Yamazaki, FIFPRO President David Aganzo, UN Director Maher Nasser, FIFPRO Board Members Kathryn Gill and Izham Ismail, and FIFPRO Asia General Secretary Frederique Winia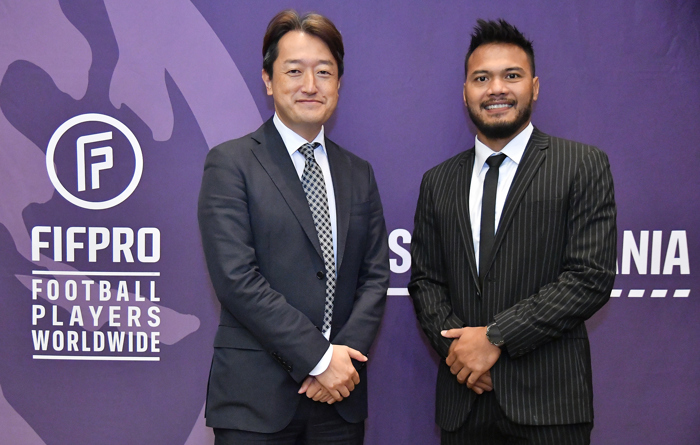 FIFPRO Asia Chairman Takuya Yamazaki and PFA Malaysia President Safee Sali
"We enjoyed a very fruitful session, during which we openly discussed how we could mutually raise the standards of both domestic and international competitions," said FIFPRO Asia Chairman Takuya Yamazaki.
"This was a great platform for leagues and player unions to share experiences, discuss their problems, and find joint solutions."
Yamazaki continued: "I was impressed by the level of engagement and frankness of our union representatives during these two days in Malaysia.
"Culturally, this is not the easiest region to work for a union, but our members are highly motivated and displayed an abundance of great ideas and initiatives for expanding their support to players. That is a clear illustration that we, FIFPRO Asia, are advancing."