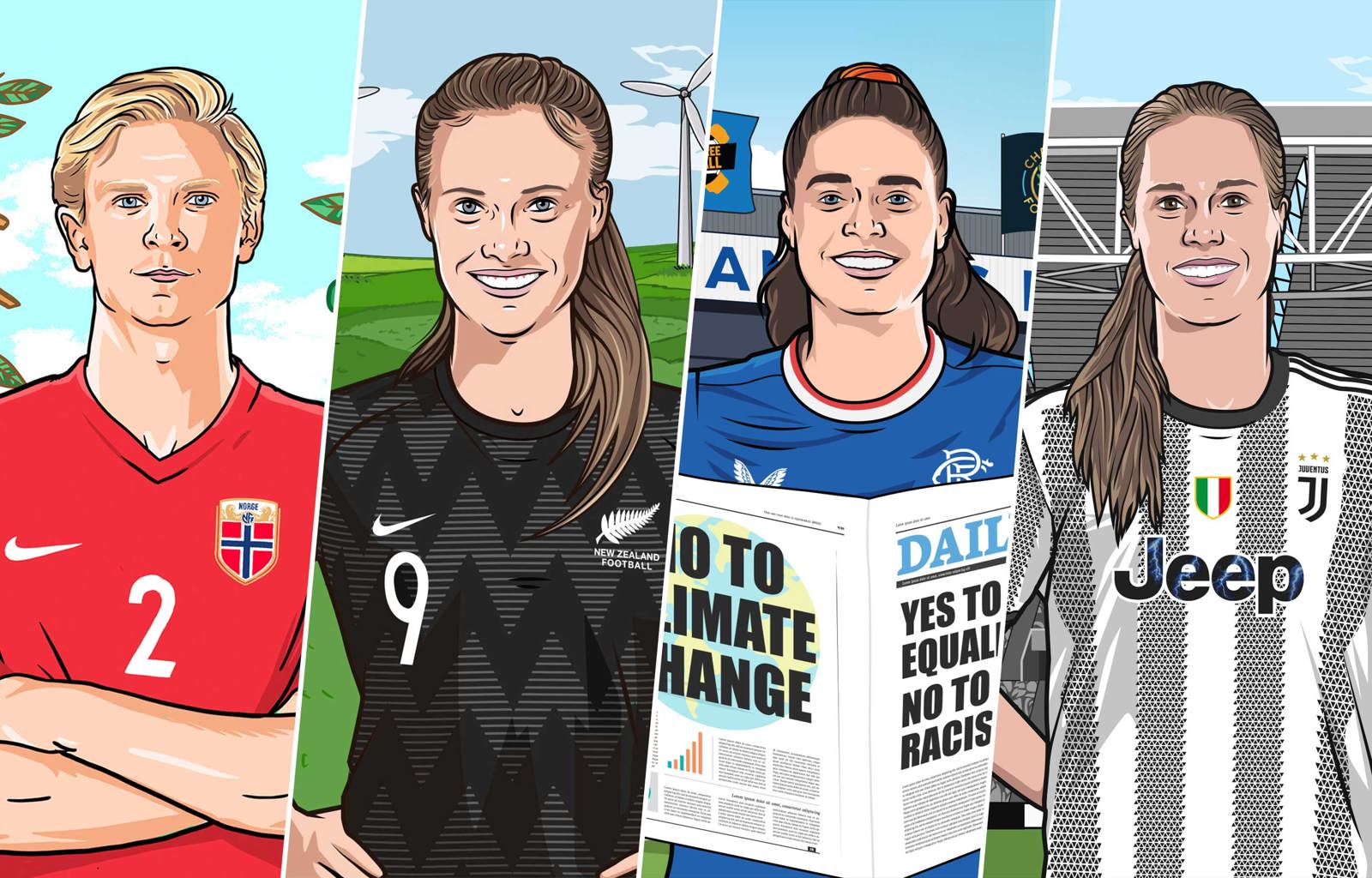 {0} min. reading time
22 April marks Earth Day, highlighting the need for environmental protection


Some footballers have been using their platform to raise awareness about climate change and protecting the environment


We take a look at four footballers who have been making a difference

22 April marks Earth Day, an annual event that since 1970 has been used to demonstrate support for environmental protection.
The Earth Day theme for 2023 is: Invest In Our Planet, focused on engaging the more than one billion people, governments, institutions, and businesses who participate in Earth Day to recognise collective responsibility and help accelerate the transition to an equitable, prosperous green economy for all.

To highlight Earth Day, FIFPRO takes a look at four international footballers who have been using their platform to raise awareness and help protect the environment we all live in.
Morten Thorsby
The winner of the 2021 Player Activism award, Norway international Morten Thorsby created a foundation – We Play Green – to make people more aware of how they can contribute to making the environment more sustainable.
The Union Berlin midfielder believes that, with the help of other players, he can reach 3.5 billion people in order to minimise the effects of climate change and global warming.
"I truly believe that footballers can change the world if they use their voices in the right way," said Thorsby. "I was fortunate to grow up in Norway, where you have a lot of nature and are surrounded by mountains. I took that for granted. When I moved to the Netherlands in 2014 at 18-years-old, I started to read about the environmental problems we have. It was a big shock. How was it possible that no one was speaking about such a huge problem?
"My foundation, We Play Green, is a digital platform for footballers who want to help solve the climate crisis. We want to do two things: inspire and enable players to use their voice. We aim to give them all the tools they need to speak about this, such as producing purposeful storytelling, which helps with distributing information to the football family."
Sofie Junge Pedersen
Denmark international Sofie Junge Pedersen joined Thorsby's We Play Green in 2022 and wears the No2 jersey at Juventus; not only to symbolise the need to bring climate action into football by referencing the 2°C global warming limit, but also highlighting a dedicated group of professional players who are committed to playing with a dual purpose: making an impact on and off the pitch.
Pedersen first became interested in climate change in 2009, when the United Nations Climate Change Conference was held in Copenhagen, and uses her platform to raise awareness about the issues, especially with team-mates.
"I think about it many times every day, and it influences my behaviour. Do I really need to turn on the light or can I wait? Can I use this amount of water in a smarter way?" said Pedersen. "Players from Juventus and Denmark know I care about climate change. I bring my own tap water to training instead of using new water bottles every day. I try not to eat meat, but vegan based food.
"When I have an opportunity, I will bring climate change to their attention. When someone says: 'Oh, this is warm, this is too hard', I reply: 'This is climate change. This will be the norm in the future'. Team-mates ask me about it a lot and want to learn. I enjoy those talks. It's not difficult to convince them that there is a crisis, but it's difficult to change people's behaviour."
Tessel Middag
Netherlands international Tessel Middag is no stranger to using her voice to highlight climate change. The Rangers midfielder recently published two opinion articles in de Volkskrant with Frank Huisingh and Roy Blokvoort of Fossil Free Football.
Middag also recently become involved in Champions for Earth and Football For Future, helping athletes use their voice in addressing and averting the climate and ecological crisis.
"We are in an existential crisis that affects us all, and football is no exception. If we do not take drastic measures, it will no longer be possible to play football in many places in 2050. By that time, one in four English football pitches will regularly be flooded, for example," said Middag. "There is still far too little action being taken, especially by governments and large companies.
"Some of those companies play an important role in football, such as airlines and banks that invest in the fossil fuel industry. They have no beneficial impact on the climate, even though they try to sell themselves that way. For instance, they claimed that last year's men's World Cup in Qatar was the first "climate-neutral World Cup", but that is demonstrably false. That is greenwashing."
Katie Rood 
A self-described environmentalist, New Zealand international Katie Rood has been encouraging others to be more conscious of the impact their decisions have on the planet – from cutting out or consuming less animal products to being generally mindful of environmental costs.
Rood, who plays for Heart of Midlothian, last year launched Natural Advantage, a community connecting more with nature.
"I am not perfect. The carbon footprint required to play football across the world isn't small, but I'll keep trying to do the best I can to limit my impact. The world doesn't need a million perfect people: we need billions of non-perfect people, who are living their lives while trying their best to make a difference," said Rood.
"Putting myself out there publicly as an environmentalist wasn't an easy step, and I knew some people would think poorly of the content I created. However, over time, I've come to realise the people who might scoff don't matter: it's those who are open to my message that I'm trying to reach. These are the people that will go on to inspire others to make a change, and it's this chain reaction that will make a difference in the world.
"Football has such a strong influence across the globe. It's so important that we – the players, the clubs, and the organising bodies – harness this power and lead by example. It's our responsibility to make the change that we want to see, and inspire the world to follow."