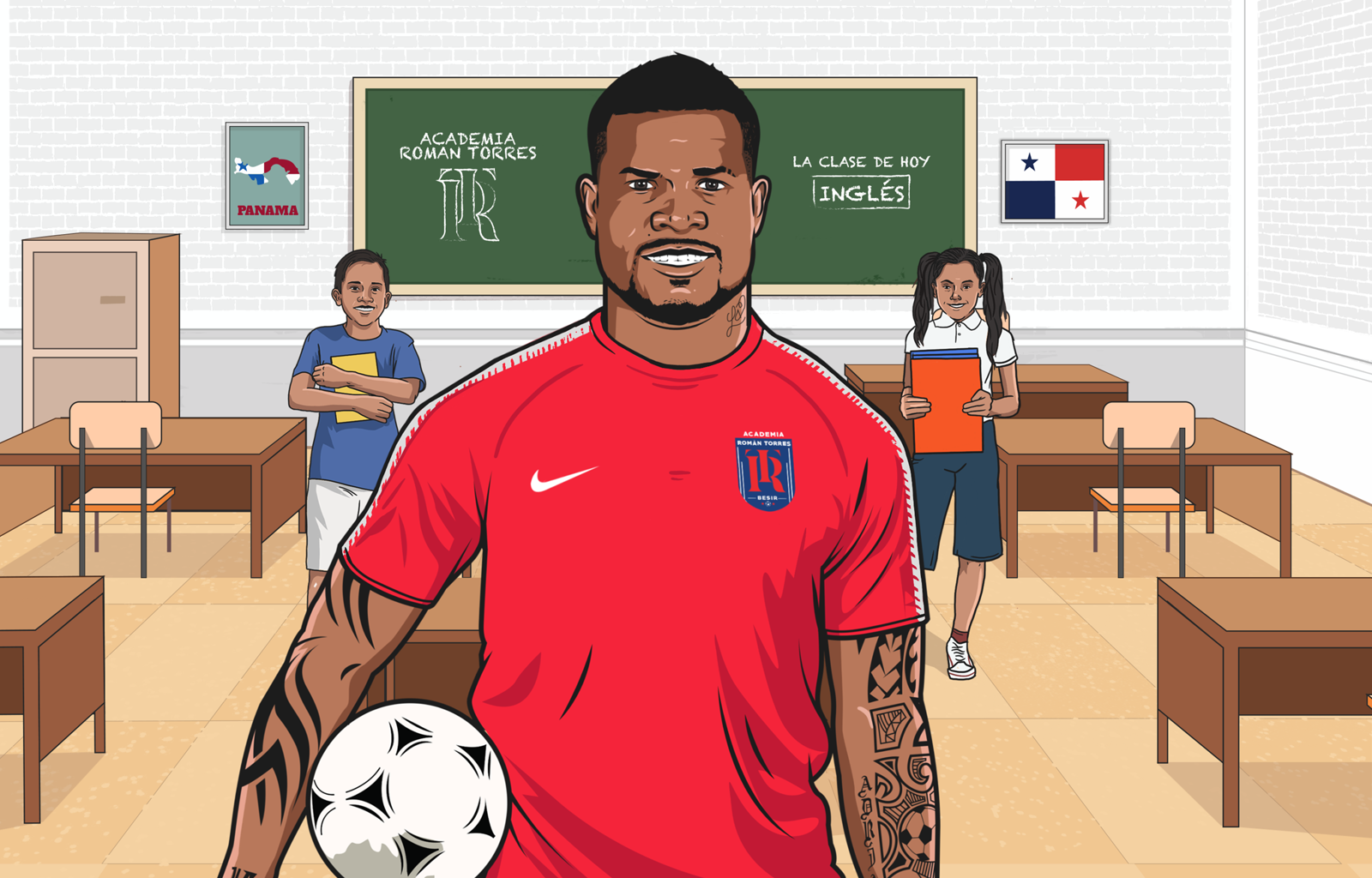 {0} min. reading time
Roman Torres, Panama's captain at the 2018 World Cup, set up an academy to help vulnerable and socially at-risk children and teenagers


Today, 130 students attend the programme, which includes a psychologist, a social worker, literacy classes and English classes



His next goal is to create a high-performance sports centre for children below the poverty line
"Education is much more important than football." These are not the words of an academic or a political leader. They belong to none other than the captain of Panama's national team that took part in its only ever World Cup (Russia 2018) and one of the biggest names in the sport in his country: Román Torres." 
The 35-year-old footballer, currently without a club and still hoping to stretch out his professional career for another five years, has recently become a social poster boy for the football world. 
In 2018, Román set up the "Román Torres Football Academy" which takes in boys and girls from poor neighbourhoods, with very low economic resources and at social risk, to help them to get their lives together through sport. 130 children from various cities in Panama not only receive football training, but also English classes and basic schooling to help them improve their life chances. 
"The idea of forming this academy basically sprang from my own childhood," Torres told FIFPRO in an interview. "I was born in Panama City, in an area called Barrio Lindo. I had a beautiful family, but I was at social risk. Throughout my life, I have made many friends who played football very well, better than me and some of them ended up dead, others in prison or gangs or addicted to drugs. They had no opportunities and no one to help them get out of it."  
Torres talked about his life and the hardships he faced to become a Panamanian football legend. He mentioned Rafael, one of his best friends from high school, whose life took an unfortunate turn. 
"Rafael was basically responsible for me playing football. We were both on the school team. We were the two strikers. One day, he started training with the U17 team and he invited me along to a training session. We both made it through the selection process and played together in the Panama U20 and U23 teams." 
"However, he chose another path and was murdered at the age of 27. I will never forget his story."  
The Román Torres Football Academy is based on the 'BESIR' concept (Blessing, Education, Sacrifice, Intelligence and Respect). Thus, the work programme consists of taking in children of all ages, whatever their situation, and helping them to get their lives back on track, despite their enormous daily challenges. 
The academy is not only staffed by the team's football coaches, but also a social worker, a psychologist and a tutor, who provides literacy and numeracy courses for all participants. 
"We have a programme called 'Educating and transforming lives', where the boys in the academy take two classes a day and, thanks to an agreement with the Gabriel Lewis Galindo Foundation, one of those two daily classes is in English, so that they can even consider living and working abroad."  
Román who also played for Junior and Atletico Nacional in Colombia and Seattle Sounders in the United States, among other clubs, said that they once managed to attend a tournament at Disney World Florida with the academy, which was an unforgettable experience for the students. "Now we are getting ready to go to another tournament in Madrid." As if that wasn't enough, Torres' ambitions to help children below the poverty line and at social risk have given him new objectives: "My next goal is to be able to create a high-performance sports centre  for these children. The problem for them is that the neighbourhood still has a strong influence over them. They leave the academy and they see shootings, murders in their neighbourhoods, they are tempted by drugs. When some kids leave here, we don't know if they are going to come back or not. With a high-performance centre, we could help them to get their lives back on track even more." 
Román's academy received unconditional support and various types of assistance from the Football Players Association of Panama, Afutpa, which has been fighting for years to improve conditions for professional players and for the future of football in their country. 
Afutpa has set up the 'Afutpa in your community programme' in various parts of Panama, which also helps vulnerable children and teenagers. Its main objective is to recognize sport as a priority issue to solve social and health problems.  
In the meantime, Torres hopes that more children can join the Football Academy and find that support or advice they so desperately need at this difficult time in their lives. 
"We are actually more of a life training academy than a football academy. We have taken in kids who were rejected by another academy because they were out of shape or didn't know how to play football. Here, we have helped a lot of boys and girls learn to read and changed their lives. This is about sacrifice, hard work and always being able to dream. When you work for your dreams, you can achieve something in life."
FIFPRO's Community Champion series highlights a professional footballer's activities that positively impact the lives of others. Discover more HERE.