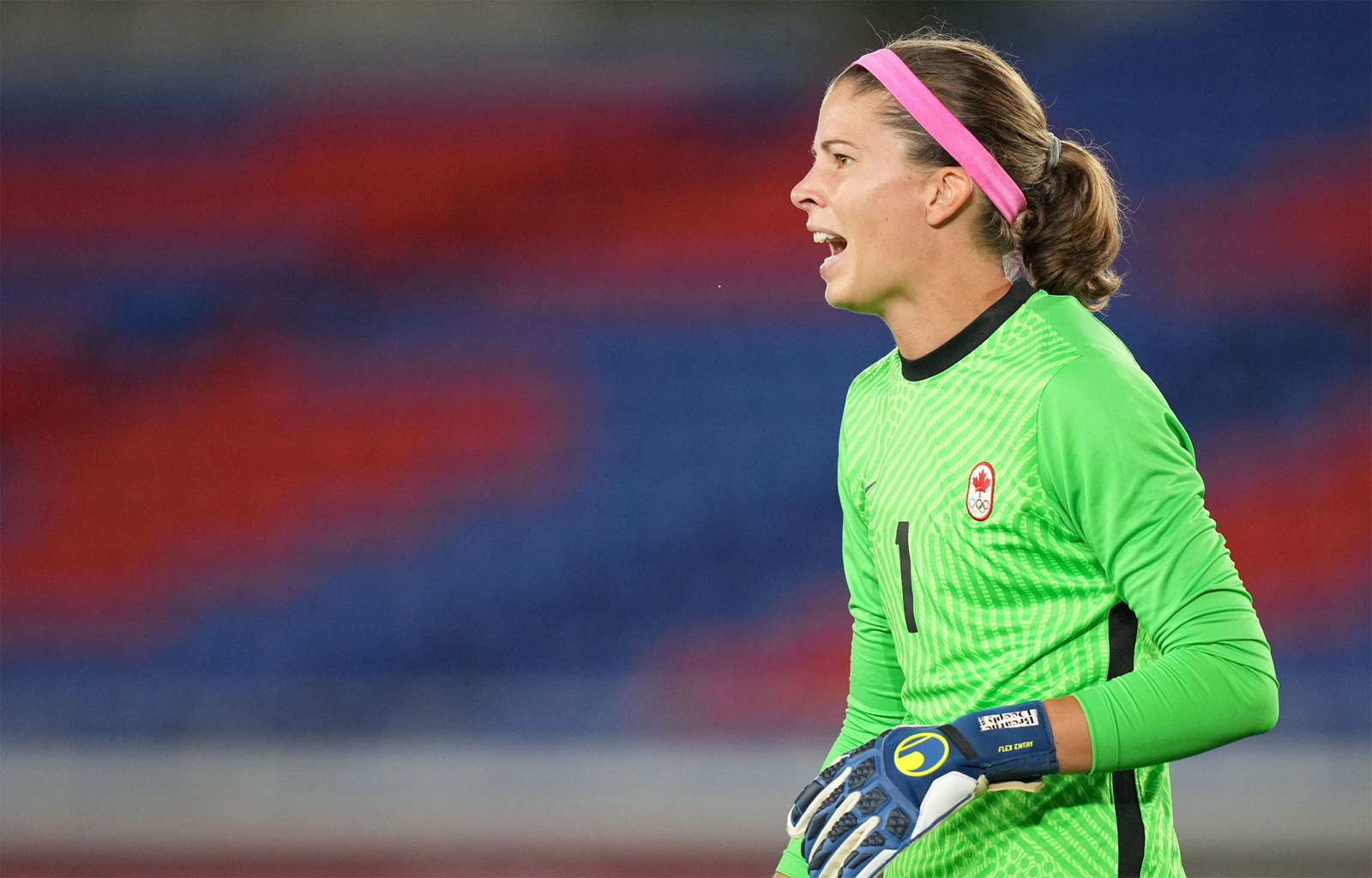 {0} min. reading time
At the 2020 Olympics Stephanie Labbé achieved her dream of winning Gold with Team Canada, but the journey took a serious toll on her mental health


The 34-year-old Paris Saint-Germain goalkeeper suffered from panic attacks throughout the tournament – leaving her emotionally and mentally drained for the duration


Today Stephanie advocates for all players to have access to the tools to look after their mental wellbeing – both on and off the pitch
"When I stepped onto that podium to collect the bronze medal with Canada at the Rio de Janeiro Olympics in 2016 I was bursting with pride; all the anticipation and hard work had paid off and I couldn't wait to get home and share my achievement with as many people as I could.
However, when it actually came to everyone clamouring to see the medal and talking about the experience – I began to feel empty inside. I started to feel that this piece of metal was worth more than I was as a person, and I think this began a spiral for me. With no immediate competition in the near future I started to feel my motivation drain. Over time I learned to find the balance in my mind between what I had achieved and what I am worth, and I came to treasure my medal once again - especially when I consider how hard I worked, both physically and mentally, to get to that point in my career.
In 2012 I stepped down from international football, and now – looking back as someone who has achieved her dreams as not only a bronze but also a gold medallist, if I could communicate with the me of nine years ago, I would tell her that she's absolutely making the right decision. As soon as I had committed to this break, I felt an overwhelming relief that I was able to choose to remove myself from an environment that wasn't healthy for my mental state. I had been allowing external factors to dictate my confidence and self-worth, and I needed to distance myself from the national team so that I could find these things in myself as a person. Of course, it was hard for me to see the girls go on to win the historic bronze medal at the London Olympics that year, as I knew I had given up my opportunity to be a part of that experience, but at the same time I knew if I was there that I just wouldn't be able to enjoy the moment.
Prioritising your own mental health ahead of competing is something that was particularly prevalent during Tokyo 2020, as highlighted by Simone Biles and Naomi Osaka. I sympathised with them, because I personally know that when it comes down to it, mental and physical health aren't too dissimilar. The problem is that when a mental health challenge comes along it can be much harder to recognise and express.
In Tokyo I sustained a painful injury in the first match, and I was in and out of hospital getting tests, trying to assess the damage and whether or not I could still play – but internally there was a whole different struggle coming to light. Once it became clear that playing wouldn't incur any further damage, we made the decision that it was physically possible to be back on the field – despite the considerable amount of pain I would have to endure. I had no idea that this injury would trigger an underlying vulnerability in my mental state. My adrenaline was so heightened, and my neuromuscular system was so finely tuned that I struggled to come down between games, which resulted in high levels of anxiety and multiple panic attacks. It got to the point where I couldn't train between the quarters and the final because I was so over-stimulated.
I knew it wasn't performance anxiety – I felt totally confident in my abilities and nerves were not an issue on match day. Looking back, I realise that it was a build-up of everything that I had experienced over the last year – the pandemic, the change of coaching staff, the lack of clarity over my position in the team – getting to the Olympics wasn't just a magical cure for all of this.
When that final whistle blew and we won gold I was expecting overwhelming relief, but it just didn't come. No matter how much I wanted to relax and celebrate with my teammates I just couldn't climb back down from that heightened state of awareness, and I basically spent the 48 hours following the final lying in a dark room. It was almost the opposite of what I had experienced with my bronze medal in Rio. Instead of letting the medal define me, I felt completely dissociated from my achievement. I couldn't process the thousands of messages of congratulations, the media enquiries, or the future impact that our accomplishment was going to have back home. It's only now – after a proper break and nearly a month after the event - that I can pick up the medal and feel connected to it as a source of pride.
Mental illness is so hard to define. It's not like an umbrella diagnosis that everyone can fall under, and even one person can have two completely contrasting experiences from it. That's why initiatives like FIFPRO's "Are You Ready To Talk" are so important - it gives players the tools and resources to deal with the mental challenges that they can come up against in their careers.
Sometimes it feels like our mental health is directly linked to our performance on the pitch, and while I understand that it is of course a factor – it's not the whole picture. Once the trophy has been lifted, and the fans have all stopped applauding – there's the potential for a player to feel their lowest. It is at this point when we need the support the most, when we're simply human beings.