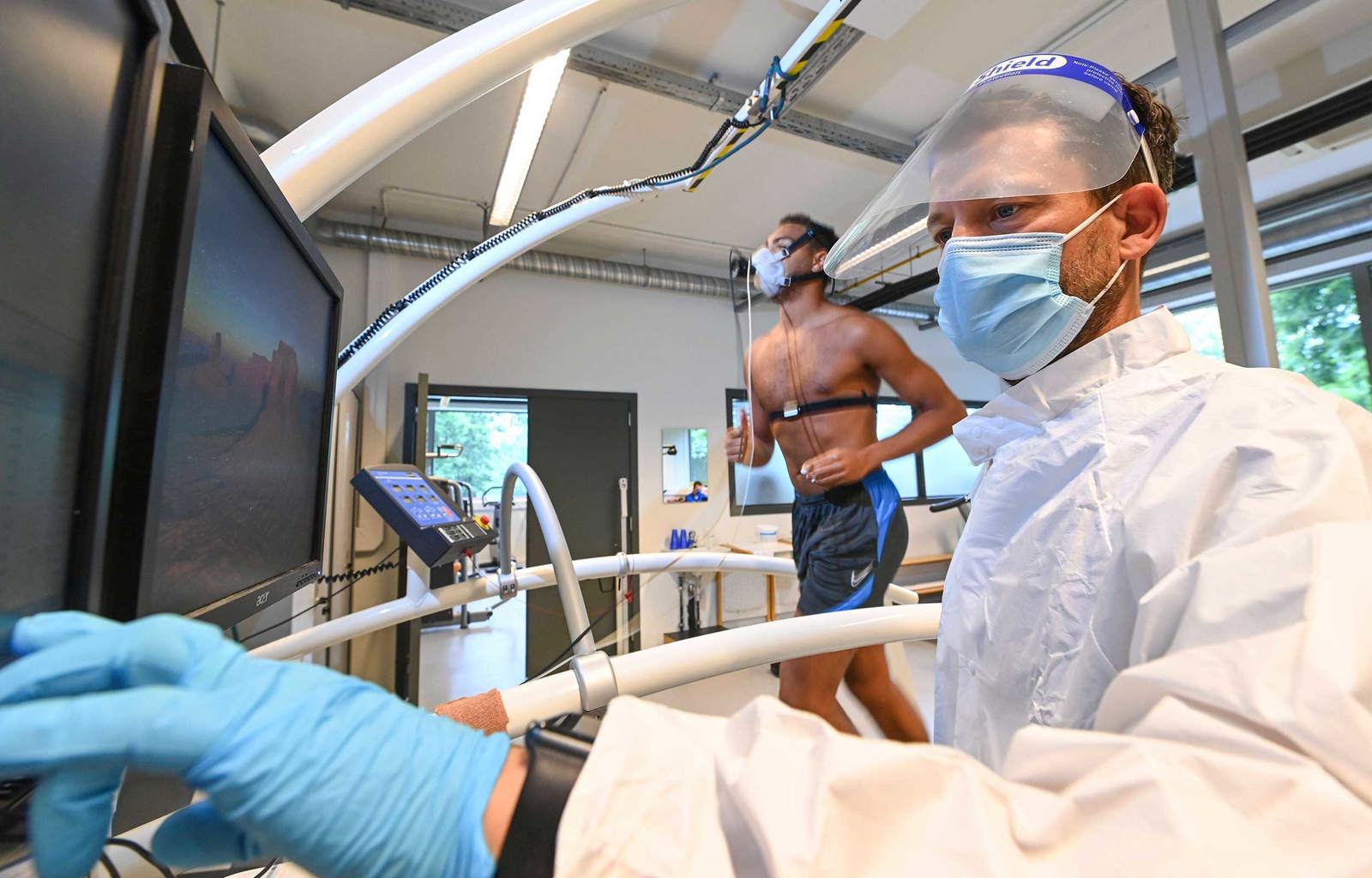 {0} min. reading time
Launched in October 2019, Drake Football Study is a 10-year project tracking the health of footballers


The initial objective is to examine the wellbeing of around 170 men's and women's, beginning during their careers and transitioning through to retirement


FIFPRO Chief Medical Officer Prof Dr Vincent Gouttebarge is the project lead together with Prof Dr Gino Kerkhoffs, chair of the Orthopedic Surgery and Sports Medicine department at the Amsterdam University Medical Centres
2023 is set to be an important year for the Drake Football Study.
As part of its commitment to player health, FIFPRO is coordinating a ground-breaking 10-year project on the physical and mental health of footballers.
Launched in 2019, the Drake Football Study is tracking the wellbeing of around 170 men's and women's footballers – beginning during their playing careers and eventually transitioning through to retirement.
This year is set to yield new insights on the examinations and sub-studies that have taken place so far.
"As it's a scientific project over a long follow-up period, it takes a lot of time to gather, analyse and interpret the data. But this year, we can expect much better insights with regards to the project and a few sub-studies," said FIFPRO Chief Medical Officer Prof Dr Vincent Gouttebarge. The study is giving priority to joint pain in ankles, hips and knees of men's players, and how it can potentially impact the wellbeing of players in the long-term.
Mental health is the early focus involving women's players, which aims to explore symptoms such as anxiety and depression which are often reported by players.
"With regards to other health domains that are relevant for players, we are also studying players' cognition via among others memory tests. Those tests are repeated every second year," said Prof Dr Gouttebarge, a former Auxerre, Volendam and Almere City defender.
"As it's something that hasn't been done before, it'll be interesting to see how cognition evolves over the years, whether positively or negatively among players.
"The most significant part of the study involving women's players is perhaps related to the menstrual cycle, reproductive functions, contraception, and their interference with injury. Those kinds of things are on the agenda of many research groups worldwide."
Overloaded calendar and post-tournament mental health
With the Drake Football Study's emphasis on cardiovascular, musculoskeletal, and mental health, it brings into question the multiple effects a mid-season World Cup is having on elite men's players.
After the culmination of the global finals on 18 December, many European-based players in countries such as England, Spain, and France went back into a congested league and cup schedule without the typical recovery period after an international tournament.
"With the World Cup finishing in December, we're even more alarmed with regards to player workload than ever before," said Prof Dr Vincent Gouttebarge. "There is clear evidence to show that elite players playing repeatedly and cumulatively weekend and midweek matches have a higher risk of injury – especially muscle tissue injury ­– in comparison to those players who are playing only once a week.
"There is also clear evidence that European leagues that have a proper in-season break in their winter have a lower risk of injury for players when compared to the likes of the English Premier League, which plays a lot of games during the festive period.
"When we saw players returning to training at their club just days after the World Cup, it's worrying and not something we want to see when it comes to protecting the health and performance of players.
"Research groups are monitoring the occurrence of injury and we'll be able to compare this season with a winter World Cup, with previous seasons without a World Cup. We'll see what data is presented, but it's alarming from a physical and physiological point of view."
Equally alarming was the lack of mental recovery time for players being thrown back into club football on the back of the World Cup.
Just with physical and physiological recover, players also need a period of decompression before a longer period of cognitive detachment to sufficiently recover mentally.
"In professional football, especially the last decade, pressure has increased from supporters and media on players, especially via social media," said Prof Dr Vincent Gouttebarge.
"If players don't have that period of mental recovery and regeneration, they might suffer from overload and burnout – which is obviously not good for their quality of life, or for their performances in the short and long-term.
"This period of physical and mental recovery needs to be secured in any match calendar. This is why it's important that the different competition organisers communicate with each other and coordinate their respective competitions, so that the player can be provided with that sufficient time to recover."
Health in focus ahead of Women's World Cup
An overloaded calendar is not exclusive to the men's game, however. High-profile women's players, such as Vivianne Miedema and Magdalena Eriksson last month, have spoken out on the need to manage workload more effectively in consultation with the players.
With the Women's World Cup set to kick off in July 2023, the workload of elite women's players is a subject FIFPRO is monitoring closely, according to Prof Dr Vincent Gouttebarge.
"I think the main challenges for some of the teams going into this year's Women's World Cup will be the travel – especially from the northern hemisphere – and match workload.
"We have seen recently high-profile women's players getting injured and being vocal about the match calendar, and managers too. It's something that we are monitoring closely."
The Drake Football Study is seed-funded by The Drake Foundation and supported by Amsterdam University Medical Centers, Mehiläinen (Finland) and Push Sports (The Netherlands).
FIFPRO Chief Medical Officer Prof Dr Vincent Gouttebarge is the project lead together with Prof Dr Gino Kerkhoffs, chair of the Orthopedic Surgery and Sports Medicine department at the Amsterdam University Medical Centres.