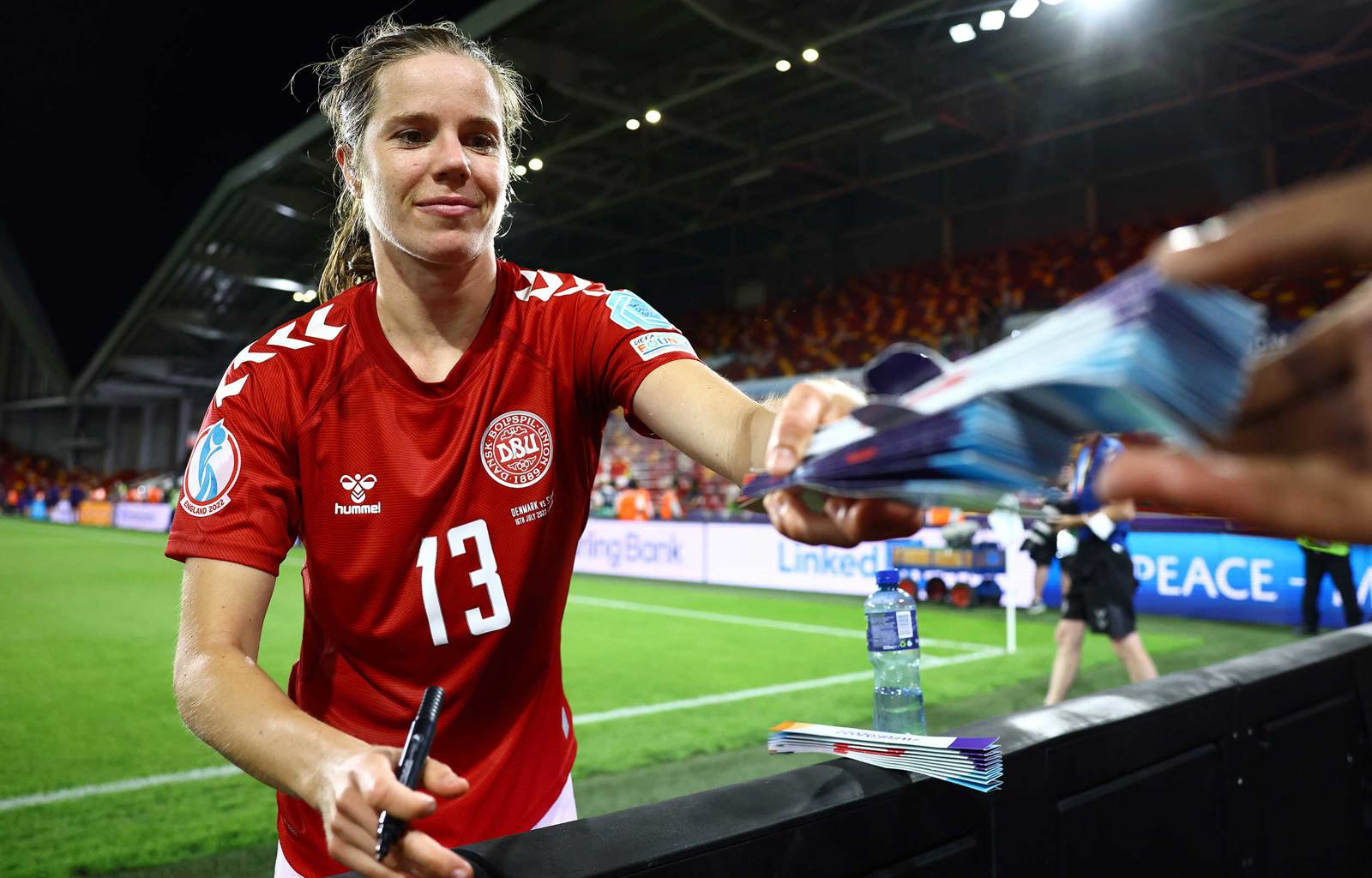 {0} min. de temps de lecture
Presented in partnership with WFS and FIFPRO, the Marcus Rashford Award reaffirms the legacy of the Manchester United striker's child food poverty campaign


The award is directed at athletes who have championed programs and actions that have a positive impact on their communities


Denmark international Sofie Junge Pedersen won the award for her work with Football for Future: a non-profit organisation building an environmentally sustainable culture in football
Denmark international Sofie Junge Pedersen won the inaugural Marcus Rashford Award at the World Football Summit (WFS) for her work with Football for Future: a non-profit organisation building an environmentally sustainable culture in football.
An accolade presented in partnership with WFS and FIFPRO, the Marcus Rashford Award reaffirms the legacy of the Manchester United striker's child food poverty campaign.
The award is directed at athletes, executives and organisation employees who have championed programs and actions that have a positive impact on their communities and drive positive societal change.
Pedersen, a midfielder at Inter Milan, led 44 Women's World Cup players to take climate action over the flights to and from Australia and New Zealand for the tournament.
"I want to ensure my World Cup experience has a positive environmental legacy," said Pedersen before the global finals. "Climate change is the biggest issue humanity faces, and I want to be part of the solution. While there are no current sustainable solutions to aviation, as players we are setting an example and taking a tangible step in the right direction."
As well as calculating her flight emissions, Pedersen has long campaigned to highlight climate change.
Speaking to FIFPRO last year, Pedersen said: "In 2009, when the United Nations Climate Change Conference was held in Copenhagen, I realised how serious climate change is. "I think about it many times every day and it influences my behaviour. Do I really need to turn on the light or can I wait? Can I use this amount of water in a smarter way? I know every time I use electricity, every time I drive or fly, it affects other people. Climate change affects everybody, but some people are affected more than others.
"Unfortunately, I can't change everything. I'm not proud of that. I'm flying a lot for games, which is difficult to change. But I'm aware of it and I try to reduce my own footprint.
"My team-mates know I care about climate change. I bring my own tap water to training instead of using new water bottles every day. I try not to eat meat, but vegan-based food.
"When I have an opportunity, I bring climate change to their attention. When someone says: 'Oh, this is warm, this is too hard', I reply: 'This is climate change. This will be the norm in the future'. Team-mates ask me about it a lot and want to learn. I enjoy those talks."