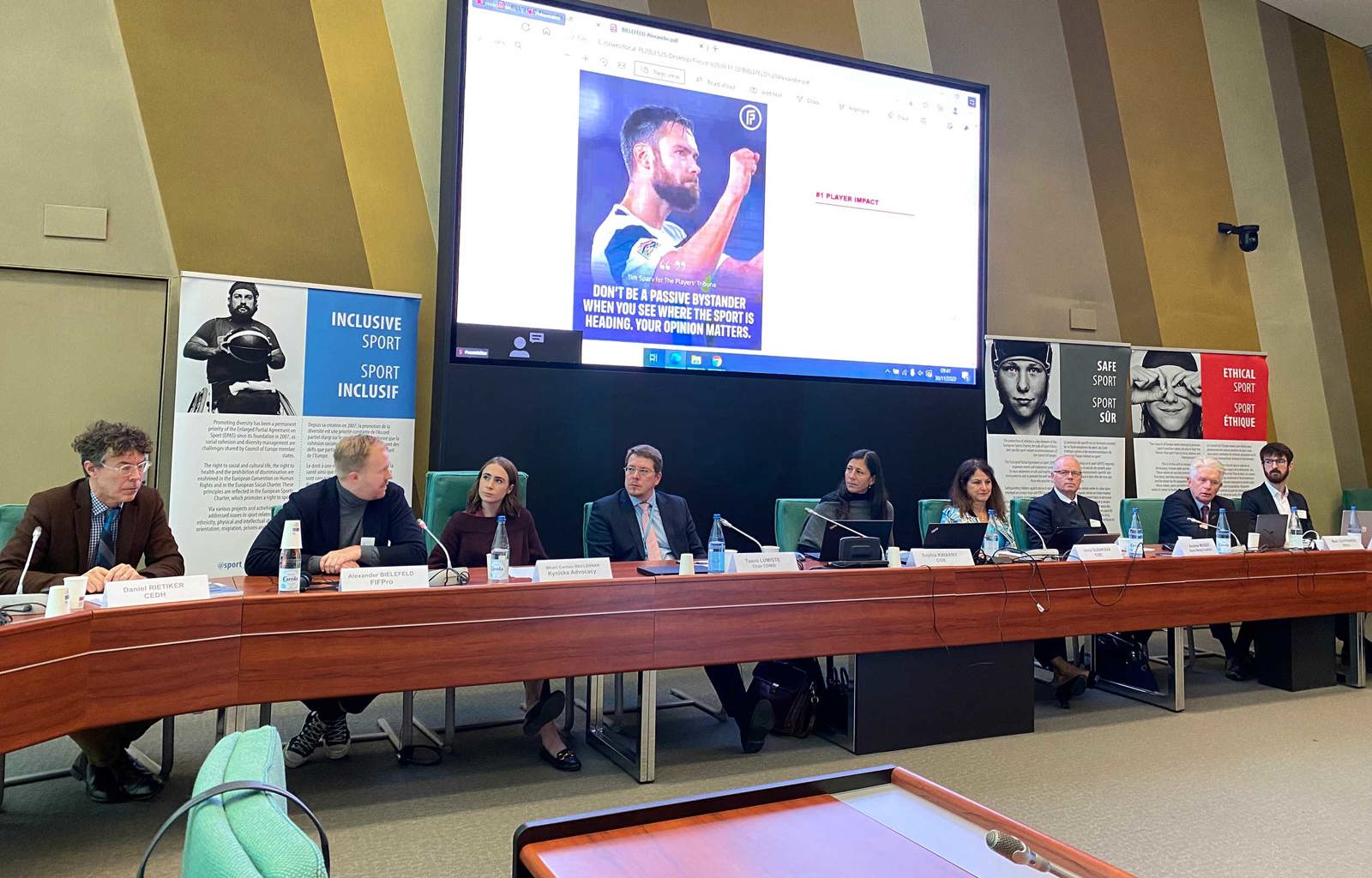 {0} min. reading time
Special focus on athletes' freedom of expression at Council of Europe's EPAS Forum on Sport and Human Rights


European Court of Human Rights senior lawyer Daniel Rietiker illustrated Article 10 application of European Convention on Human Rights to sports industry


"International football needs to redefine its outdated concept of political neutrality," says FIFPRO's Alexander Bielefeld
The 2022 World Cup has shown that players want to use their platform to speak out on issues that matter to them – but that genuine human voice can be drowned out by regulations.
From Belgium's Jan Vertonghen on "being controlled" to the German national team's reaction to being unable to wear the One Love armband, players have been put in an impossible position at Qatar 2022 that restrict them from advocating for human rights.
With the World Cup approaching the climax of its group stages, the Council of Europe's EPAS Forum on Sport and Human Rights took place in Strasbourg, France – focusing on issues pertaining to freedom of expression, as laid down in the European Convention on Human Rights.
Governmental representatives, participants from the sport world, NGOs, academics, journalists, athletes and more presented the situation in their areas of expertise and discussed recurrent challenges, ideas and solutions going forward.
FIFPRO's Director of Global Policy & Strategic Relations Men's Football Alexander Bielefeld spoke on the freedom of expression of athletes panel, which was moderated by Irena Guidikova, the Council of Europe's Head of the Children's Rights and Sport Values Department.
"International football needs to redefine its outdated concept of political neutrality together with players to protect universal rights and values," said Bielefeld.
"When we talk about freedom of expression, what we've seen over the past couple of weeks is that it's not just about the fundamental right – it's about how we collectively govern our sport.
"When it comes to rules and regulations which affect athletes, those same athletes aren't necessarily involved in the decision-making. It's time to give players a say when it comes to these issues – after all, they are the ones affected by them." European Court of Human Rights senior lawyer Daniel Rietiker illustrated how freedom of expression is a fundamental right protected by Article 10 of the European Convention of Human Rights that applies to sport. He stressed the fact that current case law of the European Court of Human Rights has both protected this right and also ruled on its boundaries and restrictions in the context of hate speech or abuse.
Bielefeld also highlighted how players today are more comfortable about using their platform to speak up about issues such as human rights.
He said: "Nowadays we have an active generation of men's and women's players, and a new generation coming through, who are eager to contribute to matters close to them. As societies we can't demand their active involvement  in social causes – and at the same time withdraw that right when it comes to their own workplace. 
"It's important to defend the rights of players who choose to speak up on issues, as well as those players who choose not to."
Also on the panel was Mhairi Maclennan, a professional international runner who co-founded Kyniska Advocacy, and has used her platform to speak out about sexual abuse in sport.
"We should not exclude athletes from conversations on safety, freedom of expression, performance, sponsorships, racism, sexual violence, or any other topic related to their sports," said Maclennan. "We are the experts through lived experience: listen to us, involve us, and learn from us."
European Elite Athletes Association General Secretary Paulina Tomczyk concluded the panel, highlighting how sport organisations need to recognise their responsibility to respect and promote the human rights of athletes – and that some sport organisations simultaneously expect athletes to be role models or keep silent, whichever is more convenient for them.