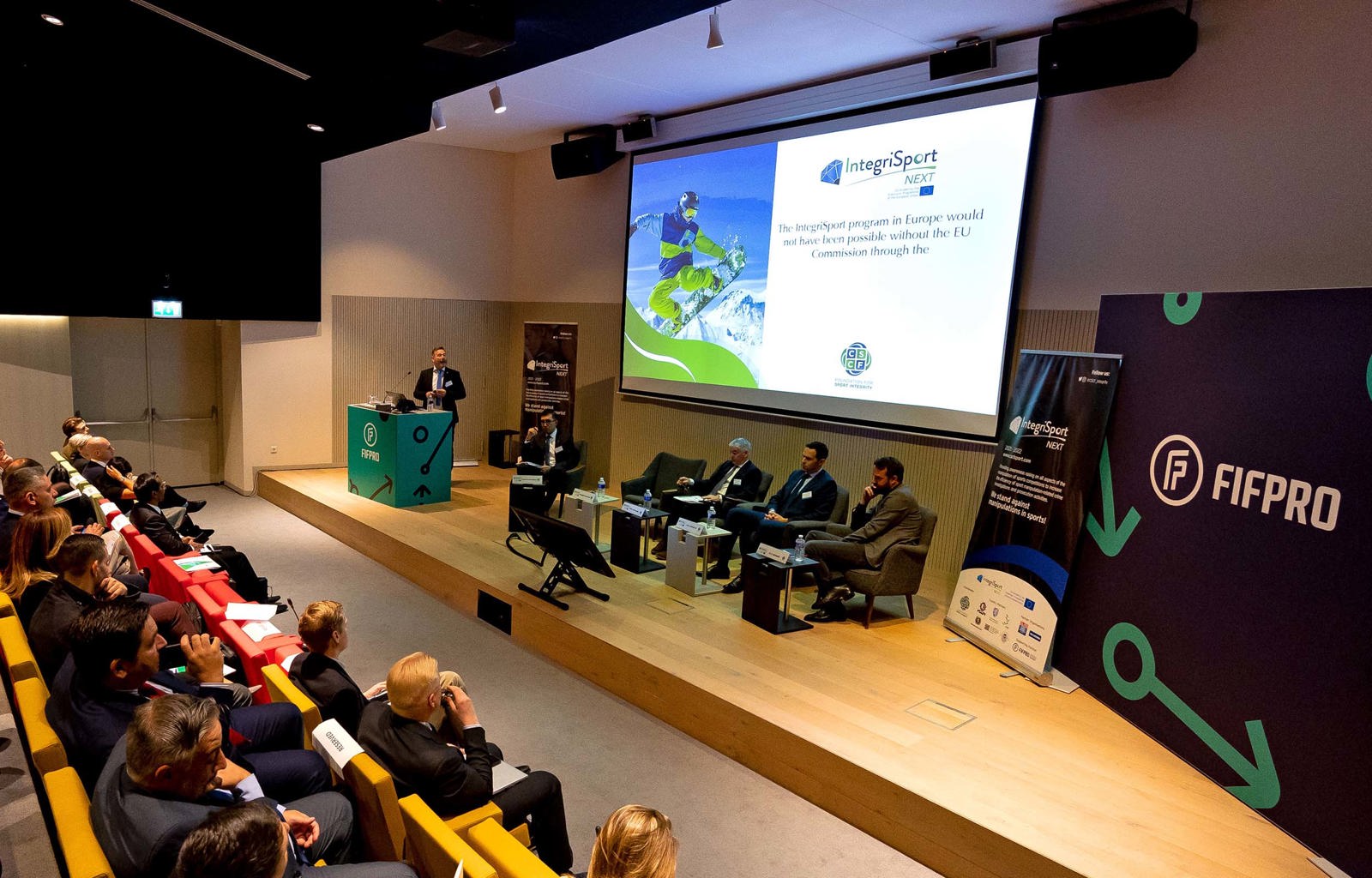 {0} min. reading time
IntegriSport Next closing conference held at FIFPRO House


Coordinated by the CSCF Foundation for Sport Integrity (CSCF)


Stakeholders from law enforcement, judicial authorities and sport shared knowledge to combat corruption in sport using effective investigation and prosecution techniques
FIFPRO House played host to the IntegriSport Next closing conference on Friday, where law enforcement and sport stakeholders came together to share comprehensive research and discuss policies, challenges and solutions in the fight against match-fixing.  
Coordinated by the CSCF Foundation for Sport Integrity (CSCF), the conference was the official closing event of IntegriSport Next Erasmus+, the second wave of the IntegriSport project, in which FIFPRO is a supporting partner.
CSCF's IntegriSport research (2019-2022)
11 European countries across two editions of the project in four years
25 law enforcement and judiciary authorities impacted across 11 countries
70 stakeholders from public authorities, sport and the betting sector
400 law enforcement officers and judicial representatives
700 overall participants
"This conference allows us to have all partners and supporting partners to talk about their experiences, takeaways about the project, and how law enforcement and judiciary can efficiently investigate and address sports manipulation from different angles," said CSCF Foundation for Sport Integrity Director Norbert Rubicsek.
"It's not only about the athletes and organisations who represent athletes, it's about all organisations who have anything to add in the fight against this phenomenon.
"I am proud that partners have highlighted this a success as being the first time law enforcement and judiciary could really hear opinions from other stakeholders – such as athletes' stories and challenges faced by other entities. It's very important that everyone who can help chips in." "Our job at FIFPRO is to represent the interests of players and – more than anything – make sure they have a safe working environment," said FIFPRO Deputy General Secretary Simon Colosimo.
"That's why two years ago we launched the Red Button app, which allows players to report match-fixing approaches safely. The success of the Red Button app is only possible with collaboration with national law enforcement agencies and governments.
"I would like to thank Norbert and his colleagues from CSCF for choosing to host this event at FIFPRO."
Knowledge-sharing in the fight against match-fixing
CSCF's university partner KU Leuven shared vital research and findings from in-depth research, interviews and surveys conducted within IntegriSport Next. Perspectives of partners and supporting organisations in fighting manipulation and criminal activities were also heard via key speakers and panel discussions – from post-doctoral research fellows on recommendations for law enforcement to representatives from betting organisations on monitoring as intelligence material. 
Experienced law enforcement officials from countries such as Cyprus, Estonia, Finland, Georgia, Malta and Sweden gave personal insights into challenges, investigations and developing policy following the awareness raising sessions during the project. 
Spanish Football Federation Integrity and Security Director Alfredo Lorenzo Mena, who was a guest expert during the project lifetime, revealed experiences from a 2018 investigation of organised crime infiltration of the lower-tiers of Spanish football in which police carried out more than 50 arrests in the framework of a case study while FIFPRO Legal Director Roy Vermeer gave insight into whistle-blowing as a tool for investigations. FIFPRO's Vermeer was also part of a panel which included Finnish player union Executive Director Panu Autio and representatives from sports associations and police that discussed the importance of law enforcement, judiciary, sports organisations and athletes all cooperating and providing a united front in the fight against match-fixing.
The closing conference marks the end of the second IntegriSport program, with attentions soon turning to the third: IntegriSport 3.0.
Running from 2023-2024, IntegriSport 3.0 will include additional partners and open the project to a further six European countries: Spain, Romania, Bulgaria, Austria, Estonia and Greece, thus bringing the count to over 20 international and national organisations and countries within the IntegriSport community.