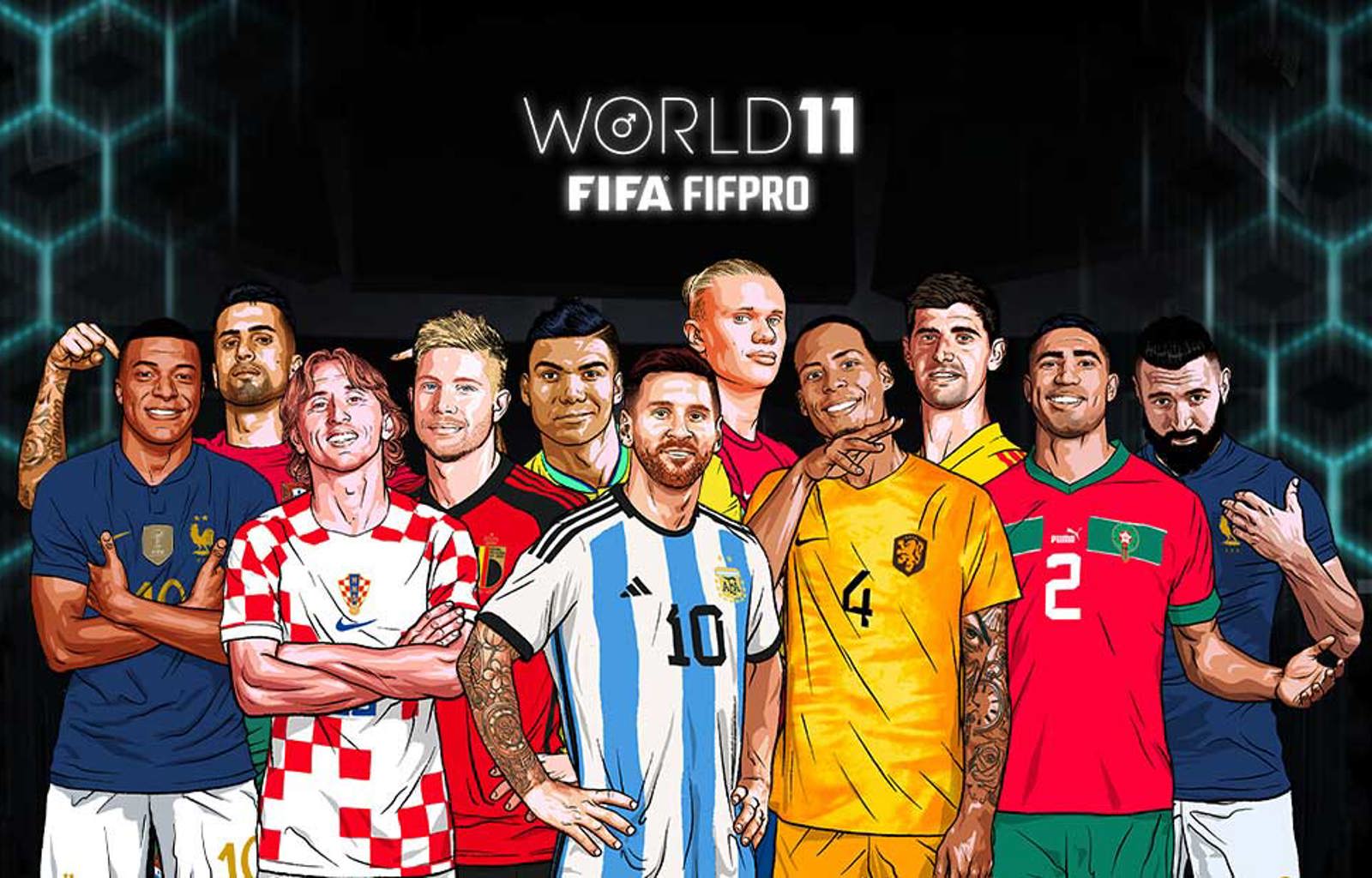 {0} min. reading time
FIFA FIFPRO Men's World 11 revealed at The Best FIFA Football Awards in Paris
World 11 is the only global player award decided exclusively by footballers and celebrates best players in the current game
Lionel Messi makes history with 16th successive World 11 appearance
The FIFA FIFPRO Men's World 11 was revealed at The Best FIFA Football Awards in Paris on Monday, celebrating the most outstanding men's players in the current game.
Lionel Messi made history by being voted in the World 11 for a 16th successive time – more than any player since the award's launch.
Every year since 2005 FIFPRO has invited the world's professional footballers to choose their World 11. It is the only global player award decided exclusively by footballers.
Players from 68 countries cast their votes with 18,640 players making submissions for the 2022 Men's World 11. Professional footballers voted for the best men's players for the period 8 August 2021 to 18 December 2022 inclusive.
FIFPRO and FIFA congratulate the following winners:
2022 FIFA FIFPRO Men's World 11
Goalkeeper
Thibaut Courtois (Real Madrid, Belgium)
Defenders
Joao Cancelo (Manchester City/Bayern Munich, Portugal)
Virgil van Dijk (Liverpool, Netherlands)
Achraf Hakimi (Paris Saint-Germain, Morocco)
Midfielders
Casemiro (Real Madrid/Manchester United, Brazil)
Kevin De Bruyne (Manchester City, Belgium)
Luka Modric (Real Madrid, Croatia)
Forwards
Karim Benzema (Real Madrid, France)
Erling Haaland (Borussia Dortmund/Manchester City, Norway)
Kylian Mbappe (Paris Saint-Germain, France)
Lionel Messi (Paris Saint-Germain, Argentina) How did the voting work?
The 2022 FIFA FIFPRO World 11 was voted for by professional players from around the world. FIFPRO and affiliated player unions distributed unique links that gave players access to a digital voting platform.
Footballers picked the three players who, in their opinion, were the most outstanding in each of the following positions: goalkeepers, defenders, midfielders and forwards.
The goalkeeper, three defenders, three midfielders and three forwards with the most votes in their position made it into the World 11. The 11th spot was assigned to the outfield player with the next highest number of votes.
Players were free to choose any of their peers. The voting tool contained a suggestion list, but players were allowed to add other names if they were not mentioned on that list.