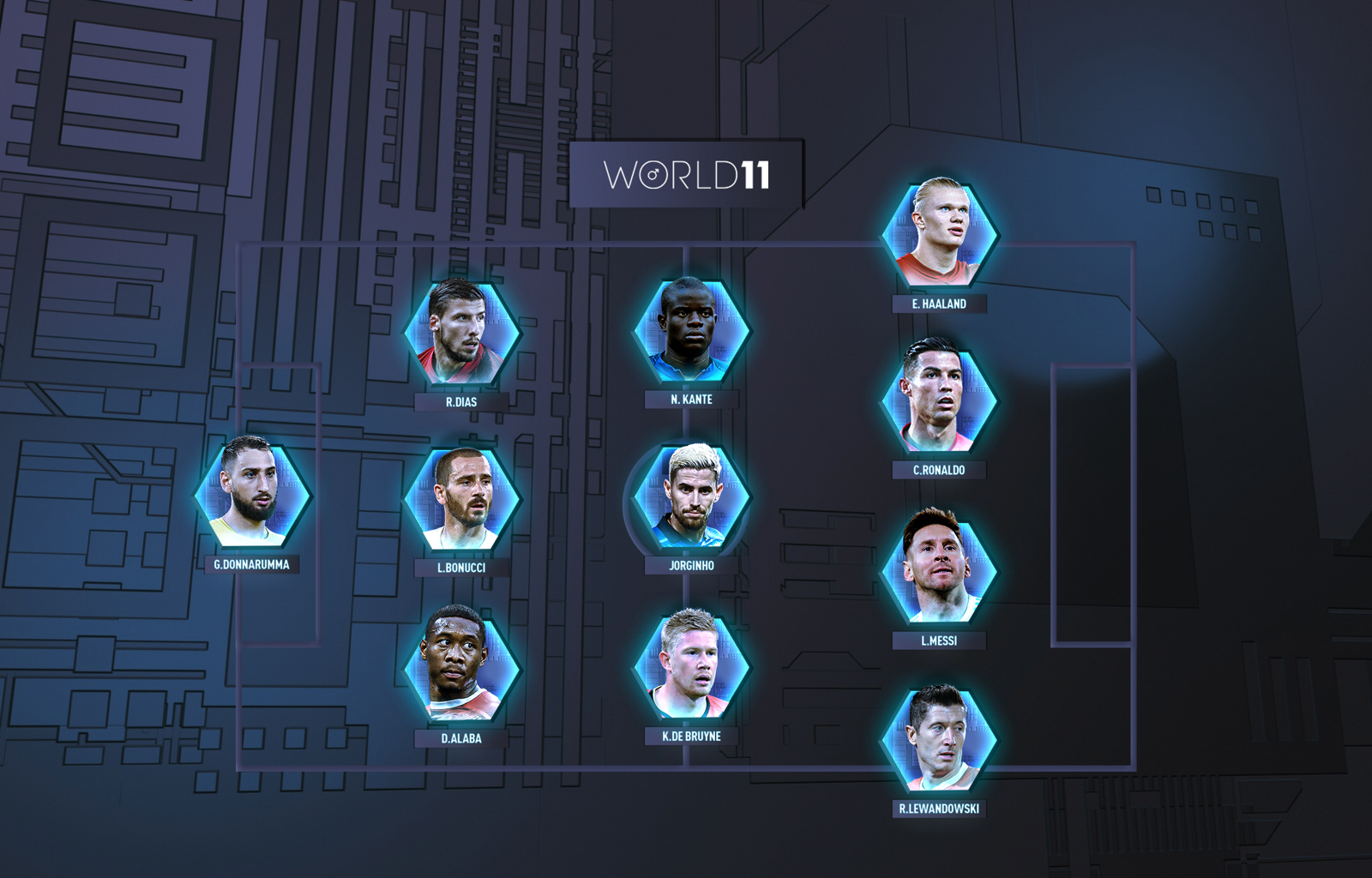 FIFPRO and FIFA today proudly announce the members of the 2020-2021 Men's FIFA FIFPRO World 11.
Almost 19,000 professional men's football players voted for the World 11 team of 2021.
It is the only global player award voted for exclusively by footballers – and votes come in from every continent.
Here is the 2021 Men's FIFA FIFPRO World 11 by position and alphabetical order.
Player (last season's team/current team, country)
Goalkeeper:
Gianluigi Donnarumma (AC Milan/Paris Saint-Germain, Italy)
Defenders:
David Alaba (FC Bayern Munich/Real Madrid, Austria)
Leonardo Bonucci (Juventus FC, Italy)
Ruben Dias (Manchester City FC, Portugal)
Midfielders:
Kevin De Bruyne (Manchester City FC, Belgium)
Jorginho (Chelsea FC, Italy)
N'Golo Kante (Chelsea FC, France)
Forwards:
Erling Haaland (Borussia Dortmund, Norway)
Robert Lewandowski (FC Bayern Munich, Poland)
Lionel Messi (FC Barcelona/Paris Saint-Germain, Argentina)
Cristiano Ronaldo (Juventus FC/Manchester United FC, Portugal)
FIFPRO and FIFA congratulate the winners of the 17th edition of the Men's FIFA FIFPRO World 11 awards and thank every player who voted. In total, votes were cast by 18,947 players in 69 countries.
About the voting procedure:
Footballers pick the three players who, in their opinion, were the most outstanding in the 2020/2021 season in each of the following positions: goalkeepers, defenders, midfielders and forwards.
The goalkeeper, three defenders, three midfielders and three forwards with the most votes in their position make it into the Men's FIFA FIFPRO World 11. The other spot is assigned to the outfield player with the next highest number of votes.