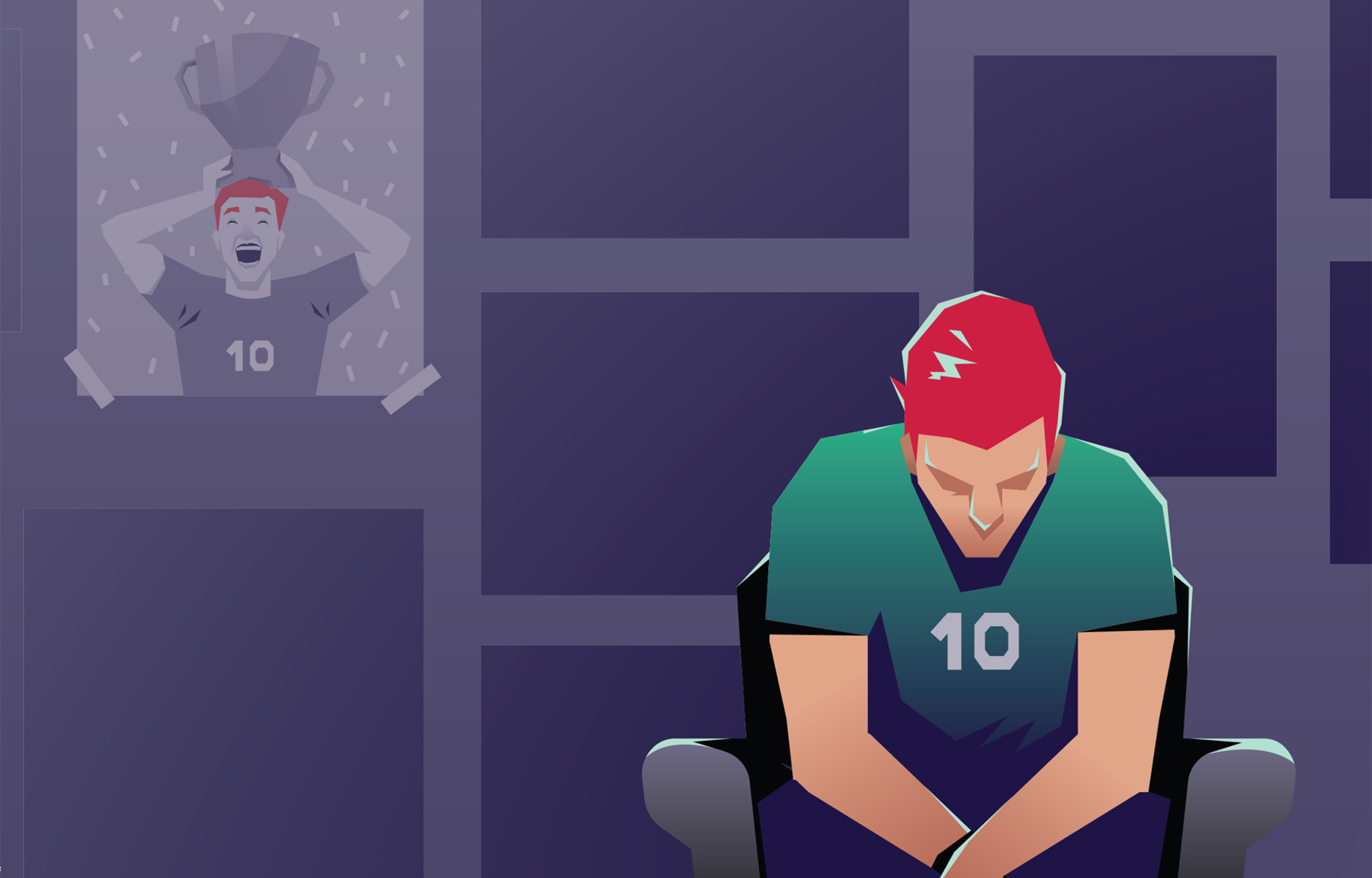 {0} min. reading time
10 October is World Mental Health Day


Raising awareness of mental health struggles faced by footballers is one of FIFPRO's most pressing concerns


Players around the world have bravely shared their personal stories with FIFPRO on mental health
The World Health Organisation recognises World Mental Health Day on 10 October – a time to raise awareness about mental health and wellbeing.
Raising awareness of mental health struggles faced by footballers in today's game is one of FIFPRO's most pressing concerns.
Research shows that up to 38 percent of footballers suffer from mental health symptoms during their career.
Last year FIFPRO, with the help of various mental health experts, created a toolkit for its member unions to help educate their players about symptoms, stressors, stereotypes and how to empathise.

• Everything you should know about mental health and wellbeing
• Signs and symptoms to help you identify mental health issues
Various player unions are set up to support players with questions about mental health, and have established partnerships with specialists who can help players.
In addition, FIFPRO set up a Mental Health Taskforce – a structured support group for players from all national teams to have a safe space to share their stories and learn from others.
Many footballers around the world have bravely shared their personal stories with FIFPRO on mental health – all emphasising the importance of talking and opening up. Take a look at what some had to say.
Victor Ashinga
After breaking into the Kenyan Premier League as a 17-year-old, Victor Ashinga was plagued by injuries and other challenges.
In a candid interview with FIFPRO, the midfielder opened up about his struggles with mental health and how taking the step to talk greatly helped his wellbeing.
"I opened up to the coach and told him what I was going through and that there was too much pressure," said Ashinga.
"The coach was very positive, and he offered me very positive advice. He also spoke to the other players and told them that we needed to look out for each other. From then on, I was able to focus."
Steph Labbé
Former Team Canada goalkeeper and Olympic Champion Steph Labbé has openly talked about three big moments in her career where mental health challenged her.
In February of this year, Labbé reached out to FIFPRO about creating a structured support group for players from all national teams to have a safe space to share their stories and learn from others, known as the Mental Health Taskforce.
"When I started telling my story back in 2017, I slowly started to understand the global impact it was having on others," said Labbé.
"Storytelling is incredibly powerful. The more we share our stories, the more we can connect with people of all different backgrounds and cultures. Authenticity and vulnerability don't judge, they absolve barriers of all kinds."
Shannon Lynn
Scotland international Shannon Lynn was 22 years old when her partner passed away from meningitis in a quick, tragic way.
The Vittsjo GIK goalkeeper says speaking openly about her mental health only helped.
"What I would love to continue to promote is that we can normalise speaking about the way we feel, so that it doesn't have to be such a taboo thing; that it doesn't have to be a big deal when it is in fact a big deal," said Lynn.
Vuyo Mere
TS Galaxy defender Vuyo Mere, 38, is currently the longest-serving player in the South African Premier Soccer League.
But the first time Mere was released from a club led to huge mental struggles.
"I think clubs are not doing enough to support players," Mere told FIFPRO.
"Once you are no longer important to them, or you are no longer of service to them, that's it for them: you've done your part and you can go your own way. Something needs to be done about that."
Cari Roccaro
Angel City midfielder Cari Roccaro played a paramount role in NWSL players being entitled to up to six months of mental health leave.
Together with her friend Ginny McGowan, Roccaro produces the podcast Butterfly Road which discusses athletes' health and mental health issues.
"Currently I am not struggling, but I was in a really bad situation in 2019. It is nice to have that security, that if I am struggling again, I can get the help and don't have to choose between my job and sanity. It is really a relief," said Roccaro.
"When I first experienced mental health issues in college I hid it. I thought I was strong enough to get through it by myself, but obviously I was not. When I thought that I wasn't going to finish my 3.5 years in college, I started seeing a psychologist. It was so helpful." 
Macarena Sanchez
Macarena Sanchez won national championships with UAI Urquiza in Argentina and played a vital role in helping professionalise women's football in the country.
Last year, in an interview with FIFPRO, the San Lorenzo striker said how speaking with a psychiatrist helped her through a dark period in her life.
"That was the first step towards sorting out a lot of issues and starting to accept the fact that I had a mental illness and had to face it, and that I had to go ahead and ask for help," said Sanchez.
"We must support those who are suffering. When we see someone who's having a hard time, we must realise that this person is going through situations we don't know about. We can't judge them and say what's right or wrong. We simply have to be there for them, and let them know that they're not alone."
Lucy Staniforth
In the summer of 2019, England international Lucy Staniforth moved to Manchester United.
It was the biggest move in the midfielder's career to date, but at that time, Staniforth was still coming to terms with the passing of her stepfather.
"I had made the biggest move in my career, and I was elated about that, but the person who I really wanted to see it wasn't there. It was hard to be happy in that moment when I was suffering such loss.
"The shining light through all of that was the support I received from Manchester United. It really helped me get through that experience. From that, I learned it's so important to open up about how you're feeling and accept help when it's there, especially when it feels like such a difficult and confusing time."