Liverpool and Bayern Munich dominate the 2019/2020 FIFA FIFPRO Men's World 11. Together, the English and German champions have seven players on this special team, carefully selected by their peers in the game.
Four players who won this year's European Champions League with Bayern are on the World 11: Alphonso Davies, Robert Lewandowski, Joshua Kimmich and Thiago Alcántara.
After winning the Champions League, Alcántara moved from Bayern to Liverpool. Three of his new teammates are also on the World 11: Trent Alexander-Arnold, Alisson Becker and Virgil van Dijk.
The World 11 includes six players who make their first appearance on the team: Alcantara, Alexander-Arnold, Davies, Lewandowski, Kimmich and Kevin De Bruyne.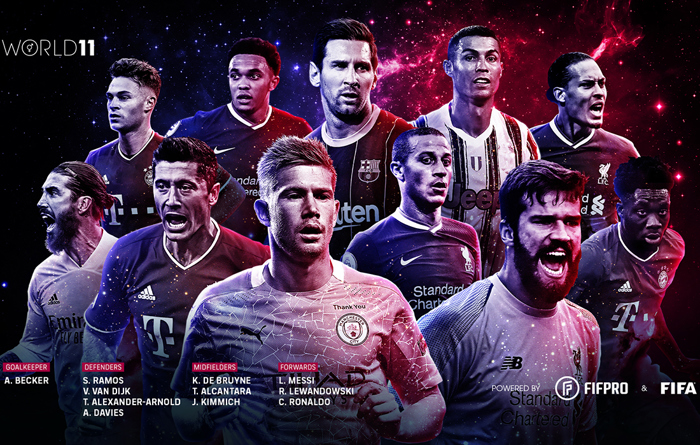 2019/2020 FIFA FIFPRO Men's World 11
Player (current team/last season's team, country)
GOALKEEPER
Alisson Becker (Liverpool FC, Brazil)
DEFENDERS
Trent Alexander-Arnold (Liverpool FC, England)
Alphonso Davies (FC Bayern Munich, Canada)
Virgil van Dijk (Liverpool FC, The Netherlands)
Sergio Ramos (Real Madrid, Spain)
MIDFIELDERS
Thiago Alcántara (Liverpool FC/FC Bayern Munich, Spain)
Kevin De Bruyne (Manchester City, Belgium)
Joshua Kimmich (FC Bayern Munich, Germany)
FORWARDS
Robert Lewandowski (FC Bayern Munich, Poland)
Lionel Messi (FC Barcelona, Argentina)
Cristiano Ronaldo (Juventus, Portugal) This content has been hidden because the cookies have not been accepted. Click here to reconsider.
Facts and figures:
This is the 16th Men's World 11. FIFPRO created the award in 2005, which is part of FIFA's annual ceremony since 2009.
A total of 15,878 male professional footballers participated in the vote. FIFPRO received most votes from Japan.
For the fourteenth consecutive year, Cristiano Ronaldo and Lionel Messi were voted onto the World 11 by their peers. They both hold the record.
Sergio Ramos is third on the all-time list. The Spanish defender received his 11th World 11 award.
Alisson Becker and Virgil van Dijk collected their second award. Van Dijk is the first Dutch player to collect more than one World 11 award.
Of all players, Kevin De Bruyne received most votes. The Belgian midfielder is followed by Alisson Becker and Sergio Ramos.
Manuel Neuer came fourth on this list. However, he is not in the World 11 as he is the second goalkeeper behind Alisson Becker.
The closest battle for a spot in the World 11 was between two teammates: Bayern's Alphonso Davies and David Alaba. The Canadian defender beat his Austrian colleague by 275 votes.
20-year old Davies is the third youngest player to receive a World 11 award. Kylian Mbappé and Matthijs de Ligt were both younger. Mbappé was 19 years old when he got the award in 2018. De Ligt was 4 days younger than Davies when he got the award in 2019.
De Bruyne is the first Manchester City player in the World 11.
Davies is the first North-American player in the World 11.
Alcántara is the eleventh Spanish player in the World 11. Only Brazil has had more players in the World 11: twelve. However, Spanish players have won more awards in total: 45 for Spain against 32 for Brazil.
Bayern moves into third place on the list of clubs with most World 11 awards. The German champions have thirteen. Barcelona (51) and Real Madrid (47) are the top two teams on that list. Chelsea and Juventus both have twelve.
Marcelo and Luka Modric are two of the six players from the previous World 11 who did not receive enough votes to make the team yet again. Marcelo has six World 11 awards, Modric five.
The four other players not returning are De Ligt, Mbappé, Eden Hazard and Frenkie de Jong.
FIFPRO and FIFA invited all professional footballers worldwide to vote for the World 11. We asked them to pick the most outstanding players in the following lines: goalkeepers, defenders, midfielders and forwards.
The goalkeeper, as well as the three defenders, three midfielders and three forwards who received the most votes were selected for the World 11. The remaining spot in the World 11 was assigned to the outfield player with the next highest number of votes.
Last year's World 11 consisted of Alisson Becker, Virgil van Dijk, Matthijs de Ligt, Marcelo, Sergio Ramos, Eden Hazard, Frenkie de Jong, Luka Modric, Kylian Mbappé, Lionel Messi and Cristiano Ronaldo.