Michel Hidalgo has passed away peacefully, just a few days after his 87th birthday.
We have lost a player
Michel Hidalgo was born into a life of football. A fan of US Normande, he grew up in Plateau, a district in the suburbs of Caen that once housed workers from the SMN steel mill. He and his twin brother Serge, the sons of a Spanish labourer, would spend hours practising and playing together whenever the occasion arose.
The factory may be long gone, but Hidalgo never forgot his working-class roots. His first professional contract was with Le Havre AC, where he spent two seasons before moving to Stade de Reims. There, he forged a reputation as a nimble-footed midfielder and an occasional goal-scorer. His most memorable goal for the club came in 1956 at the first-ever European Champion Clubs' Cup final when, despite standing at just 5 feet 6 inches tall, he scored with his head.
Hidalgo spent the bulk of his career at AS Monaco, making 330 appearances between 1957 and 1966. It was during this period that he won his only cap for France, in a 1962 fixture against Italy.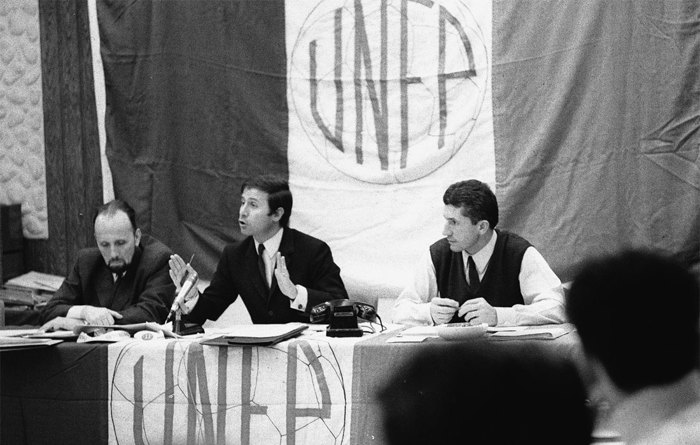 We have lost a coach and manager
In 1970, Hidalgo joined the French Football Federation's (FFF) new National Technical Directorate led by Georges Boulogne. It was a dark time for French football on the international stage, with the team routinely falling short in major competitions. In 1973, keen to lift the gloom, the FFF turned to Ștefan Kovács, the decorated coach of Steaua Bucharest and Ajax, where his roll of honour included two European Champion Clubs' Cup victories.
Hidalgo spent two years honing his skills alongside Kovács before he was finally ready to take the reins of the French national team in 1975. He set about introducing his unique philosophy, something he had learned during his time under Albert Batteux. With a generation of players, including Michel Platini, as his raw material, he crafted an attacking, appealing and compelling team that brought smiles (1978 World Cup in Argentina, Euro 1984) and tears (1982 World Cup) in equal measure. He will be remembered as much for his trademark style of play – something he defended with fervour – as for his famous outburst when a Kuwaiti sheikh dared to disrespect his team and football in general during the 1982 World Cup (by taking the Kuwaiti players of the pitch).
Yet Hidalgo was a deeply humanist person, a lover of the finer things in life.
Just as his tears of joy graced the turf in the wake of successive French victories, he quit as manager of the national team. He left the job at the peak of his coaching career. And he never coached again. He went on to serve as an adviser to Bernard Tapie (the president of Olympique de Marseille) between 1986 and 1991 before bowing out and passing the baton to the younger generation.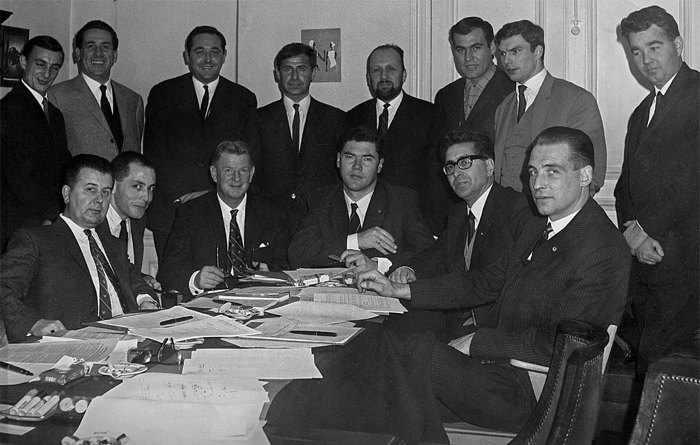 We have lost a unionist
It wasn't the first time that Hidalgo had stepped down after a notable victory. In 1969, he had quit as President of French player union UNFP barely a month after securing fixed-term contract reform – the very reason the union had been set up back in 1961. "It marked the end of 'slavery', as former star player Raymond Kopa put it several years previously. France really was ahead of its time. We didn't realise it then, but footballers elsewhere in Europe would have to wait almost 30 years to obtain the rights that the UNFP had secured for French players."
Hidalgo was also a noted figure in world football. He celebrated FIFPRO's first major victory with the Bosman ruling on 15 December 1995, exactly 30 years to the day since the union he had helped to set up came into being. In 2011, as the UNFP celebrated its 50th anniversary, he reflected on the events of 1965: "It was a few months before the World Cup in England, the first of its kind to be properly televised. FIFA had negotiated the broadcast rights and I thought the players were entitled to their fair share. I called a meeting with our counterparts in England, Scotland, the Netherlands and Italy, and that was when we founded FIFPRO. The organisation grew in stature and influence with time, making a real difference on the world stage. But players still aren't entitled to a share of World Cup broadcast revenues. The status of players has changed beyond all recognition since 1965, but this is a battle we're yet to win."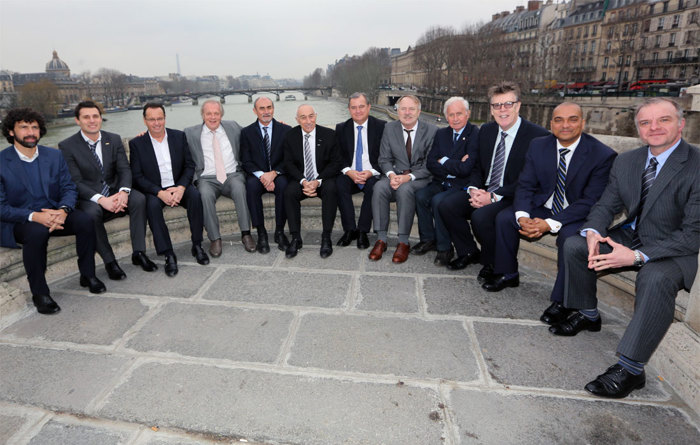 Hidalgo was a fighter. "My father was a labourer. I know who I am and where I come from. My upbringing instilled in me a strong work ethic, and a sense of community spirit and selflessness. Football only strengthened those values."
Hidalgo was never one to take the credit. Such was his humility that, in July 1984, he even turned down the role of Minister for Sport in Laurent Fabius' first government. He felt that doing so would have been tantamount to profiting personally from a collective victory at the European Championship just a few days earlier – France's first major win and a feat that would seal his legendary status.
Footballers everywhere, in France and around the world, owe Hidalgo an enormous debt of gratitude – one that words cannot do justice to. The UNFP and FIFPRO are likewise eternally grateful for his contribution.
Michel Hidalgo will always be remembered as one of the leading figures of French and world football. He was a rare breed: a man who achieved so much in his life but who remained honest and upstanding throughout and stayed true to his values to the very end.
Goodbye, Michel. And thank you.